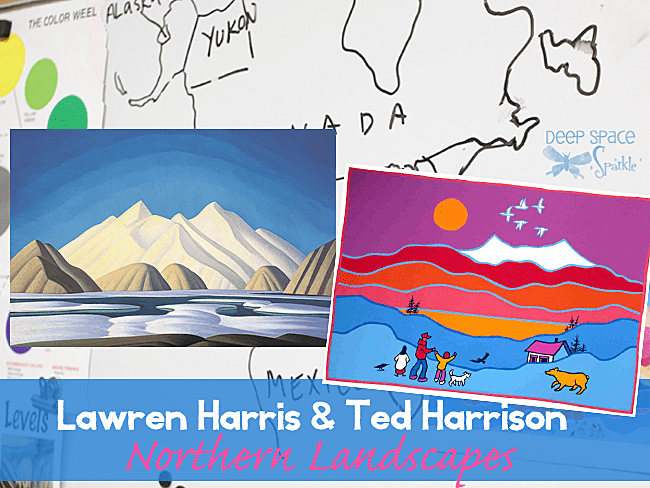 Back in my college days I studied Canada's Group of Seven artists. Even though I was a young adult, I never quite understood or appreciated the beauty of their work. I thought of this as I introduced my students to  the art of Lawren Harris.
I wondered how many thought it was interesting or how many would find it boring. You never really know what goes on inside a student's head, but after the project was completed, there was real evidence that the kids at least understood the abstract and simplified nature of Harris's art.
I had to beg many of my sixth graders to stop working as they were really into painting their tints and shades. I'm so grateful these children have art not only for the opportunity to create art but to learn how others create art. The limited color palette and the stark concept did not hinder my students. They loved painting like Harris.
Introducing Ted Harrison seemed like an easier task with the bright colors and swirling shapes dominant in his art. I was right. The kids loved playing with the brightly colored paints and organic lines.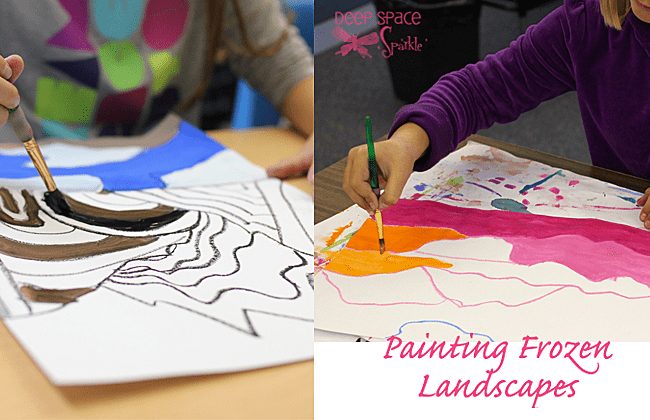 In order to recreate an artists work, you have to look at it closely. Really think about why an artist draw his lines or how he chooses his paint colors. Many teachers don't believe in copying other's work, but I think there is so much to learn by doing so. Still, I encouraged my students to be inspired by the artist's work and to create art that is unique to them.
And this is the fun part because no matter how hard you try to copy someone else's work, your personality is fused into the painting without even being aware of it.
I'm proud to continue to offer my readers art lesson plans that have been tested in the classroom and detailed in a way that will make your life easier. I love to analyze how a child interprets instructions and I try to detail the best instructions for you.
---
ARE YOU A SPARKLER? These lessons and over 300 art lessons are available inside the Members Club. Access to videos, resources & trainings for one low monthly fee. FIND THIS LESSON IN THE WINTER & VALENTINES BUNDLE.
CLICK THE IMAGE TO SIGN UP FOR NOTIFICATION OF OUR NEXT ENROLLMENT