I look forward to doing this project every year. Anytime you take a real object, in this case, fresh leaves and apply paint to the underside, something magical happens.
For art teachers, we know that this form of print-making is a study of texture, shape, composition and space. But for kids, it's just pure fun.
I created a few versions of this project and this one might be my favorite leaf stamp project.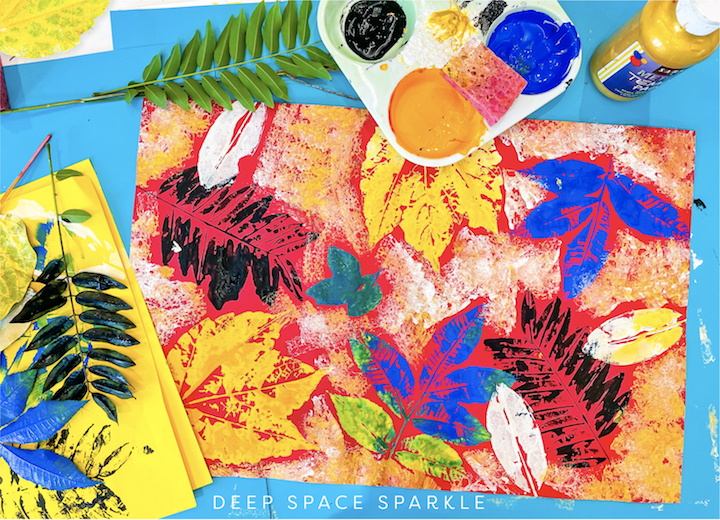 I basically attempt the project in the very same way and gather the same supplies…
WHAT YOU'LL NEED:
– 12″ x 18″ colored sulphite paper (I'm using red and black)
– Liquid tempera paint in white, red, yellow, blue…whatever colors you love.
– Flat brush for applying paint to leaves
– Stack of recycled paper OR paper towels for pressing the painted leaf onto paper
– Assortment of fresh leaves (don't wait for the leaves to turn colors…they tend to be brittle and will crack)
– Kitchen sponge cut into small pieces
Prepping for Project
Go on a hike with your students or look in your backyard for interesting lead shapes. You can also use feathers, reeds, pine needles…anything that has the potential to lay flat.
Place leaves in a ziplock bag to prevent drying out, especially if you aren't doing the project the same day.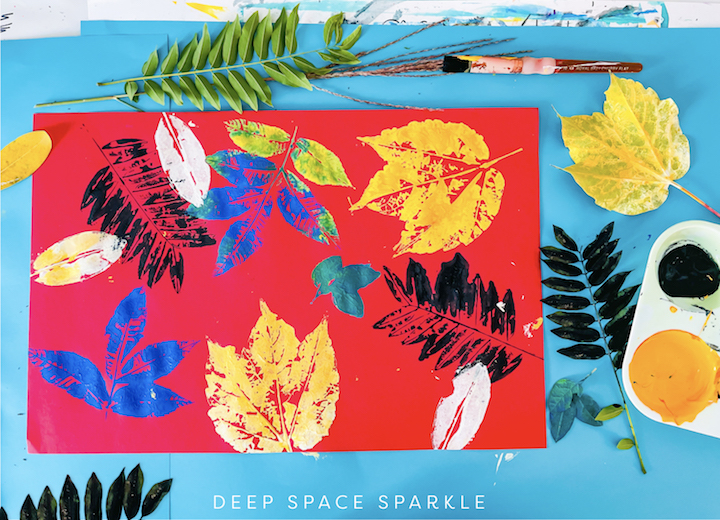 Cover your table or desks with a paper placemat, give each child a stack of paper towels or scrap paper, add a shared container of 3-4 colors of tempera paint and of course, the leaves.
Watch this video to see how to teach this project
Literature Pairing
I came across a new title this year, Counting Creatures by Julia Donaldson and Sharon KIng-Chair is a delightful picture book aimed at younger children. The story is for a younger set, but the illustrations are quite lovely and inspiring.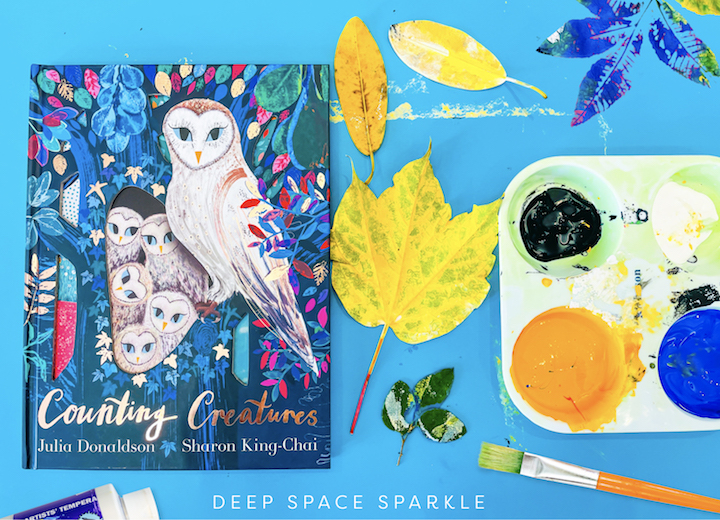 Art teachers can use the illustrations to demonstrate how the illustrator uses texture in her art.
There are many other books I absolutely love for fall, including:
Sweep by Loise Greig and Julie Sarda
Tree by Britta Techentrip
Tidy by Emily Gravett
Goodbye Summer, Hello Autumn by Kenard Pak
Do you have a favorite to share? Let me know in the comments below…
Classroom Tips…
This project inevitably will be messy. That's why it's good to use a fresh sheet of scrap paper when painting onto a new leaf. Otherwise, the paint will get on the backside of the leaf, and then onto a child's hand. That's okay, but it can be a bit messy. You've been warned.
Using a paper towel to press the painted leaf onto the background is really much better than paper. Kids can feel the leaf under the paper much better and can press the leaf down more. It results in a better print.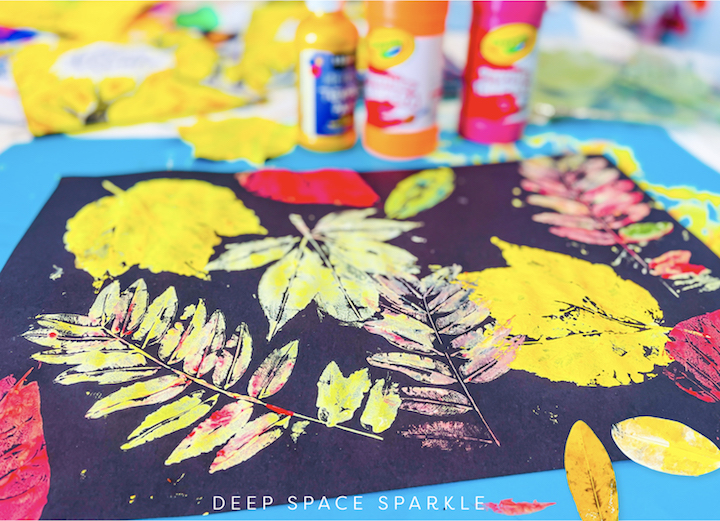 The best part of this project is getting the kids' past the first leaf print. This is when the magic happens. Kids start to mix their colors, experiment more and really get into the process.
That's why I love this activity and encourage you to embrace the small amount of prep and mess to do this in your art room. It's totally worth it and the prints are just lovely.
Have you done this project before? I'd love to see what your child or students created. Tag me on Instagram and I'll share your results in our stories.
PIN ME!