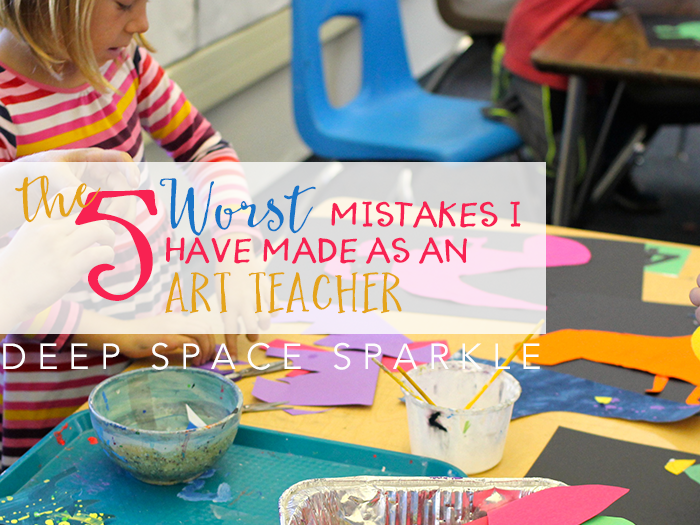 If you have taught art for any length of time, no doubt you have accumulated a few misses in your teaching strategy. I know I have. Like many of you, when I first began teaching, I had no idea if a project I read about in a book would work with my students. If it looked fun and doable, I would try it.
What I didn't know is that there are some basic strategies that every art teacher should know. And since I didn't know them and learned the hard way, I want to share them with you....
Here are my top 5 art teacher blunders:

My finest memory of creating art as a child was making papier-mâché sculptures in a museum art class. I had never experienced making official 3-D sculptures (apart from the shoe box Barbie doll houses in my closest) before and was thrilled to learn that the gooey mess I created would harden enough to last for years.
Here's the thing. You can make a paste out of flour and water. It's easy, dries to a hard finish and is pretty cheap. What you may not know is that it can be itchy for some kids and absolutely will not come out of carpet.
I was so enraptured with the thought of my fourth grade class making huge dinosaur sculptures that I just assumed the flour-water paste would be fine. I tested it out with my own dino and it work really well. But when I taught the lesson to my students, it was a disaster. The sculptures worked well (as I knew they would) but the MESS! Oh my goodness. That stuff would not come out of the carpet. The school had to get a special cleaner to remove the mess. I felt so bad.
To avoid this, I would highly suggest using Elmers Paste. Mix with a bit of water, let it sit for 15 minutes and you have a clear, sticky gel that not only works well but cleans up beautifully.
---

By cutting in half many fruits and vegetables, you have a perfect stamp in which to make a glorious painted garden. I had seen these clever stamped prints in many books an online art pictures and wanted to try it with my three classes of first graders.
I bought celery, peppers and potatoes, cut them in half, stopped out any seeds and filled a bowl with the vegetables. As I was prepping for the class, I quickly realized that I just barely had enough veggies to go around. I tried to distribute equal amounts of shapes and textures and proceeded to teach my first group of first graders how to dip and stamp with paint.
Th project turned out fantastic! The kids loved it and so did I.
Then it hit me. I still had two more classes to teach. And one class was coming ten minutes after the first class. I washed the paint off the veggies and noticed that the cut edges were not sharp anymore but rather soggy.
You can see where I'm going with this. By the time my second class ended, the veggies were unrecognizable. I had to come up with another printing lesson for my third class as I wouldn't be able to use the cut veggies anymore.
What I learned: Cut veggie prints are fantastic for small groups only.
---

Ceramics was a completely new thing to me. By my third year of teaching, I had figured out the basics of ceramics enough to create a few basic projects. Things like pinch pots and how to make a tile. Then by my fourth year of teaching, I got brave and created a figure from a chunk of clay.
Creating any form from clay whether it be a ball or in this case, a dinosaur is easy but it requires one very important element: an air vent. If you don't create a small hole for which the steam to escape, the piece will most likely explode in the kiln.
Most everyone knows this and I did too. It was the first thing I was taught when teaching ceramics. The trick is though is to create the air vent yourself. If you tell the kids to create a vent, they will but through the process of making a form, little kids will often close the vent accidentally. If you don't check and create a tiny hole yourself, you run the risk of mass extinction in the kiln. Which is what happened to me.
What I learned: Always poke a hole in any clay body that is more than a finger thick. And if you have to measure, poke a hole anyway. Better safe than sorry.
---

I was very enthusiastic during my first year of teaching. I wanted every student to have the ideal art experience. I carrie this desire with me throughout my years, but I got smarter with the delivery.
Way back then, I couldn't figure out the logistics of sharing paints. I figured it was so much easier to prepare 40 palettes of paint per class than to share. I know. I have no idea what I was thinking. But I do remember it taking me about 45 minutes to clean the trays at the end of the day.
One day, I looked at the 60+ palettes in my sink (and no, I didn't use paper plates!) and said that there had to be a better way. I went home that day and looked through an art catalog searching for palettes. I came across plastic muffin-style palettes and decide to try them.
I never looked back.
What I learned: Muffin-style palettes don't just ease the prep burden, they teach children how to share. Honesty, sharing and tolerating how others use paints has helped my students be more exploratory with colors, less rigid in their painting process and generally happier with their efforts.
---

This is a tough one to admit but I think we all try this at some point. When I first began teaching, there was very little in the way of online videos to see how other teachers taught. I had volunteered in my children's classrooms for years so I had some great teaching models and had picked dup on what worked and what didn't.
Then one day I saw a video on YouTube of an art teacher. People had raved about her teaching style. She had just won an award. She was energetic and dynamic but very scripted. She covered more in her 10 minute art history lesson than I could in a week. I was engaged and saw how the children were too. She held up vocab cards, pointed to an art history timeline, incorporated teaching strategies (like repetition and gesturing) and sounded effective and in control.
I love learning by example so the next day I printed up a few posters and cards and decided to use props to help me teach a lesson. I used her strategy when referring to the different posters and charts and tried really hard to implement them.
By the end of the second class, I realized I made a huge mistake. The kids looked at me differently as I was gesturing and pointing to timelines. Almost like they don't know who I was. By the third class, I loosened up a bit and incorporated more of my own style of teaching and by the fourth class, I had abandoned the charts and vocab words and just did it my way.
Little note here: I'm not suggesting you don't try to find ways to teach better and effectively. We all need to do that. But make sure not to sacrifice your authenticity.
What I learned: When improving your effectiveness in the classroom, don't follow scripts or charts if they don't sound like you. Enhance and develop what brings out the best in you--then you'll be able to bring out the best in your students.
---
Want to Learn More?
I created a podcast episode on how to determine if a project is right for your group of kids or class. You can listen to the podcast episode HERE.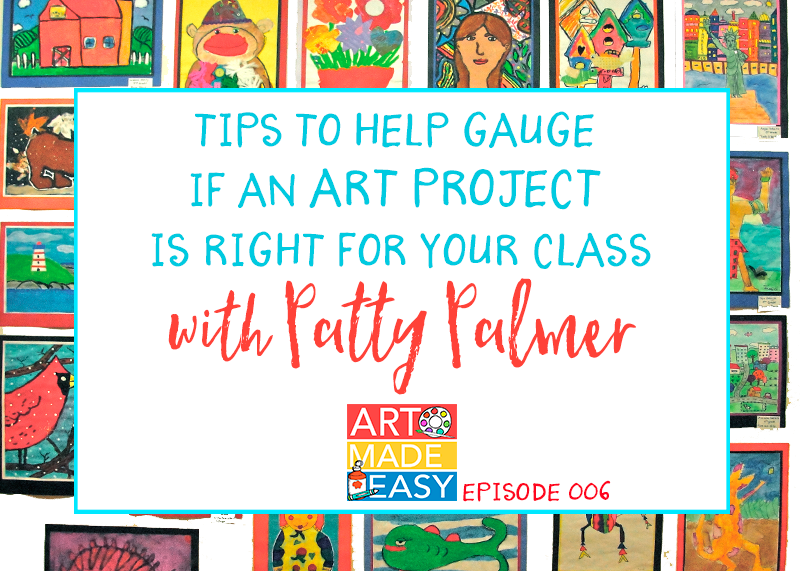 Here's a FREE CHECKLIST of grade level art projects to download:
Your Turn:
What was the biggest blunder you have made as an art teacher?