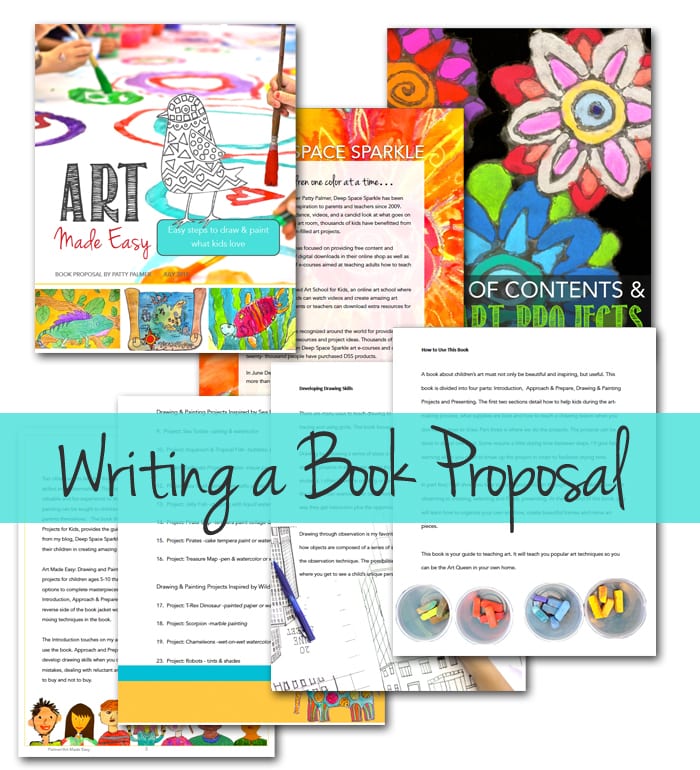 Last November I received an email that would literally change the way I think about Deep Space Sparkle.  An agent in New York wrote to me and asked if I would consider writing a book about art.
Hmmm. Let me think about that…
Sure!
I was a little more excited than that. Books are a huge love of mine.  I spent ten years writing middle grade stories and as many years attending SCBWI workshops and conferences, meeting in coffee shops for critiques and revising every spare moment I got.
But three years ago, I stopped.
Deep Space Sparkle was really picking up steam. Managing the blog, my shop, teaching full time and raising my kids was more than enough.
I always knew that publishing a hard copy of Deep Space Sparkle was something many of my readers were asking for.  I knew that going from blog to book was a very real possibility as many of my favorite bloggers were producing books, yet I still didn't pursue it.
Can I just tell you how good and validating it felt to have an agent approach me instead of the other way around?
What Its Like Writing A Book Proposal
After a couple of calls with the agent teasing out a book concept, she asked me to produce a bio, a media kit and a few more informational pages about Deep Space Sparkle.
Despite not really knowing what these pages should look like, I decided to design the media kit to reflect the visual elements of my blog. This was easy peasy (and a lot of fun) for me. Translating Google Analytics, especially when page views and user visits aren't necessarily that important to you business, was hard. I felt like my numbers were abysmal. My social media stats were kind of pathetic. It's strange how numbers twist your perspective on your self-worth because after looking at my social media and web stats and compared them with others popular sites, I felt like I had been wasting all these years building not trying to build my audience.
So much for letting things grow organically. I vowed to put more effort into growing my stats (which I still haven't done, by the way).
After my media kit passed the test, so to speak, we were onto the next step of the book proposal: Writing the Intro and a few chapters.
We settled on an art-at-home theme. No school or academic vernacular. No standards. No technique verbiage. Just art for the parent around the kitchen table. I was excited about this but in hindsight, I was a little unprepared for the difference. I began a first draft of the proposal in January and it took me FOR-EV-VAH. I couldn't for the life of me figure out how to craft a voice that wasn't school-oriented.
Eventually, I dialed in and was able to write an introduction and a few chapters about teaching art at home. I gave the draft to my husband–who as you all know is a computer engineer and a concise communicator–and he grimaced.
First of all, I wasn't writing in my voice but some strange person's voice who wanted to be funny. And I'm not naturally funny so it didn't quite work. Plus, I was writing in some futuristic tense–telling my readers what I intended to do instead of what to do.
Strange first draft especially after all my years of writing conferences and workshops.
How writing the introduction changed the way I looked at DSS
I didn't show this draft to my agent (for obvious reasons) and took a step back to examine who this book could serve and why it would matter to them.
After becoming clear on my book's intention (to provide easy steps to teach children to draw and paint without any art experience) I settled into writing with a clear head.
But some issues surfaced.
I loved the art-at-home direction but I realized that I had no real experience teaching art at home. Sure, I did art with my own kids but that felt so long ago. Questions surfaced. What's it like to teach art with 4 siblings of different ages? What does prep look like? What about timing? Does it take a six-year old and his mom longer to complete a project than in a classroom with twenty kids and an experienced art teacher?
To find out, I knew I had to create my own home art studio.
I knew the moment I said this out loud to Neil that my business and my role as an art teacher was about to change.
Because of the book, I had to make a really difficult decision.
Teaching and prepping two days (11 classes) a week is not a full schedule. But running the blog, producing content and writing a book is.
Something would have to go.
Last Spring, I felt the burden of teaching all grade levels plus doing all the extra work that is required of an art teacher plus running my business. I was overworked. Could I add writing a book and teaching art at home to my workweek?
No. It would be too much.
I told my principal that in the Fall, I could work one day a week. I had no idea what that would look like for the school or for me.
My Principal was amazing. Just last week she offered me the opportunity to teach 5th and 6th grade in whatever schedule or time frame worked for me. I'm embarrassed to have even requested the one day knowing full well that such a request is almost impossible for an administration to work around.
I truly had no idea what would come out of my request. I'm not sure what concession were made to make this work, but I'm so thankful. I can still do my 6th ceramic tile mural project that has become a tradition at my school and one that I started so many years ago.
Am I sad that I'm no longer the K-6 teacher?
Actually, much more than I anticipated. I love working with the younger kids, especially the sweet Kinders. I'm having a hard time picturing my week without them.
But it all works out, right?
I'll be able to have a smaller group of kids in my home art studio to work on projects in a far more intimate setting. This will become the raw materials for the book and a video series I intend to produce. The one thing I'm excited about is sharing the art at home projects with my DSS audience. It'll be fun taking pictures of the kids and their process.
What's Next?
I finished my book proposal yesterday. After starting in January, working through two drafts, selecting lesson ideas, researching comparative titles, writing the  overview (hardest part by far) and working out a title (thank you Facebook Fans for helping me. And thanks to Laura from Painted Paper who suggested I stick with my own copy…Art Made Easy for the title. That's what worked in the end), the proposal is now in the hands of my agent to work her magic.
I feel very happy with this experience. It forced me to think about the purpose of the book, how it could help others and how my blog can continue to provide inspiration and resources for both school art teachers and at-home teachers.
I accept that I may not get a book deal.
I accept that I may not accept a book deal.
I do feel very confident though that if I get to write a book, it will be one of the best things I will ever do. And many little kids will benefit from it.
And because of that, I'm happy.
Do you have any questions about writing a book proposal? Especially a proposal for a creative industry? I'm happy to provide as much help as I can, so ask away…
Be sure to subscribe to my free weekly newsletter to receive updates on how the book is coming along.