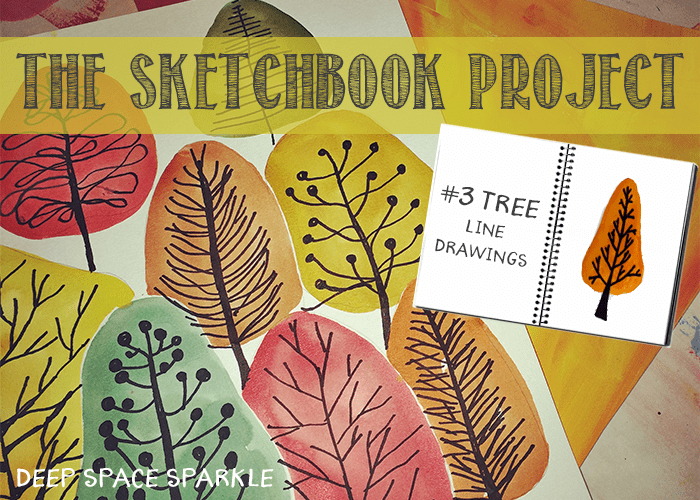 The Sketchbook Project is a record of how my sixth grade students used sketchbooks during their art class to record art information and create projects. Learn how I used sketchbooks instead of individual sheets of paper to teach art & creativity.
Week Three: Atmospheric Perspective
Today's Project: Tree Line Drawings
Eloise Renouf is an illustrator based in the UK. I love her work. She has been the inspiration behind many of my art projects, especially the ones that involve printmaking and line.
A browse though her Etsy Store shows her modern style. And it is her print of these color blocked trees that inspired this lesson. If this print isn't charming enough, take a look at this one.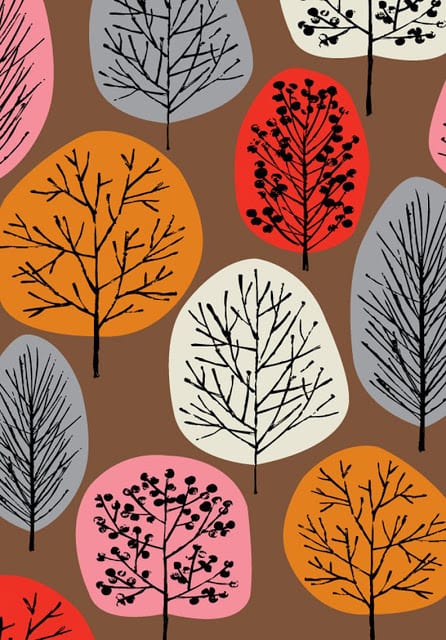 THE PROJECT
After two major projects under our belt, I wanted to offer my sixth graders a project that they could complete rather quickly. My thought was that any student who needed to finish their perspective landscape could still work on it. If they were done however, they could work on the new project of tree line drawings.
I'm just going to straight out and tell you, although this project looks super easy and quick, it was a HUGE challenge.
My instructions went like this:
Draw "trees" with a Sharpie (draw trees without leaves)
Draw larger trees near the bottom of the paper and smaller trees behind them
Use watercolor pan paints to create a halo of color around the tree branches
I demonstrated how to draw three types of trees. My instructions were pretty basic and I went quickly, assuming that most kids in 6th grade knew how to draw a tree. Not many did. What the kids did end up doing was drawing lots of scribbles and harsh lines.
Here's the thing.
Don't underestimate the difficulty of what appears to be easy or simple. This type of drawing (modern abstract) is not realistic so the kids can't look at a real tree or photograph and draw what they see. They have to come up with an interpretation of a tree that requires contrast, nuanced lines and creativity. No small task.
Still, some kids are great at copying, so their trees look pretty good.
And the others benefited from sitting down with me and breaking down the concept of creating simple lines from detailed subjects.
We had fun and while half the class took the opportunity to work on their landscapes, I was able to connect and draw with the other half of the class.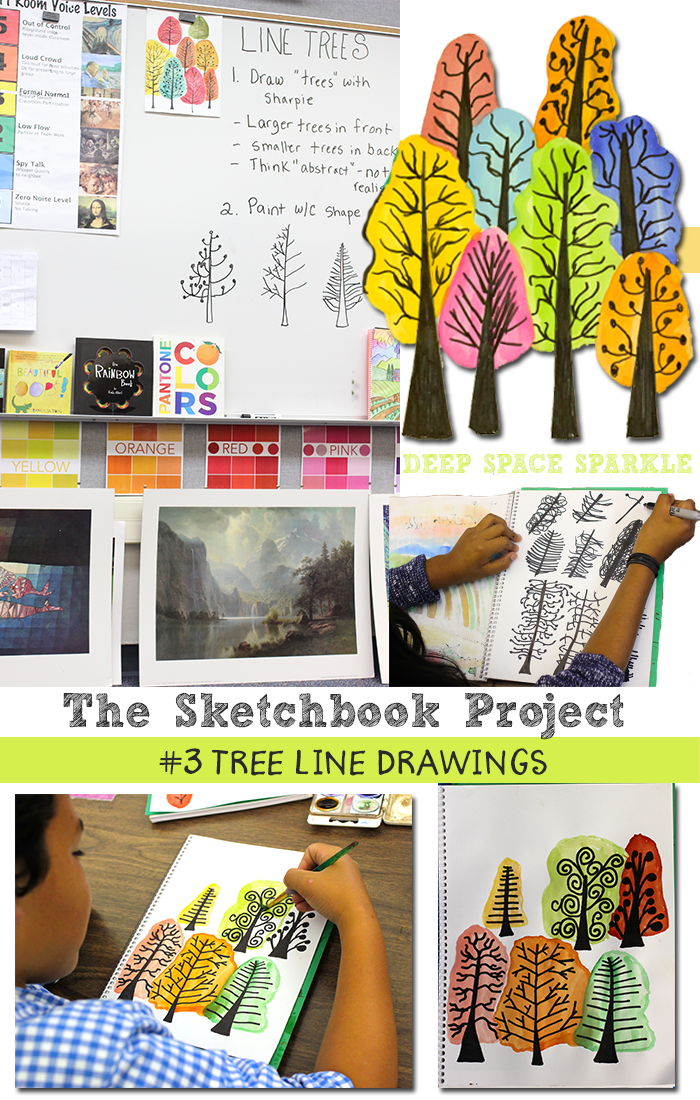 The October Freebie pack is chock full of Fall themed lessons, drawing guides, technique tips and video tutorials. Download this handy drawing guide before you get started on your folk art trees:
Missed the last installments of the Sketchbook project?
Intro: The Sketchbook Project: The Beginning
Week #1: The Sketchbook Project: Creating Value + Free Worksheet
Week #2: Atmospheric Perspective + Free Worksheet
Week # 4: Sonia Delaunay Circles
Week #5 Expressive Self-Portraits
---
Do you have any tips on how to teach modern illustration? It's not easy for most 11 and 12 year olds so I'd love to read your tricks. Leave a comment below.
PIN ME!