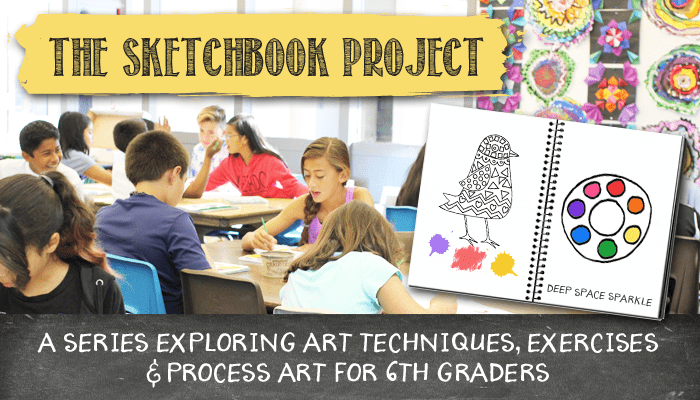 This was my question:
Would a self-guided approach to art-making work with my 6th grade class?
I always wanted to offer my students their own sketchbooks to bring to art class. They could be used for practice drawing, experimentation with paint-mixing and free choice. But when you have a small art program (15 weeks a year), there isn't enough opportunity to justify the purchase of a product that would consume a third of your art budget.
But, what if the sketchbook was the only thing you offered the students? Then it began to make sense.
FUNDING:
After discussing the idea with the 6th grade teachers, they agreed to partially fund the sketchbooks. This was huge. I could now proceed with the Sketchbook Project without compromising the art budget for the rest of the grade levels.
The idea was for each student to have his own sketchbook but they would leave the sketchbook in the art room. I cleared a few drawers to make room for the 75 books and dove into creating a few starter projects to engage the kids.
This is the brand of sketchbooks I used: Sketch for Schools
THE BENEFITS:
If a student owned his own sketchbook, my hope was this:
Take more pride in their work
Be able to see their efforts throughout the year
Have a place to record art observations
Work on past projects
Would students like a sketch book compared to a larger piece of art?
Turns out they did. At the end of the year, after we filled up the pages in the sketchbooks, most students reported that they enjoyed working on their own sketchbooks compared to the larger format papers that we typically used in art class.
Some students missed the larger pieces of art (I know I did) and some students were non-committal with their opinions. The classroom teachers were the ones who reported the biggest benefit: they claimed the students talked about their sketchbooks and art class more than in the previous year.
Over the course of 15 weeks of art (50-minute classes) these are the projects we did: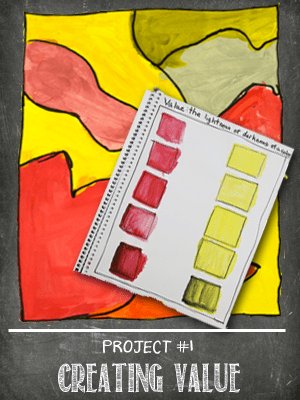 Lesson available: Students learned how to make tints and shades using 2 hues plus white and black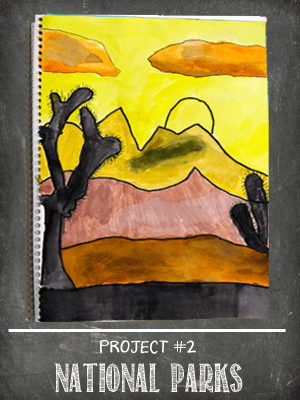 Lesson available: Inspired by images of our national parks, students practiced drawing landscapes and used value when coloring their art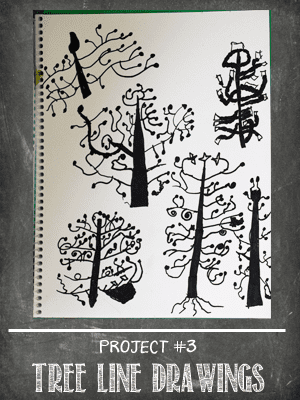 Lesson available: A quick project that played with organic lines and black markers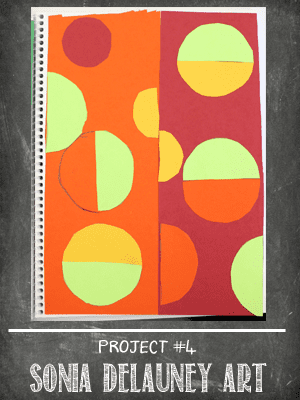 Lesson available: Playing with color, composition and shapes inspired by artist, Sonia Delauney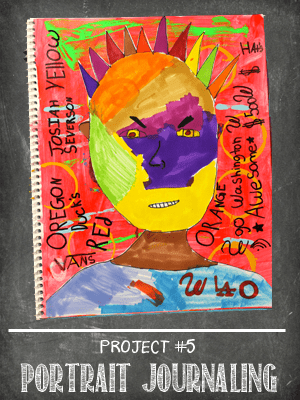 Lesson available: Self-portraits and personal journaling in one funky collage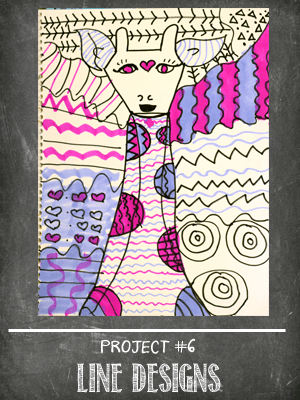 Lesson Available: Combining color, line and pattern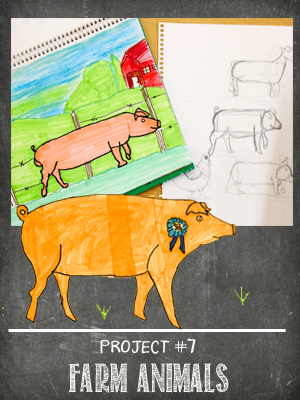 Lesson Available: Learning how to draw farm animals by observing illustrations and pictures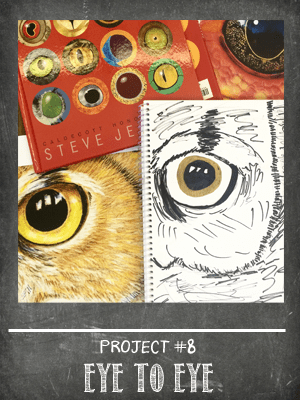 Lesson Available:A close-up look into the eyes of reptiles and other animals
Each week I will post the lessons above so that you have the opportunity to see how I approached the lesson, what the children experienced and how I might approach a lesson differently.
To received notification when each post is published on the blog, make sure you are signed up for my weekly newsletter:

THE SET-UP
The 6th grade teachers encouraged me to store the sketchbooks in the art room as they suspected that if the students were expected to bring them to art class every week, they might forget them. I agreed.
When the students entered class, I had the sketchbooks on a table in the back of the room. They would find their book and sit at their table. The art supplies that we would need for the particular lesson would be on each table with one exception. I would add the supplies needed for previous lessons on another table in case students finished the current project and wanted to work on an old project.
I soon got tired of this extra prep and trained the students to get their own supplies and put away the supplies. Most of the class LOVED this self-serve approach. I found that although many art projects weren't the frame-worthy finished art piece, most children took a great deal of pride in their pieces and were thrilled to be able to use whichever art supplies they felt they needed.
The drawbacks to this approach is that there is no specific steps for each art project. I would outline a technique, drawing concept or guidelines, but the students needed to be self-guided and motivated to complete their own art subject. This didn't happen for every lesson, but for the most part, I needed to be very active making sure that each child was progressing forward.
Often a child was stymied with having to choose what subject he wanted to use. If I noticed this happening, I would sit next to the student and work through a few solutions or starters just to get the ball rolling. I'll talk more specifically as I work through the lessons each week.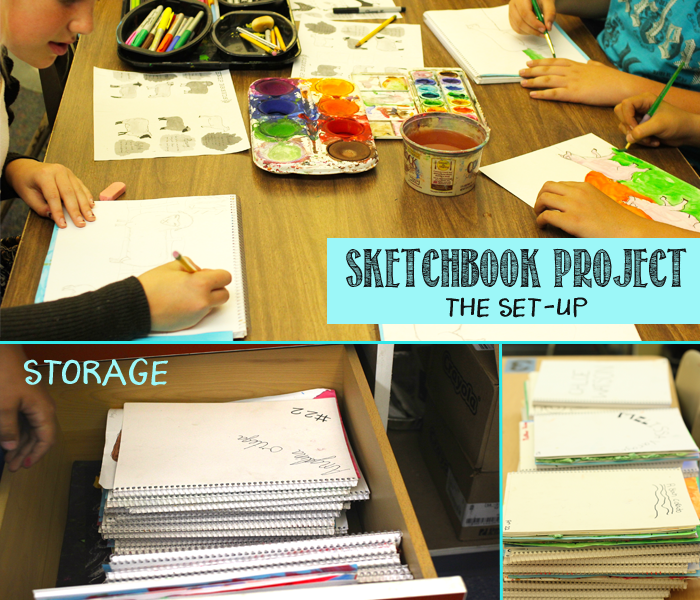 Do you use sketchbooks in your art room or home art studio? Do you use them exclusively or for another purpose? I'd love to hear how you use them. Leave a comment in the section below and share your thoughts and ideas.
Next week: Project #1-Creating Value 
---
Missed the last installments of the Sketchbook project?
Intro:  The Sketchbook Project: The Beginning 
Week #1: The Sketchbook Project: Creating Value + Free Worksheet
Week # 2 The Sketchbook Project: Atmospheric Perspective (Landscapes)
Week #3 The Sketchbook Project: Tree Line Drawings
Week #4 The Sketchbook Project: Sonia Delaunay Circles
Week #5 Expressive Self-Portraits
WEEK #6 Line Drawings
WEEK #7 Farm Animals
WEEK #8 Animal Eyes
---
Pin me!