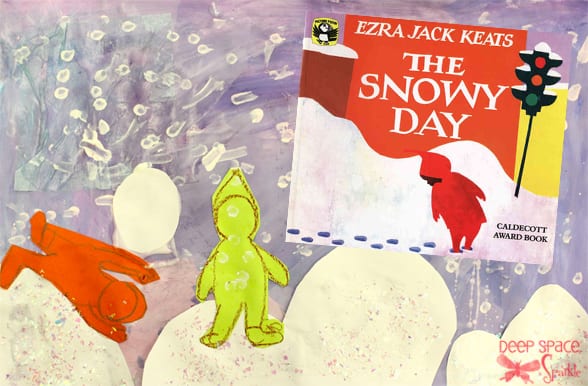 The Snowy Day by Ezra Jack Keats is a perennial favorite in art rooms. The text is simple yet easily brings round memories of my childhood days in Atlantic Canada; cold, raw and filled with possibilities. My Southern California students have very little, if not any, experiences with snow. A few have gone on ski trips but I suspect that might be the extent of it. Still, with the help of this book, I show them that it is not always possible to wear shorts year round.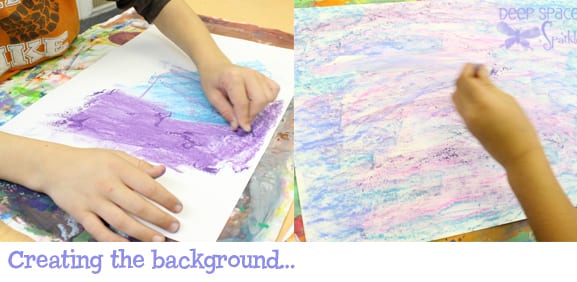 To create the background that looks pretty darn close to the book illustrations, place a small container of chalk pastel (blues, turquoise, purple and pinks) and a sheet of 12″ x 18″ white sulphite (construction/drawing paper) on the tables. Children can choose as many or as few colors as they wish and smear the entire surface with chalk.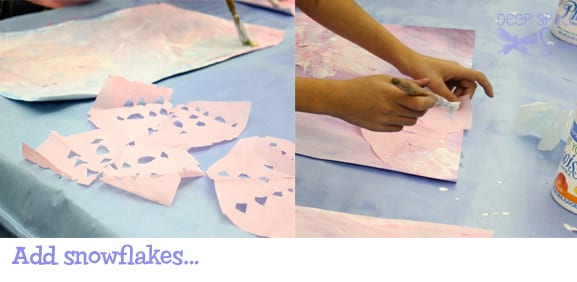 To prevent the chalk from rubbing off and to add a glossy sheen, paint over entire surface with Mod Podge. Use colored sheets of light-weight paper (card stock and construction paper is too heavy) and make paper snowflakes using any traditional method you prefer. I used tissue paper for the snowflakes and although it is a perfect paper, the colors I chose ended up being much too light and disappeared into the chalk background. My suggestion is to either use a regular copy paper or a darker colored tissue paper.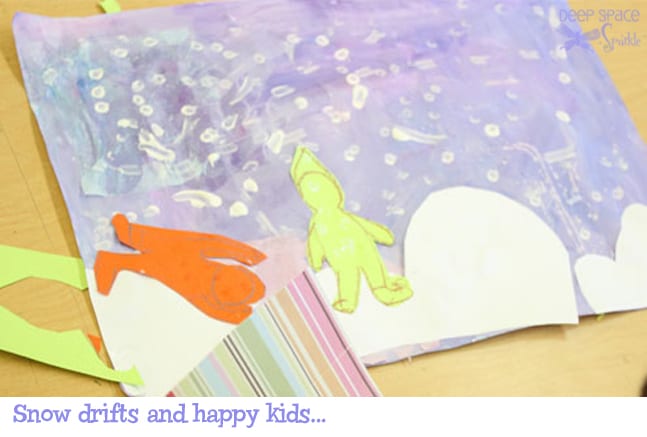 Now that the background is done (and this alone is a beautiful art project), I set out trays of paper scraps plus white for snow drifts and showed the children how to draw and then cut figures playing in the snow. I emphasized simple figures. The instructions were to put the glue on the pastel or marked side of the figures, but many kids forgot that step. No worries…still looked great!
Having done this lesson before as well as other landscape type collage art projects, I knew children typically glue pieces along the outside edges instead of starting at the center and moving outwards. I made a point of asking the children to glue the snow drifts first and glue figures towards the middle of the picture and move outwards. Some accomplished this, but most reverted back to the mystery of the outside edge. Does anyone know why children are prone to doing this?
The final step is to cast a shimmery snowfall over the entire picture. Children used Mod Podge to apply the shimmering glitter to specific areas.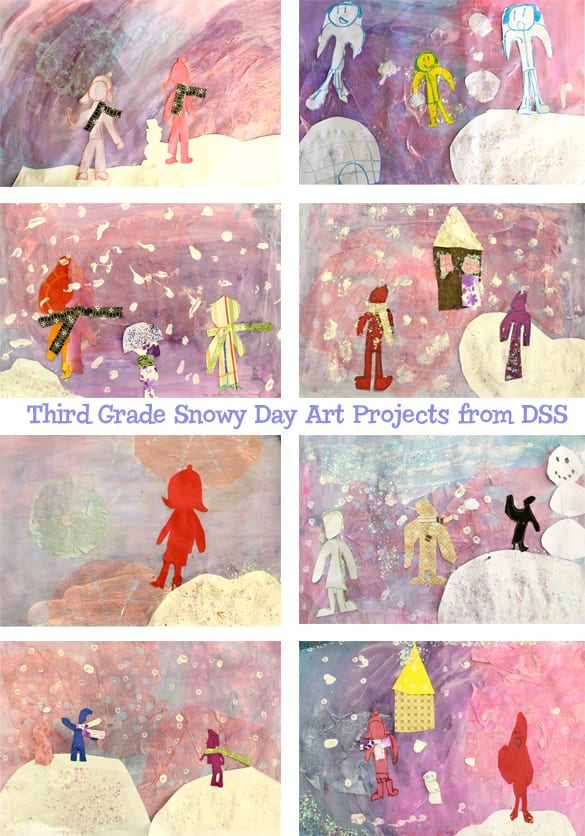 ---
Want more lesson ideas for the holidays? Download this free lesson guide by clicking the yellow button below and I'll send you my 5 Non-Religious Projects for the Holidays!