As soon as I saw the book Slush Mountain
(affiliate link) by Bjorn R. Lie, I couldn't wait to break out my paints to re-create the beautiful illustrations that can be used for a winter art activity or to celebrate the winter Olympics.
The book uses a soft palette of baby blue, lichen, soft gray, ochre and loden. I've been a recent fan of Crayola brand acrylic paints. They have a wonderful end result (egg shell finish) yet behave much like liquid tempera paint. I say this because I have never been a fan of using acrylic paints in the art room as clean-up is difficult.
You might be wondering what the difference is. I wrote a blog post and created a video showing how tempera paint and acrylic paint differ. Check it out to see how they differ and suggestions on what product to buy.
If you have a favorite acrylic paint then use it, otherwise this project is perfect for liquid tempera paint.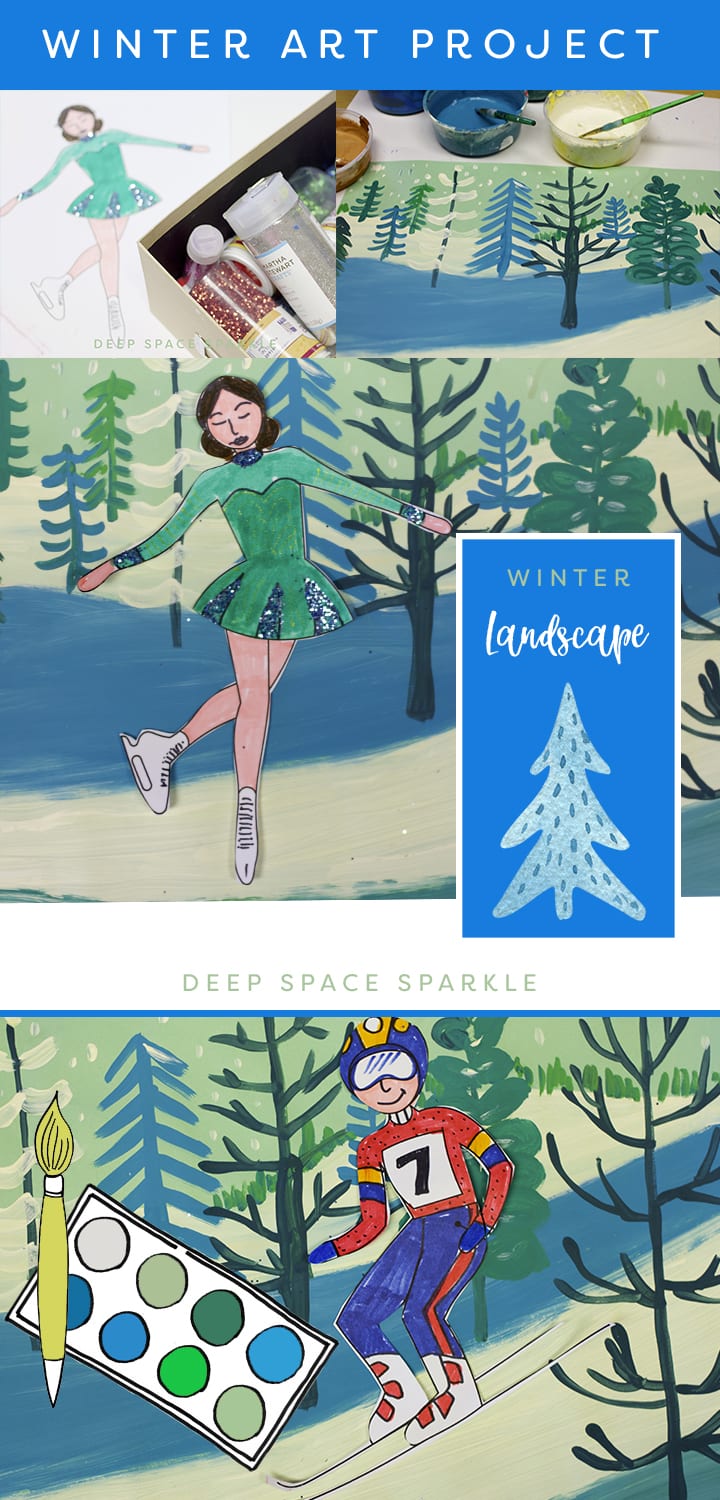 Here's what you'll need:
A variety of soft and bright liquid tempera or acrylic paints
Medium paint brush- round tip
Small paint brush- fine tip
12″ x 18″ white or light color sulphite or all-purpose drawing paper
Cardstock & templates
Black marker
Colored markers
Glue
Scissors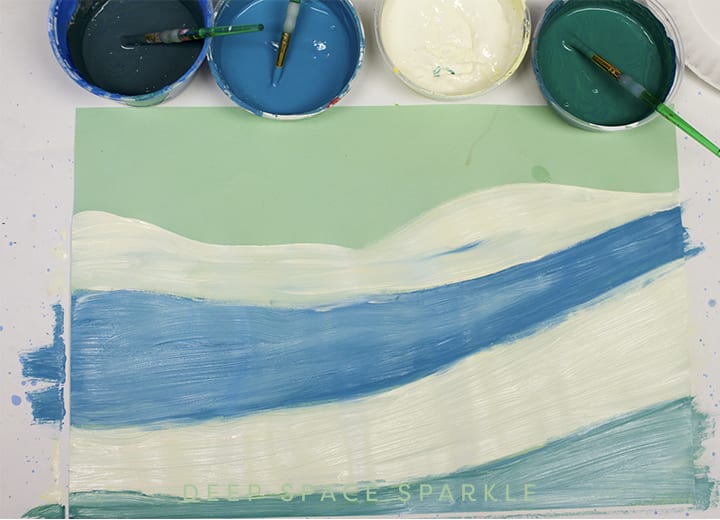 To start, mix your favorite winter color palette with your paint of choice. I like to use water to create a heavy cream-like consistency with my liquid tempera paints so that it is easier to paint with.
Using an off-white colored piece of paper (all-purpose drawing paper is great), brush a layer of creamy white snow on the top third of the paper.
Below the blanket of white snow, add various layers of blue, green or variations off those colors. Remind the children to think of how they might like to decorate their wintery forests. I opted for a sports theme as detailed in the book. If the child wants to add a downhill skier, perhaps they might like a hill. If the child wishes to create a figure skater, then a flat layer of ice might be a good idea.
What you are aiming for is a multi-layered hillside or forest floor. Leave the top part of the paper plain or without paint. Allow to dry completely before painting trees.
SWITCHING TO THE PAPER FIGURES….
While the background layer is drying, pull out the sports figures that have been photocopied onto cardstock. Cardstock is the heavy 11″ x 8″ copy paper that is readily found in office supply stores.
Use markers, colored pencils, or even cake tempera paint to color in the sports figures.
Carefully cut out the sports figure.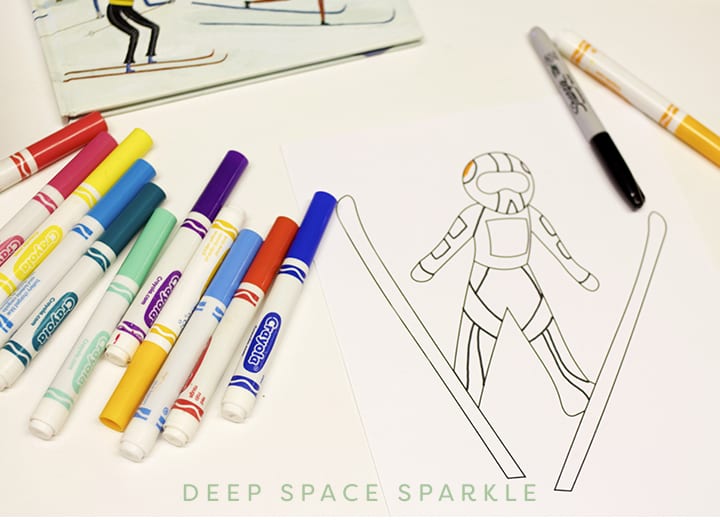 PAINTING THE TREES…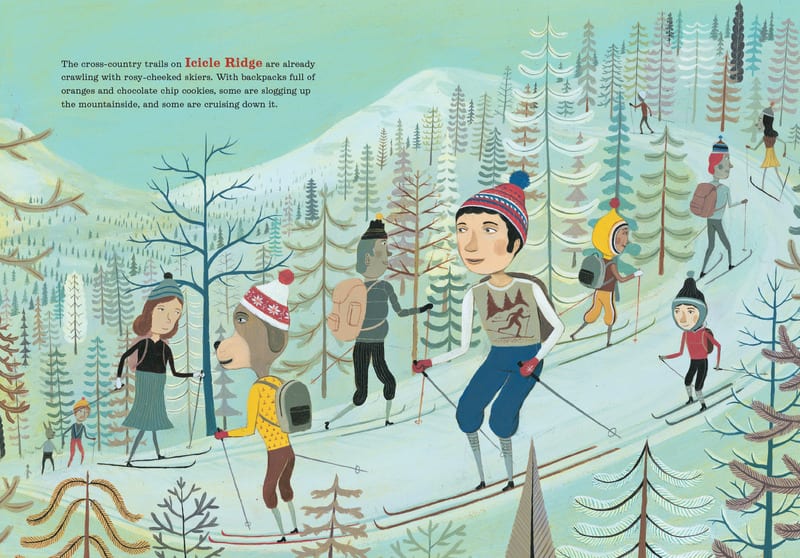 Once the background layer has dried, select a few colors of paint and draw vertical lines where you want trees to be placed. It helps to paint the trees along the top ridge first. These will be the trees that are the farthest away from the viewer and therefore are close to the top of the paper.
Next, draw longer lines for the trees in the middle of the paper. Draw the lines on top of one of the color sections. In my example, it's the blue section.
Finally, draw longer lines beginning at the bottom of the paper and reaching the top (or very near) of the paper.
With a variety of colors, draw the branches as individual lines, clumps or decorative shapes. Refer to the book for examples.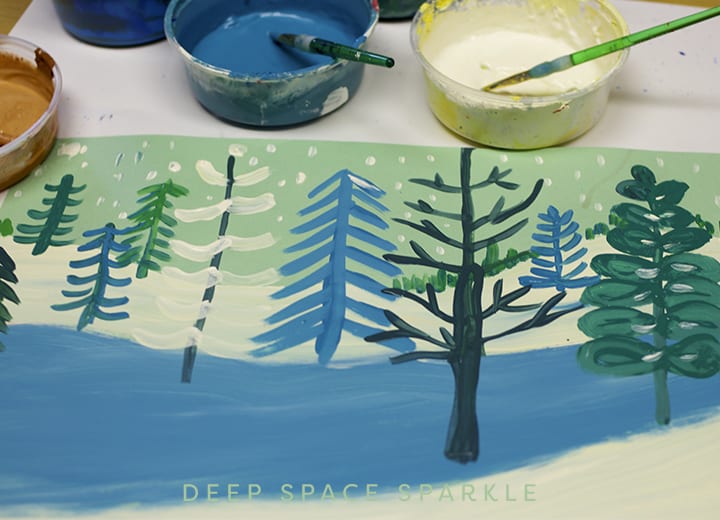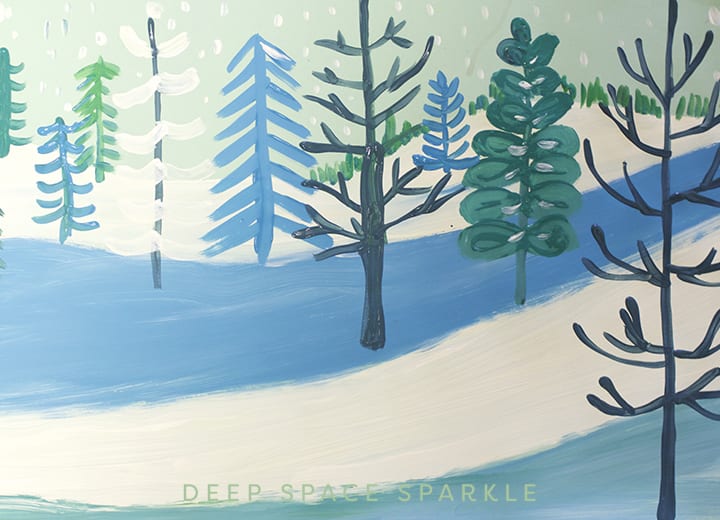 PUTTING IT ALL TOGETHER
Glue the action figures to the dry background. Add any extra details (glitter, etc). If the students added a skier, it might be easier to draw the poles or even skis on the paper after the figure has been glued down.
For a final touch, feel free to splatter the entire piece with liquid tempera paint to mimic snow.
An alternative is to brush on glue or Mod-Podge on select areas of the background and sprinkle snow glitter over top.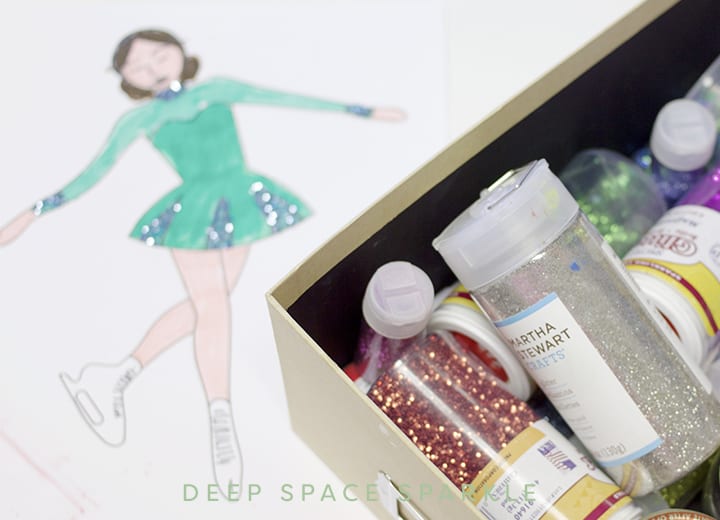 WANT THE TEMPLATES FROM THE TONAL WINTER LANDSCAPE LESSON?
To download a Figure Skater, Downhill Skier and Snow Jumper template, click the yellow box below to receive a free download from this tonal winter landscape lesson:
Did you like this lesson? Feel free to share it using the share tabs above.