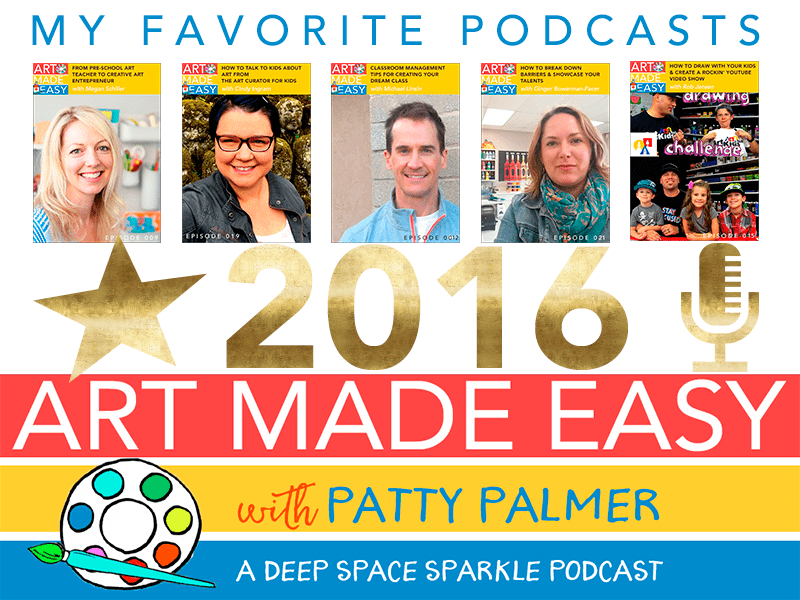 It's been a wonderful experience creating the Art Made Easy podcast for you. I've been a huge fan of podcasts for years and while I have always hated the sound of my voice, I wanted to have conversations with folks in the creative space. Podcasting seemed like the best way to do that and have you join the fun, too.
It started a bit rough. I spent weeks learning how to record and edit the episodes and many frustrating days converting the MP3 files. It wasn't until my friend Rick Mulready suggested I hire a podcast editor that the podcast became manageable. Best advice 0f 2016, I swear.
I interviewed so many amazing people. And because of you, Art Made Easy was on the What's Hot list in iTunes from the very first week of launching and stayed on the What's Hot list in K-12 Education ever since.
Of all the folks I interviewed, a few really stood out. These are the episodes that I learned the most from or who inspired me the most.  It just so happens that you felt the same way because these were some of the most downloaded episodes:
1. Episode 015: Drawing with Kids & How to Make Awesome Videos with Rob Jensen. Within minutes of talking to Rob, I knew why he has amassed over a half a million YouTube subscribers and why he resonates with so many: he's just so darn nice. And super creative. He lives in a space of abundance and shares his love of drawing to thousands of followers each week. Of course, I wanted to know how he creates his videos so I asked a lot of questions. If you are interested in creating some art videos and how to promote on social media, Rob tells you how it's done.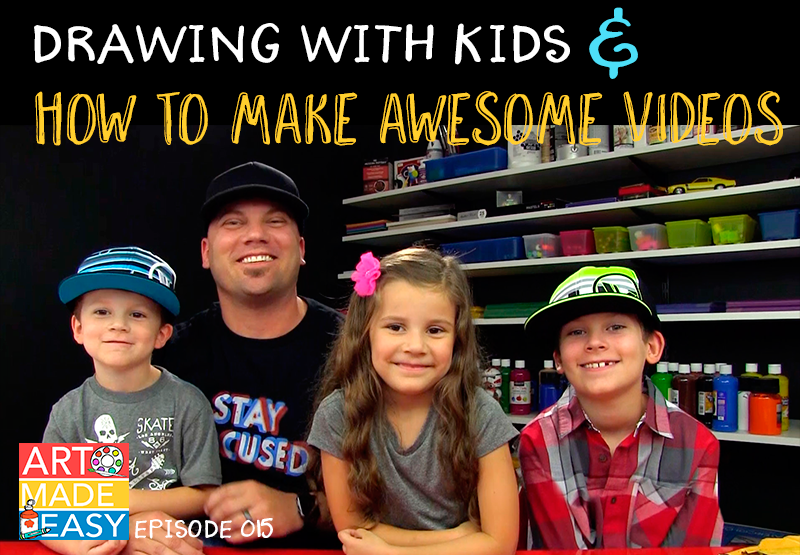 2. Episode 012: Simple Classroom Management Techniques with Michael Linsin: There is no an art teacher on earth who has perfected the art of classroom management but using Michael's techniques, we can come pretty darn close. Really. His advice is so logical that we come away feeling confident that we can tackle even the most problematic situations. If you want to start the year off on the right foot, have a listen to a few strategies that are guaranteed to help you in your classroom.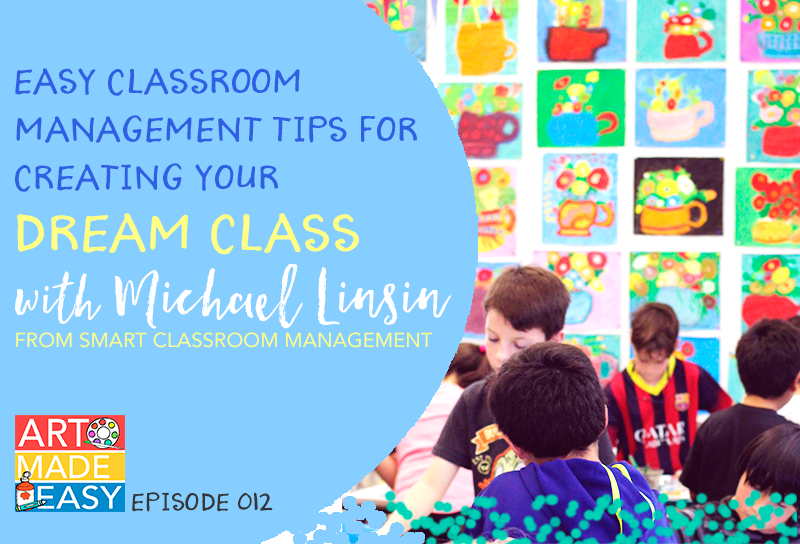 3 Episode 009: Art Teacher to Art Entrepreneur with Megan Schiller: Megan is a blogger with and tremendous knowledge of preschool and process art but also with beautiful aesthetics. I'm inspired by her branding images because I'm a creative person and images always get my attention first. But as I was talking to Megan, I felt a strong connection to her story because of how she was raised and how she experimented with a few businesses before settling in on one that worked.  This is the type of show that is meant to listen to with a mug of coffee and a cozy place to sit.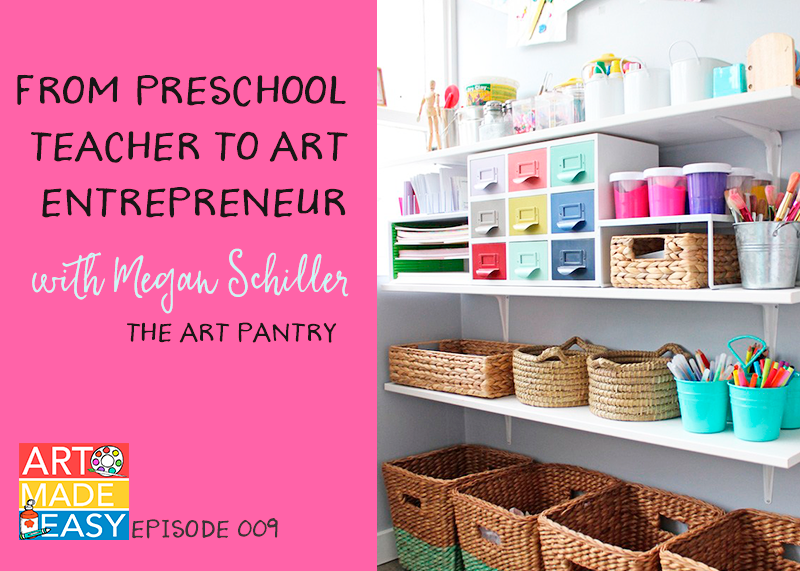 4. Episode 021: How to Break Down Barriers and Showcase Your talents with Ginger Pacer Bowerman:  I love a good conversation about vulnerability and blocks. Ginger, the art teacher behind the blog, Paintbrush Rocket, doesn't hold back as she shares her experience trying to start a blog and promote her art program despite self-doubt and resistance. She is a true artist and I know you'll love hearing her story of how she navigates through this new world of professional online promotion.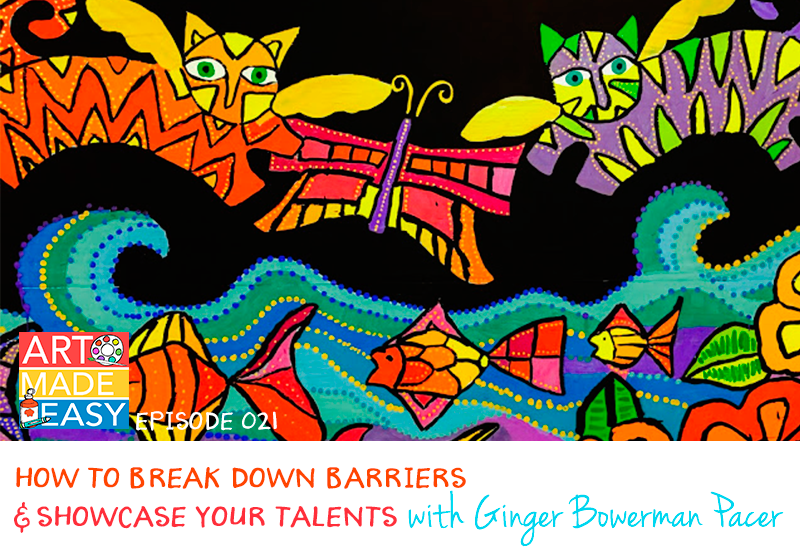 5. Episode 019: How to Talk to Your Kids About Art with Cindy Ingram: This episode is definitely in the category of "most learned". Cindy walks listeners through common misconceptions on how to look at works of art with your students and ways to help engage kids in connecting with the masters. She is brilliant, funny and unloads a huge amount of resources for you.
---
Interviewing guests is the most fun part of creating a podcast but there are times when I like to talk to my listeners. These solo podcast episodes allow me to answer common questions that I get asked most often.
Here are my top 3 most downloaded episodes:
Episode 016: Mindset Shifts That Made a Difference in my Life: I was a bit hesitant recording this episode because it exposes my personal philosophy of how my intuition has guided my choices. Not something everyone wants to hear because it's not a quick fix. But apparently it was valuable to many of you as it was one of my most downloaded podcast episodes.
Episode 011: Working through Mistakes: Mistakes, frustrated artists, bored kids…how do you cope? This is a universal problem that is felt by many art teachers. Knowing  how to handle frustrated artists is explored through examining your own art philosophy.
Episode 006: How to Gauge if an Art project is Right for Your Class: Knowing in an instance whether or not a project that you see on Pinterest will work for your group of students is a system that I developed when I first began teaching. In this episode I share what works with each K-6 grade level. Plus there's a handy checklist to print out, too.
---
Thanks to everyone who has listened to the show and offered a review on iTunes. This means everything to me!
New episodes start on January 4th!
HAVE YOU SUBSCRIBED TO ART MADE EASY?