Based on the book "Manana Iguana" by Ann Whitford Paul, this adorable collage lesson is perfect for little kinders. Children learn how to draw Tortuga the Turtle as drawn in the picture book and paint a desert background.
I do this lesson in three thirty minute classes.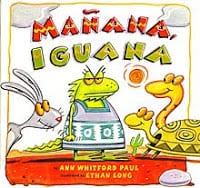 Supplies:
12″ x 10″ white paper
Oil Pastels
Scissors and glue sticks
12″ x 18″ blue paper
Tempera paints: brown, white, yellow, light green and dark green
Paint brush and water
Drawing Tortuga
There are some great turtle drawings in this book. Cute, simple and artsy.
I love how Tortuga's eyes stick up from his head. That is what we start with: the eyes. Draw two ovals on one side of the paper. Draw a big oval around the eyes taking care not to draw through the eyeballs! Add a neck.
For the body, draw a curved line from the neck all the way to the back of the paper. Kid's will know instinctively how big to draw their turtle, so let them. Much cuter this way!
Then add a bottom and four legs.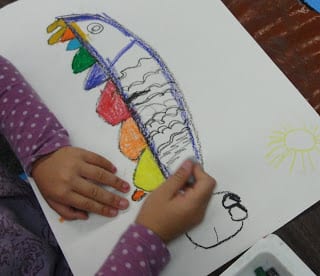 Cut out Turtle
This step is a challenge for many kinders. Some kids have cutting experience but if your group struggles with this part, don't be surprised. I've taught second graders who can't cut well, so consider this lesson great practice! The hardest part for little hands is navigating around a curvy bottom. To avoid this, encourage the kids to draw a straight line for the underbelly. Believe me, much easier for them.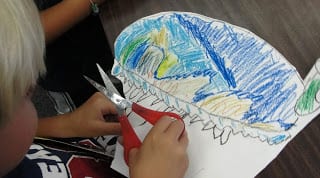 Painting the Background
This is how I set up for the class. The cut-out turtles are in a pile on a separate table. So when the children finish painting their background, they can glue the turtle on right away.
I must say however, that this particular group had a hard time finishing the background in the allotted time and most didn't finish coloring in their turtles from step one. So I'll add another class so that everyone can have a finished piece.
Doesn't always work this way. The next group of kinders finished everything. Many variables involved: talkative children, late getting to class, etc. None a problem. Just need to be flexible!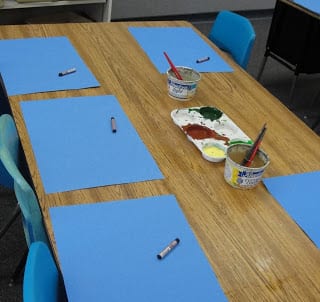 With an oil pastel, the kids drew a straight line across the middle of the page. They added a sun plus a cactus for an authentic desert landscape.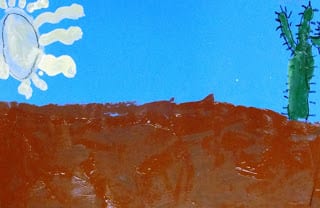 Putting it all together
By now, the kids should have a finished background and a cut-out turtle. Most of my students needed to finish coloring in their turtles, so we will add an extra class to do this. A nice extra detail would be to add spikes on the cactus, and outline the oil pastel lines again.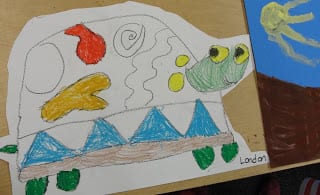 The Results!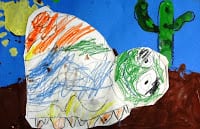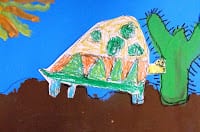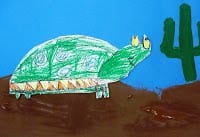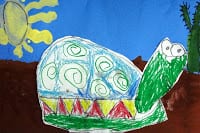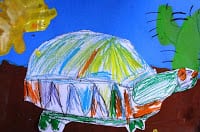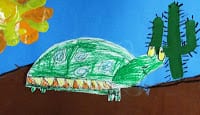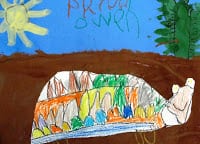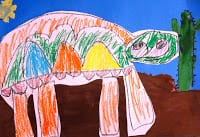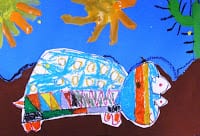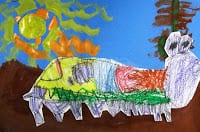 ---
ARE YOU A SPARKLER? Over 300 art lessons are available inside the Members Club. Access to videos, resources & trainings for one low monthly fee.
CLICK THE IMAGE TO SIGN UP FOR NOTIFICATION OF OUR NEXT ENROLLMENT