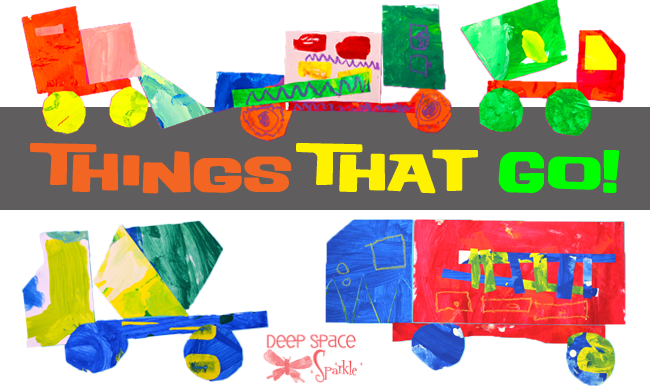 Diving straight into a messy art project at the beginning of a school year might be crazy, but I do it anyway. I adore watching kids paint and they love to do it, so it's a win-win. This painted paper lesson has huge benefits: teaches little kids how to hold a brush, how to make big brush strokes, how to follow a set of instructions and how to create texture. And that's just for step one.
The biggest challenge begins on step two when the kids are asked to turn various rectangles into shapes. Here's what the Kinders did in the first two weeks of art class:
Creating Painted Paper
I have many projects covering how to make painted paper, so I won't go into the details in this post. The paint set-up is just slightly different for this project compared to many of my other painted paper projects. I used plastic cards, toilet paper rolls and sponges to use as texture tools instead of rollers. Children created two painted papers each.
After the paper dries, sort the paper into colors. Cut each color group into various size rectangles. I cut small rectangles (for wheels), medium size (for cabs) and big for the main parts of the trucks. Place a variety of sizes and colors into tin-foil trays for table groups.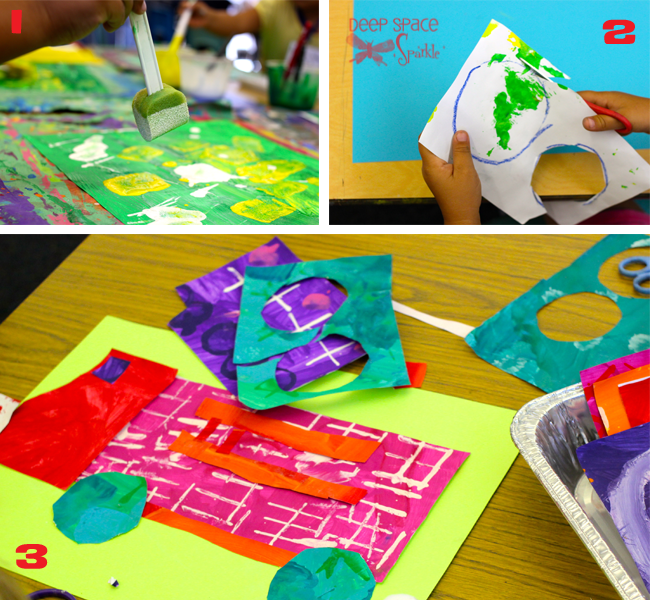 Making the Trucks
On the second day, the Kinders sat in front of me on the floor. I showed them drawings and photographs of big rig trucks, firetrucks, delivery trucks. If you have time to read a book, I'd recommend Dig, Dogs, Dig: A Construction Tail by James Horvath. The kids will love it and the book will help identify the names of the common vehicles on a construction site.
We talked about the basic components of a truck: the cab where the driver sits, the body of the truck, the wheel base and the wheels. We counted wheels on some of the trucks in the picture (and a few kids doubled that sum to figure out how many total wheels the truck had). Then, I pulled out the rectangles and demonstrated how to create a truck.
To make wheels, I cut circles from the small rectangles. Depending on the ability range of your Kinders, it might be helpful to use round plastic cups. Remember, drawing and cutting a circle is challenging for 5th graders, so don't feel like you are compromising the skill development if you choose to use a template.
I demonstrated how to cut an angle line off one side of the "cab" rectangle to make a windshield. We talked about trapezoids and how to make one from a rectangle. As we spoke about the different shapes, I cut them out and placed on a colored piece of paper on the whiteboard. The truck appeared slowly, much to the delight of the kids.
This is the order I used:
Cut wheels (2)
Cut wheel base (long, skinny rectangle)
Cut cab (medium rectangle with a triangle cut out)
Main body (trapezoid for a dump truck)
Details like headlights, ladders and hub caps can be made if you have time)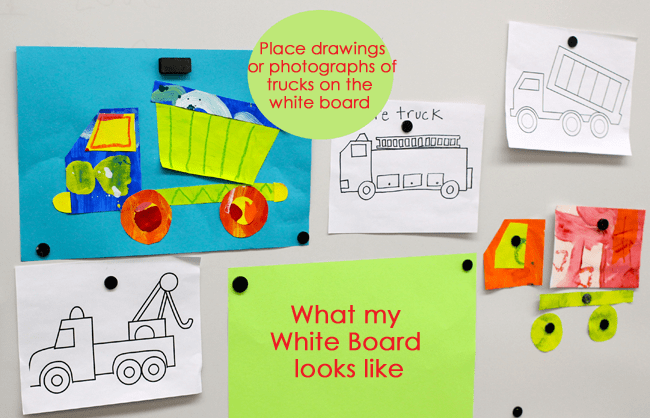 Before you scroll down and see the wonderful trucks made by my 5 years olds, remember that this can be a very challenging project for young Kinders. One year makes a huge difference in skill set for spatial awareness, listening skills and cutting/gluing skills. One of my classes has nine 4-year olds, many of whom didn't know how to operate scissors. It was the cutest thing really. One girl was completely mystified as the strange looking device.
Other kids (4 and 5 year olds) have developing awareness for objects, so many of the trucks looked like the one below. Some kids understood how a truck looks, but lacked scissor experience so the process was very slow. Other kids couldn't quite follow all of the instructions, so missed the part about gluing down the truck. Not a big problem, but when it was time to clean up and "put all the paper scraps" in the recycling bin, so did the carefully cut-out trucks. Yup. It happened.
But remember the big picture: After this lesson, the children will be one step closer to mastering a higher skill level.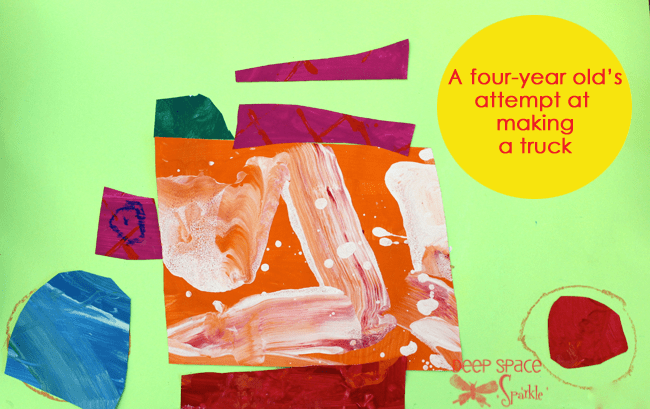 For most kids in my three Kinder classes, the trucks came together really well. Some kids created cement trucks by using organic shapes and another placed two trapezoids together. Lots of firetrucks with cut out ladders and a few trucks decorated with oil pastels. A great start to the school year, I think!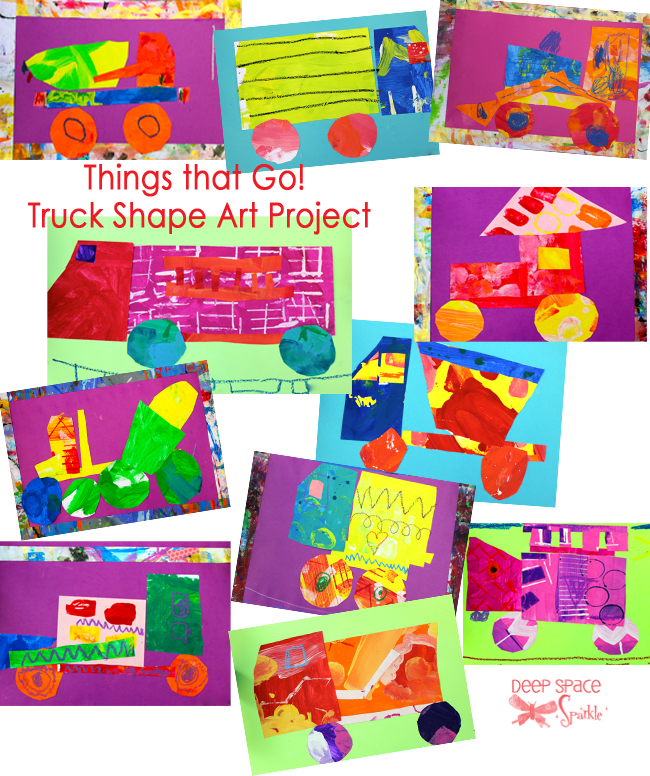 Now my question for you….
How do you introduce shapes to Kinders? Do you have a good lesson to share?