Chalk pastels are one of my favorite products to use in the art room. They allow a child to lay down a lovely layer of color with just their fingers. No paint, brushes or water necessary to create a colorful work of art. And if you're into color-mixing, you can't beat pastels. They are soft, glorious and come in every color imaginable.
So why do they have a bad rap in the art room?
Well, they are dusty for one.
And pretty messy.
And some kids (okay, me) don't like the chalky, dry feeling on their hands.
Truth is, it's very hard to keep clean with chalk as it's impossible to apply chalk neatly. Once you embrace this, I think you are on your way to some pretty amazing art lessons.
I invite you to join me for a 4-part video series that explores why chalk is worth exploring, how to prep chalk, how to avoid the mess and projects that use chalk effectively.
Video #1 Introduction: What's Possible with Chalk Pastels
Video #2: Chalk Pastels Art Projects
Video #3: White Paint & Chalk Technique
A really cool technique for chalk pastel is to dip the chalk into white paint. Here's the thing. If you dip the paint into a liquid-whether it's water or paint- the chalk gets wet, too. And it starts to smudge on the paper and blend with the paint color.
It creates a very texture, and beautiful piece of art.
Video #4: Best Practices for Working with Chalk Pastels

If you are working with a new set of pastels, go ahead and break the long sticks in half. The smaller the piece, the easier it is for a small child to work with.
TIP # 2:
Use black paper instead of the white. For many of my projects that feature chalk pastel, I set out colored paper (black is my favorite) for the background base of the drawing. The dark background allows the vibrancy of the chalk pastel to really pop.
TIP # 3:
Draw first with a black oil pastel or waxy black crayon. The trick here is to encourage a child (especially one that is 10 and under) to draw large. Larger drawings are far easier to color, especially when you are using chalk. Color right up to the black line and smooth the chalk.
TIP # 4:
After drawing with an oil pastel and coloring with chalk, outline the good drawing lines with a black oil pastel. This really makes the piece stand out.
TIP # 5:
Use chalk pastel over dry paint to add highlights, contrast and extra details. There is simple no better way for a child to add layers of interest, contrast and texture to a piece of art than using chalk over dry paint.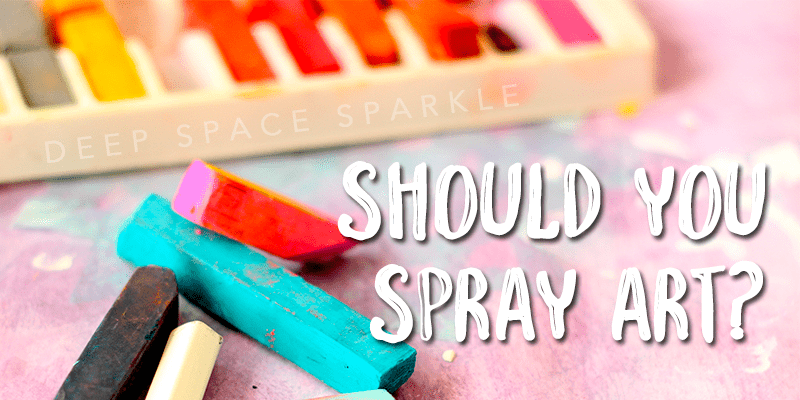 So if you are past this and you have just created a chalk lesson with your kids, you might be wondering what's next?
There are a few things that you can do to ensure that chalk art gets home safely:
Newspaper: Before beginning a chalk project, lay a double spread of a newspaper down on the table. Not only does it help the children color evenly (a double layer provides some padding against a hard table) but you have an instant chalk protector on hand. Simply fold the newspaper over the artwork (tap excess chalk into a trash can) and place in a child's portfolio. When you work on the artwork again, the children already have their "placemats".
Hairspray: You may have noticed that when you sprayed chalk pastel artwork with hairspray, the spray tends to discolor/lighten/darken or even pixilate the artwork. It's always a bit nerve-wracking spraying as you never know what's going to happen. The only advice I have is to use the brand with the finest spray. For me, Final Net Hairspray is the best.
Fixatives: Quite honestly, I have tried a few fixatives over the years and I haven't found one that works better than hairspray. They are expensive and I suspect aren't meant for cheap school-grade chalk.
Pastels: The best way to ensure that chalk will stay put is to use good chalk. In the past, I have always bought the most inexpensive pastels. They have always served me well but better quality pastels have more staying power.
For more free art lesson on CHALK PASTELS, click HERE.
---
Need PD Hours and Lesson Plans?
Training like this one are offered inside The Sparklers Club as well as done-for-you art curriculums, art bundles, beautiful art resources and a thriving, like-minded community….
Enrolling in August and January. Click HERE to be added to our waitlist.