For this art project, I'll show you how you can use marker, liquid watercolor paints and colored pencils to create a simple Valentine's Day project that looks great with multiple mediums.
I created this option that uses the book, Here Comes Valentine Cat as the inspiration, as well as another variation of Funky Cat, found in my book, Draw Paint Sparkle.
Here's what you'll need for the watercolor paint option:
– 1 sheet of 12″ x 18″ white drawing paper per child
– Liquid watercolor paints
– Black waterproof marker
– Medium paint brush
– Colored pencils or crayons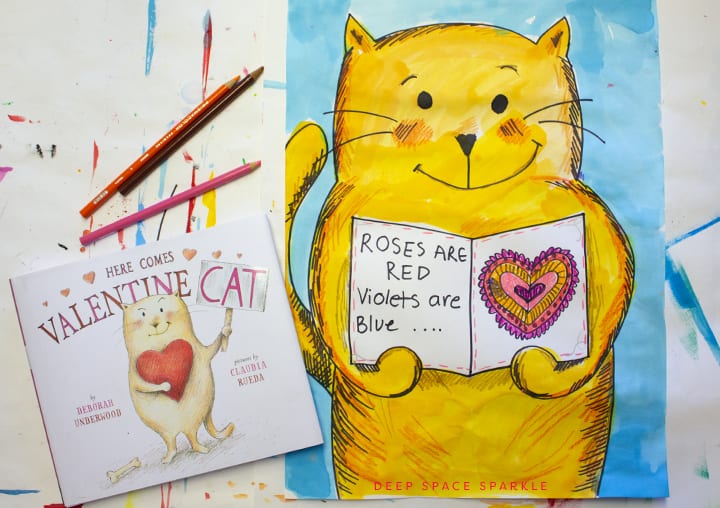 The drawing for this cat is primarily the same as the example of Funky Cat in my book, Draw, Paint, Sparkle. Same eye placement yet with a simplified version of the nose and mouth. The body is similar but before the body is drawn, children have the opportunity to add a Valentine's Card below the cat's face.
Here are the steps:
– With a waterproof black marker, draw two dots in the top section of the paper. Add a triangle nose, long line below the nose and then a line for the mouth.
TIP: As you read through the book, you'll notice a variety of expressions created by the lines of the mouth and eyebrows. Encourage children to really look at the way the illustrator created expression with these simple lines. As a warm-up to this lesson, children can create their own expressions on a blank sheet of paper. Perhaps challenge them with coming up with 6 different expressions.
– Like the funky cat steps, draw the top of the head and ears next. But stop here before proceeding.
– Add a single square or a rectangle below the head. It's easier to draw the sides and top first. Then, add the paws and arms next.
– Below the arms, draw the rest of the fat, furry body. Add a tail.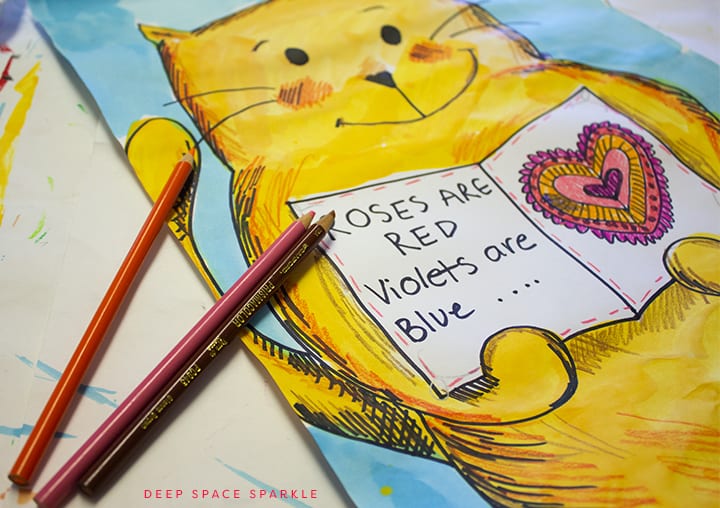 For the coloring options, remember, it's important to use what you have or what feels easiest. You don't need to use paint but if you choose to, that's what you do first. Paint the background and the cat with liquid watercolors. Pan watercolors are fine, but they'll take longer to apply. Liquid watercolors are fastest.
Allow to dry.
Pull out your colored pencils or crayons and add texture lines to the cat. While this step could be done using the black marker, it can also be done using the colored media. Older children will love the opportunity to make a more realistic version of their cat.
I'd love to see your student's work….tag us on Instagram @deepspacesparkle
Enjoy!