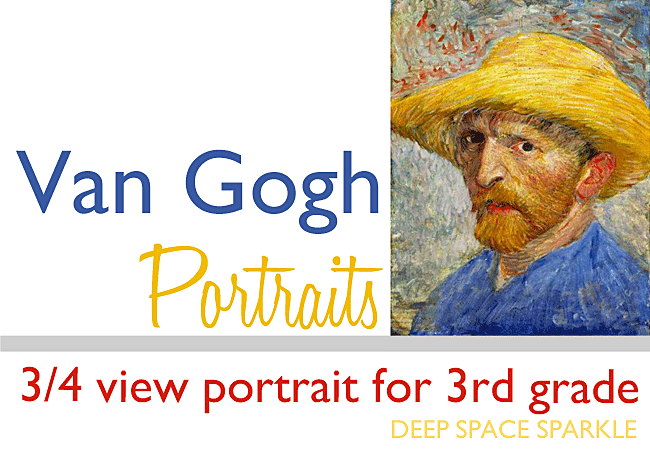 By the time I was in seventh grade, I abandoned the frontal portrait view in favor of a ¾ view. I loved how drawing portraits from a ¾ view perspective looked like the school photos we all had. It does take a bit of practice but I believe it might be easier than drawing a frontal view.
Third graders are really just beginning to get comfortable with a standard format portrait so I'm not sure what possessed me to try the different angle. I suppose that's the magic of Van Gogh; he is a constant source of inspiration!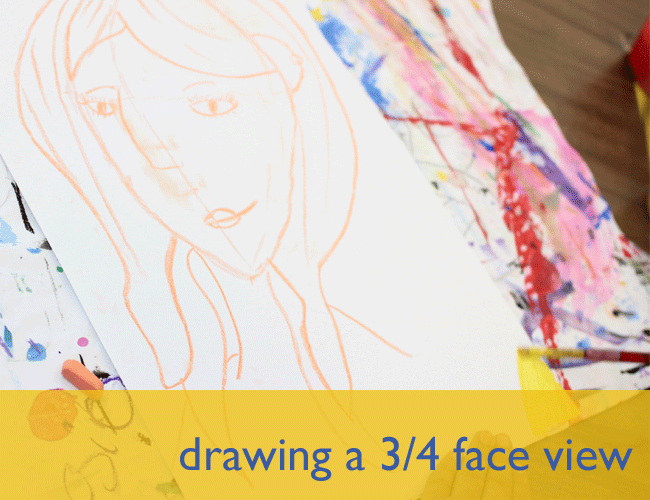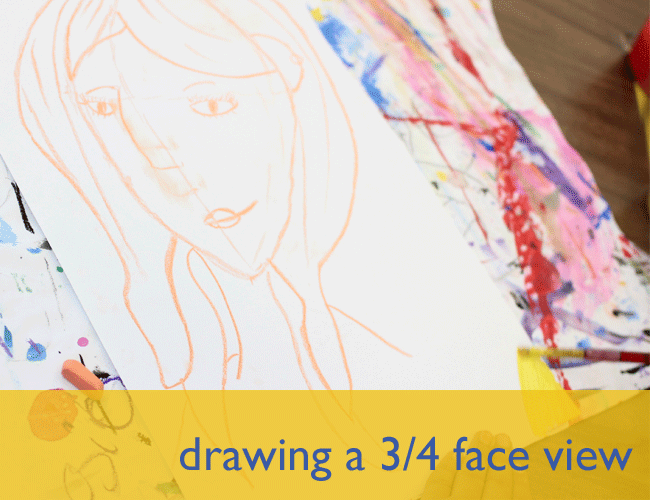 It's hard to describe the process of drawing a ¾ view as you can use symmetry as your guide, so I created a simple diagram to help explain my thoughts. It's a bit different teaching this view rather than the standard view, but trust me, the kids will love it.
How to Draw a ¾ View Face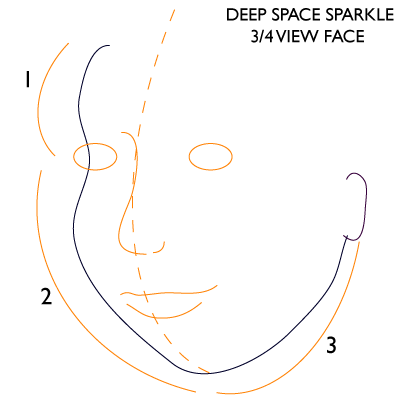 Basically, the child starts by drawing the forehead (#1) on the left hand side of the paper near the top. They will continue this line by creating a small angle and drawing another arc or curved line down towards the chin (#2). This line is rather hard to do so a good technique to use is to draw a dotted line or very light line in chalk or pencil to indicate the mid-point of the paper. Better yet, curve this line to help mimic the shape of the face.
The second line is drawn to this mid-point of the paper and then it curves slightly up and goes up the other side (#3). You can probably understand this better from my diagram rather than from my written description.
The eyes are the hardest in my opinion. You have to convince the children that they only want half an eye of the left side of the paper. A good trick to use is to draw an oval so that it straddles the contour line of the face. Then, wipe away the chalk eye that is outside the face contour line.
The other eye is "normal" and is drawn on the other side of the paper mid-point.
Now that the hardest part is done, it's time to draw the nose. Believe it or not, I always start the nose above the left eye. It's like drawing an eyebrow and connecting to the nose. The nose should be drawn on the mid-point of the paper and I keep the shape for the nose really simple (especially for this age). I use the upside down number 7 and it works for me.
The mouth is much like the eyes: one side of the mouth is only halfway drawn while the other half is fully drawn. This can be confusing so try to demonstrate this on the white board using 2-3 lines for the mouth and keeping it very simple.
Tip: You can see in my pictures that my students used light colored chalk pastels. I've just started using this medium for drawing when I know my students will be using tempera paints later. It's fabulous to draw with as it keeps the artwork big. This is important if you are using tempera paint later on. If you are attempting to draw this type of portrait with older kids and are using watercolor paints or even colored pencils to color with, use pencils.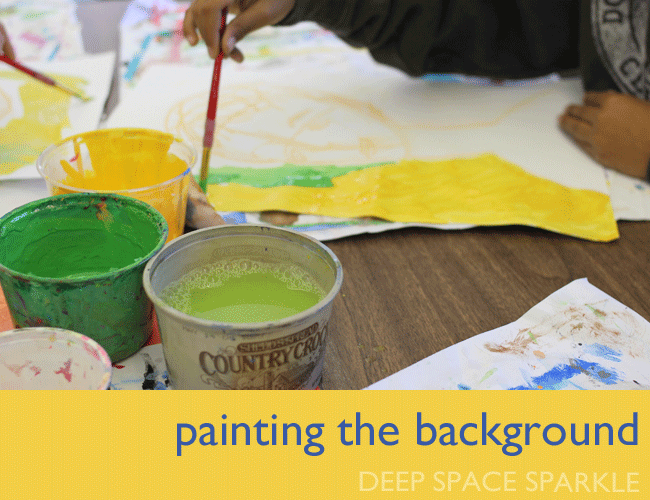 Okay….the hardest part is over but the kids will really love what they come up with. Most if not all of my students had never drawn a face like this before so it was quite engaging.
This is where Van Gogh comes in….to match the expressive style of our ¾ view portraits, the children use a medium sized brush to add lots of color and texture. Many kids forgot to add the multiple colors into their backgrounds but once I reminded them how Van Gogh painted in shorts strokes and used multiple colors applied together, they went over some of their flat paint colors again.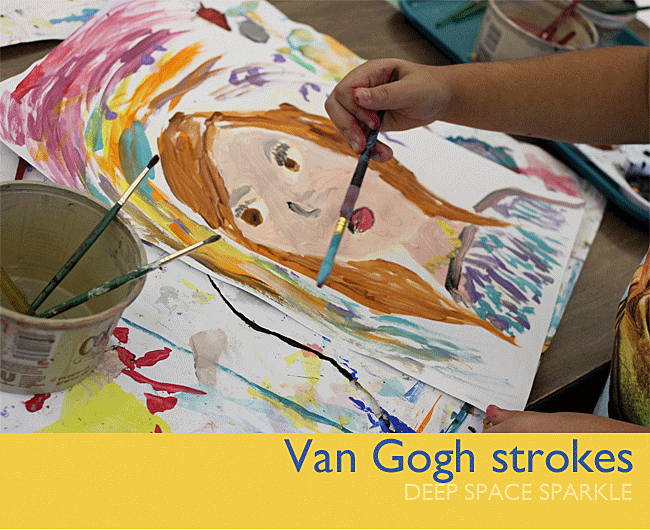 Not all kids love this step and that's okay. But for most kids, outlining with a small brush and black paint is one way to create impact to a sometimes messy painting. When children paint with tempera, it's often a messy undertaking. The black paint helps define their efforts but its not necessary.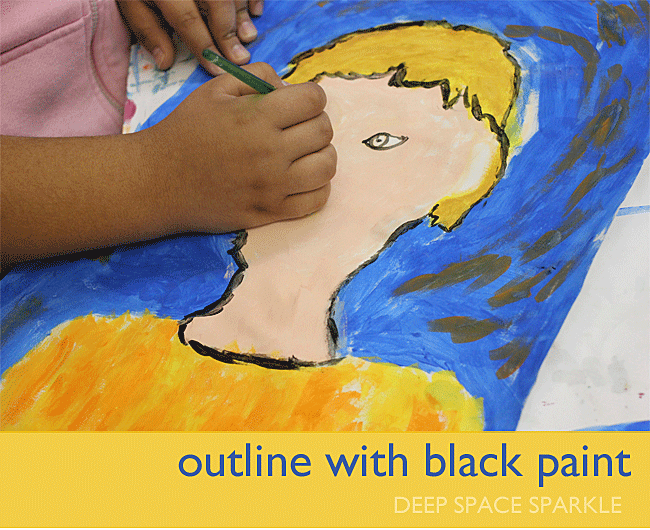 I was very proud of my third grader's first attempt at a ¾ view portrait. This lesson took three, 45-minute classes to complete. This included a brief introduction to Van Gogh and a opportunity to look at some of Van Gogh's portraits.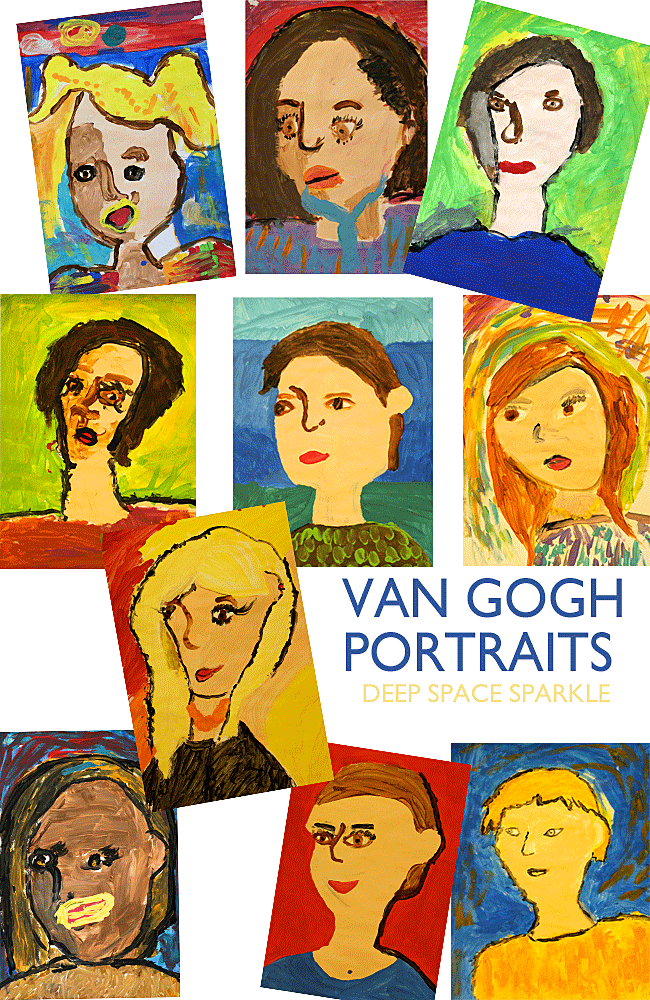 ---
DOWNLOAD A FREE ART RESOURCE: THE SCOPING & SEQUENCING OF PORTRAIT MAKING
---
ARE YOU A SPARKLER? Access 0ver 300 art lessons, videos, resources & trainings for one low monthly fee.