Is there anything more adorable than watching little kids paint? Only if it's watercolor paint! The brushes might be the smallest these five-year-olds have ever worked with and I sense the paint feels dainty to them. They are oh-so careful! This art lesson is a great introduction to the world of color. Paint mingles, spills and splatters. Children smile and beam, proud of their work.
Drawing the Birds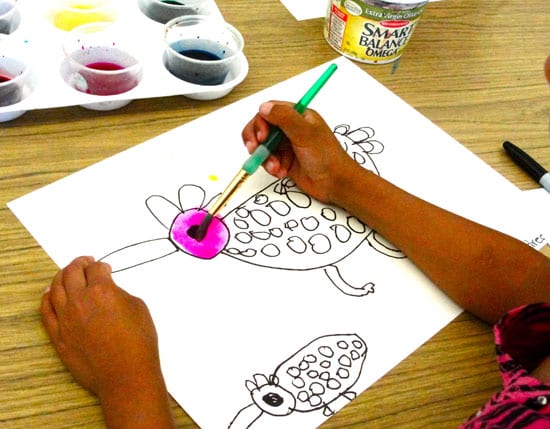 Painting with Liquid Watercolor
On a sheet of watercolor paper (regular drawing paper is fine), children follow a directed-line drawing for the bird. I use a directed-line approach with this lesson for a number of reasons. It allows me to get a sense for how well the kids are able to follow instruction and to see where their art skills are at. I say this loosely because I expect very little. I have fun showing them techniques for drawing the bird. I try to make them laugh and to think of funny names for the birds. And if they make a "mistake" we turn the line into something else or if they really want, try again on another part of the paper.
I use Sharpies for this lesson for one big reason: I didn't have any black oil pastels. My art supply shipment has taken a LONG time so I didn't have what I needed for the first day of school. I could have used crayon or another color of oil pastel, but the Black Sharpie was my second choice.
Handouts: To Use or Not to Use?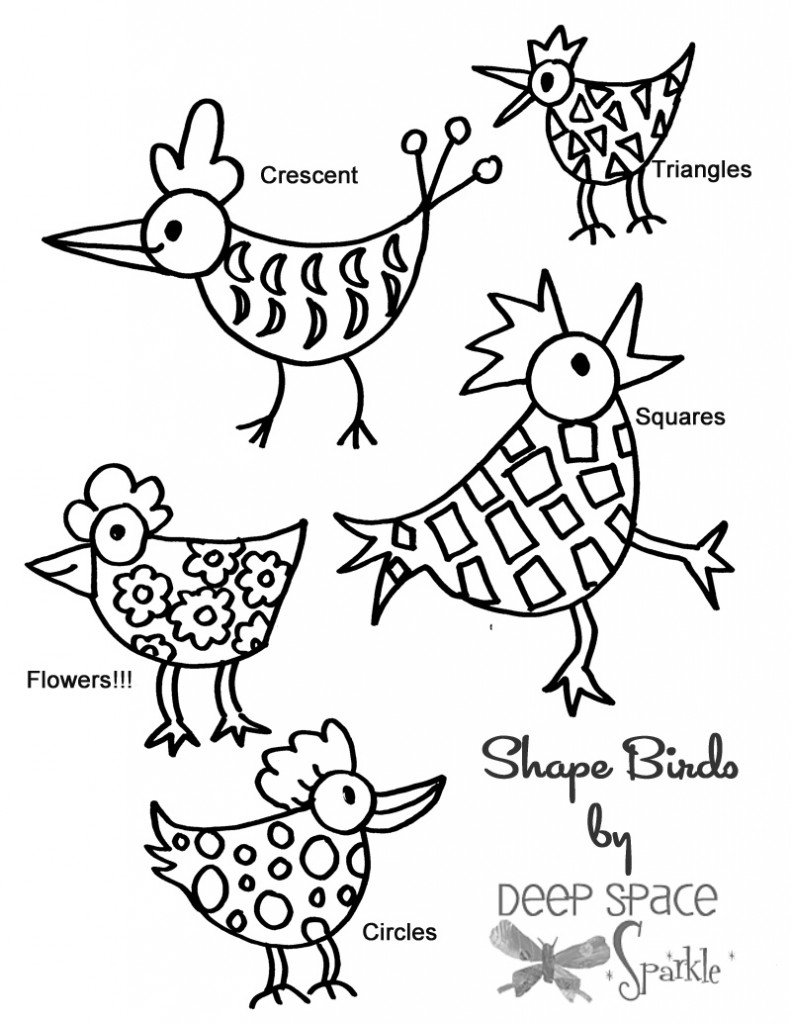 I created this handout (which you may print out if you like) but I must offer you a word of advice: Don't give it to the children! I'm not exactly sure what I was thinking when I passed out these sheets. Perhaps I was hoping that the sheet handout would offer a few ideas. But I was misguided and quite frankly, not at all thinking.
The classroom teacher came up to me near the end of the lesson and kind of chuckled. She said she couldn't figure out why so many of her students were drawing multiple birds on their papers when the directed-line instructions were quite clear to draw only one. We both looked at one another and laughed. It was the handout. Some kids assumed they had to draw multiple birds!
Don't get me wrong. Multiple birds are fine, but if you have multiple birds, you can bet that the birds are tiny and tiny birds are very hard to paint. So use the handout for your own personal use (or for older kids) and enjoy!
---
Painting the Birds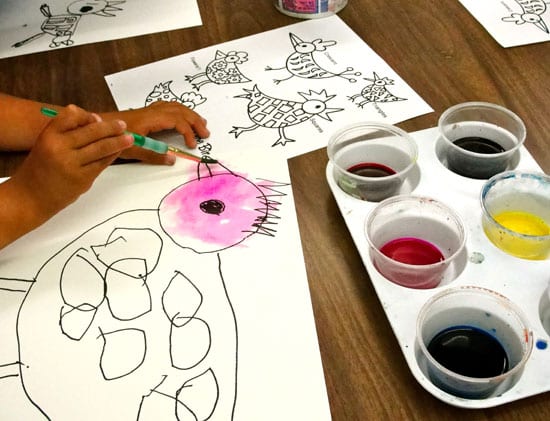 I use liquid watercolor paints.
Totally love them. Sure the colors can get a bit muddled if the kids don't clean their brushes well, but that doesn't seem a good enough reason not to use them. For easy set-up, place watercolor paints in small condiment cups and place in muffin-style palettes. Less spillage this way.
After the drawings are done, I set out the trays of paint, brushes (medium all-purpose brushes) and let the kids play. I don't overwhelm the children with any techniques. I let them experiment as I move around the room and talk to them about the paints. Some kids have big puddles of paint and they keep trying to paint over it. I show them how to squeeze the water from their brush and place on top of the watercolor puddle. The brush soaks up the extra liquid and the children are thrilled.
Displaying the Artwork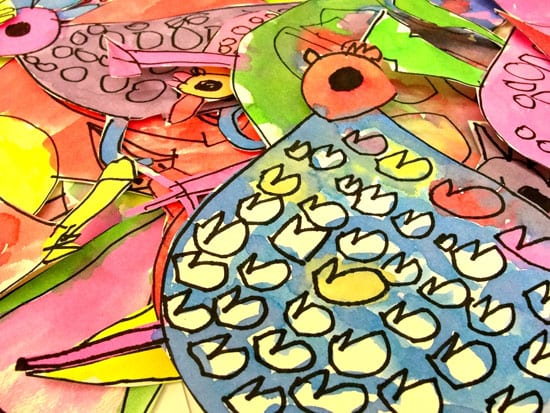 Since many of the papers had multiple scribbles and more than a few birds, I decided to cut out the completed birds and place them on colored paper. I think the birds look adorable. On the back of each paper, I wrote "First Day in Art Class". It'll be a nice keepsake for the parents.
Kindergarten Watercolor Shape Birds Gallery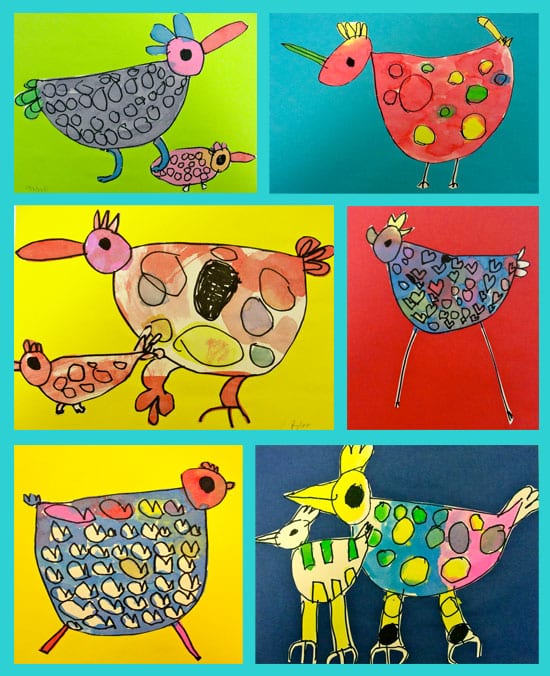 ---
ARE YOU A SPARKLER? This lessons and 0ver 300 art lessons are available inside the Members Club. Access to videos, resources & trainings for one low monthly fee.
CLICK THE IMAGE TO SIGN UP FOR NOTIFICATION OF OUR NEXT ENROLLMENT