My Kinder students joined in on the fairy tale fun by learning how to turn lines and shapes into a watercolor castle. By combining squares, rectangles, triangle and a few half circles, Kinders created their very own castle.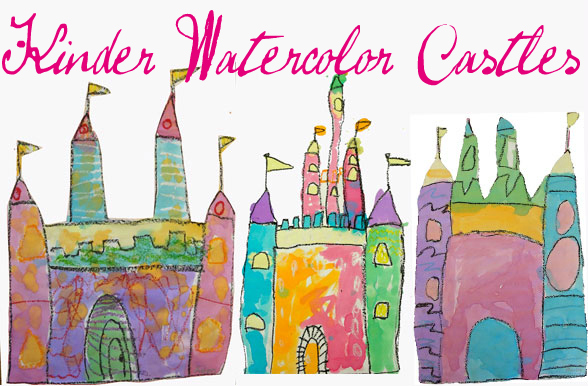 You don't need many supplies; a 12″ x 18″ piece of regular drawing paper, some liquid watercolors and some oil pastels. I like to start the drawing with a simple line. Children select their favorite color and draw a line across the bottom of the paper, being careful not to touch either side.
Then, they draw two long lines up each side. The drawing at this point looks like a square with 3 sides. Now, they complete the two towers by drawing a short line across the top of each tower and then all the way down to the first line. This may sound complicated, but it isn't.
The towers are basically two rectangles. To make the face of the castle, connect the two towers with one simple line. Above the line, children draw battlements. Place two triangles on top of the towers and the drawing is really taking shape.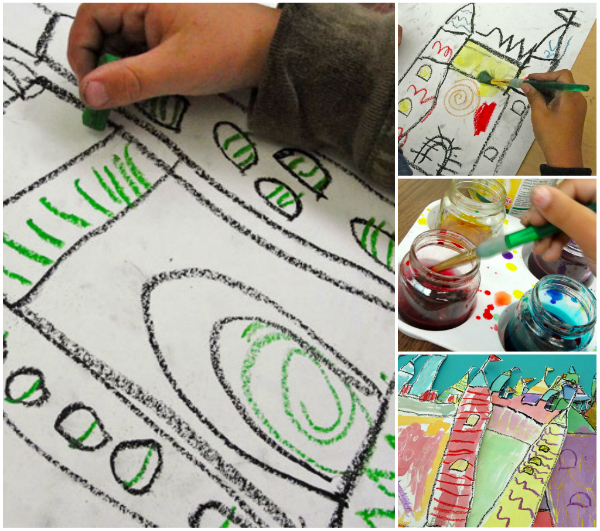 After adding embellishments such as flags, a doorway and windows, children use their colored oil pastels to draw bricks or patterns. The final step is to paint over all the shapes with liquid watercolor. If you have liquid watercolor, use it here. It really helps having the pre-mix colors as pan watercolors would take slightly longer to apply.
I opted to cut out the castles with the students so we could make a bulletin board display, but if you don't like that idea, continue drawing a simple background (add a horizon line at least) and paint.
Watercolor Castle Gallery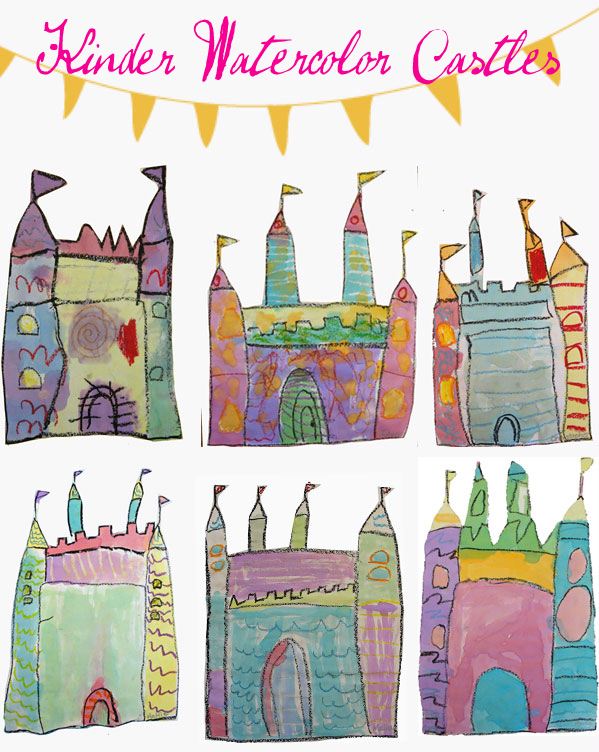 Looking for more castle projects?
How to Draw a Castle for 4th Grade
Fairy Tale Castle Project for Second Grade
This post contains affiliate links
---
WATERCOLOR TECHNIQUES FOR KIDS
Click the image below to receive our free PDF lesson guide!