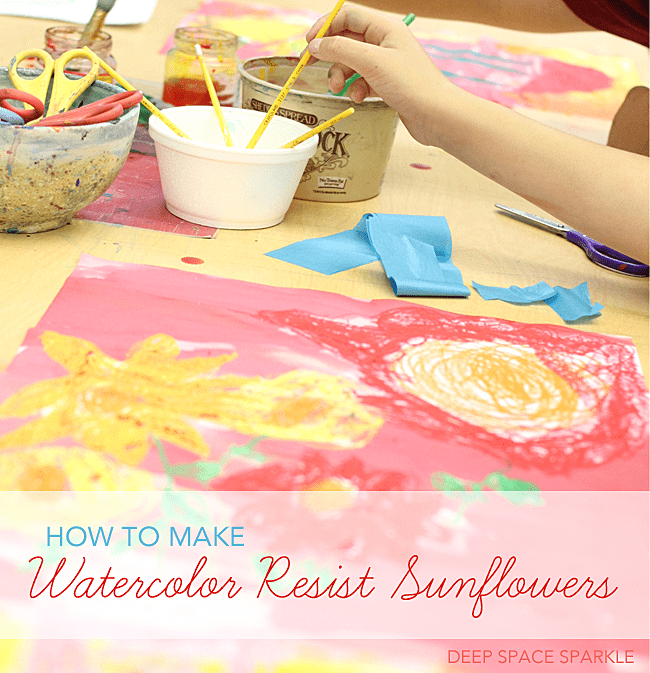 I tend to revert to flowers as the subject of my art lessons near the end of the school year.  They provide an opportunity to explore a wide color palette and endless shape possibilities. For my first grade class, I read the book, Camille and the Sunflowers by Laurence Anholt and then we dove into the lesson.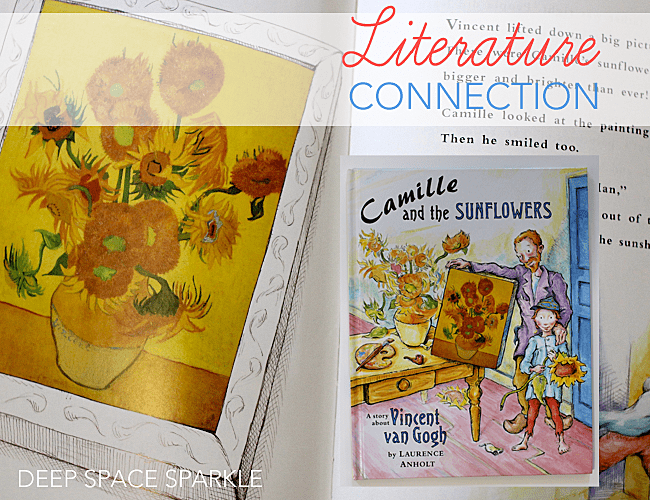 This is what we did:
Starting with a 12″ x 18″ sulphite drawing paper, draw a letter "U" for the vase. Some children made a different shape for their pot or vase and that is fine. Next, draw a table line by starting on one side of the paper, hopping over the vase, then continuing the line to the other side.
With oil pastel (either just black or multiple colors) draw a large circle somewhere above the vase. Add petals. Draw a flattened circle or an oval close by and add petals to that flower center. Show different examples of petals on the white board so kids don't get stuck drawing just one style. You can also place Van Gogh's Sunflower painting near the front so the children can observe the shape of his sunflowers. Take notice that some of Van Gogh's flowers have no petals at all.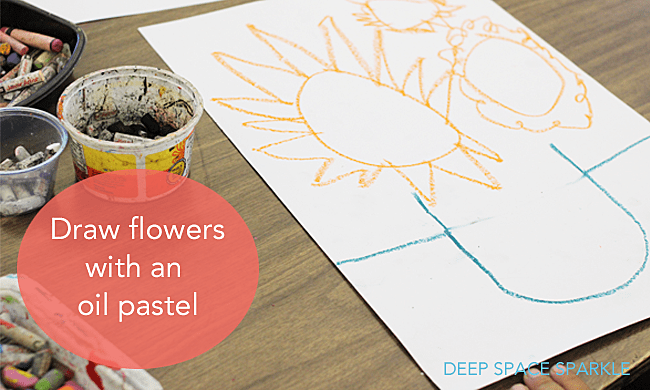 Color the flower centers and petals with oil pastels. It's okay if the child leaves white spaces but encourage them to color as best they can. For areas where they want the white to remain, use white oil pastel (this is typical for the vase). Once the flowers are colored in, the children can draw the top of the vase and add stems.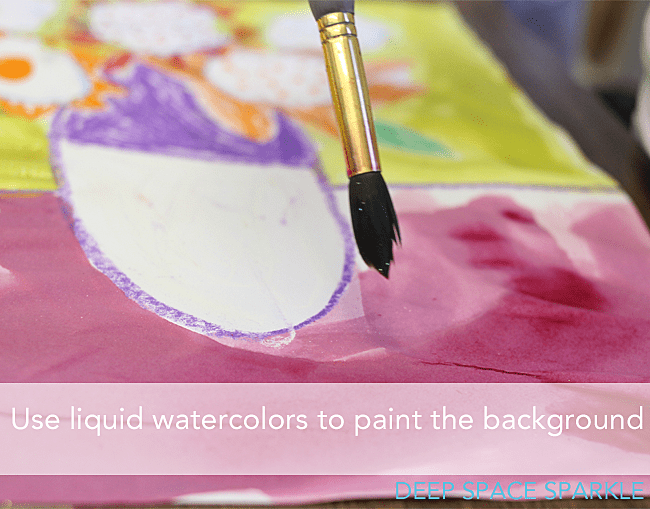 Using 2 colors of liquid watercolor, paint the top part of the paper with one color of paint. Then paint the table with the other color.  Paint directly over the flowers. You may notice that the watercolor paint will soak into the paper. You will want to demonstrate how to brush back and forth but not going over the same area more than once or else the paper will rip. If the paper does rip, simply wait until the paint is dry and tape oblong the back.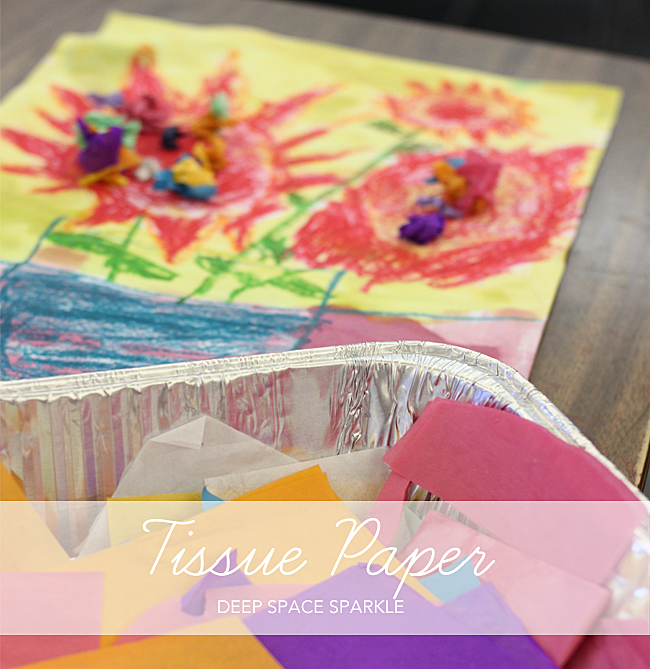 For an added touch, set out a tray of colored tissue paper and some white school glue (I like to mix my white school glue with some water and place in a cup along with a brush for application). The children invented their own ways to decorate their flowers: some rolled the tissue paper into tiny balls and made "seeds" while others added shapes to their vases.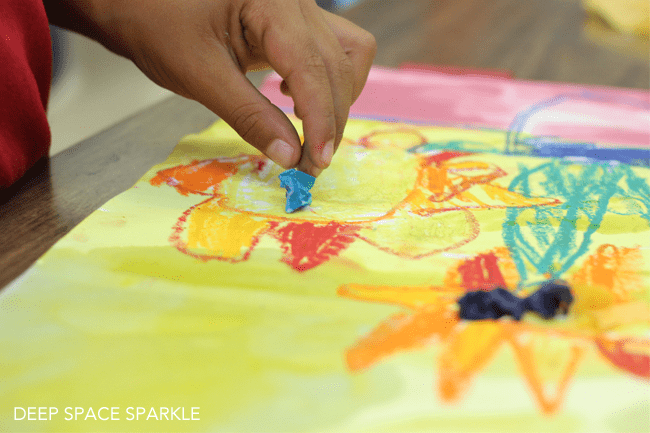 No art curriculum is complete without a Van Gogh Sunflower art project and this one is a perfect level for first grade.  Aren't they all beautiful and unique?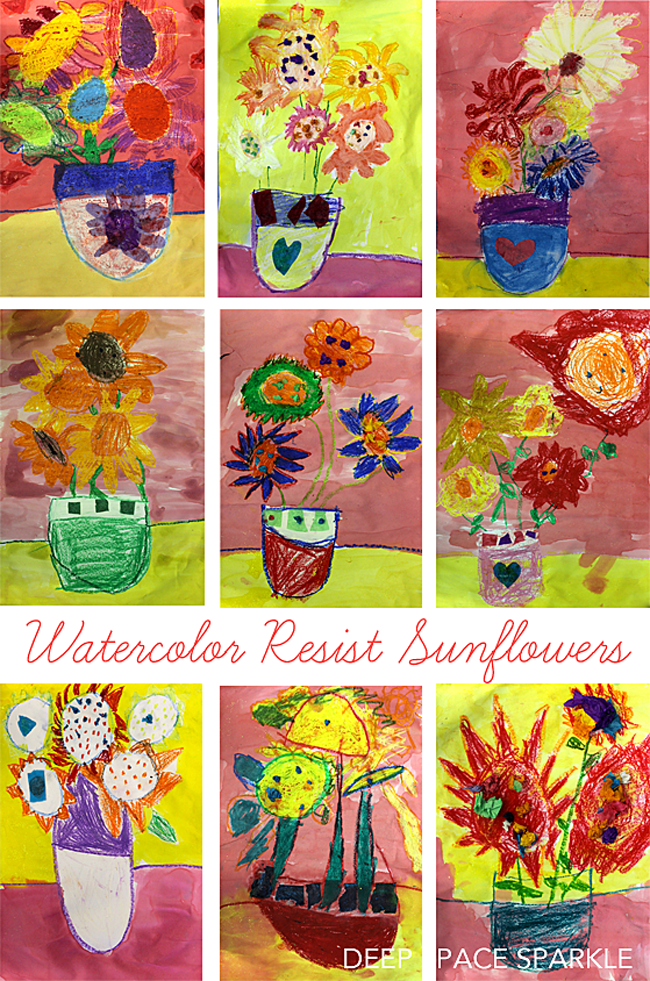 ---
Enjoyed this flower lesson? Click the download button below to receive another free sunflower lesson with chalk pastels! (We recommend using Chrome or Safari for this download!)