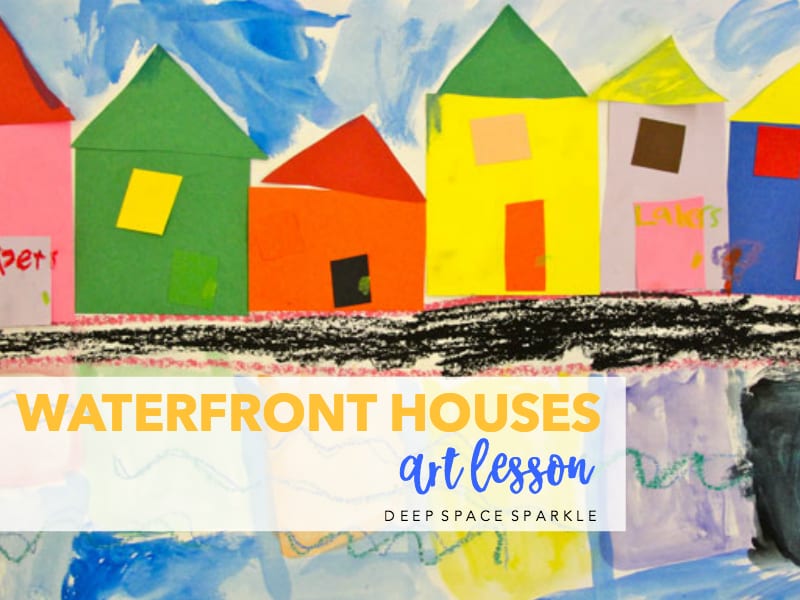 Last summer, I purchased the book Ship-Shapes by Stella Blackstone and illustrated by Siobhan Bell. The  fabric art provided just the inspiration I needed for a shape-based lesson for my kinder kids.
Shapes and color plus cutting and pasting are a perfect match for the kindergarten curriculum. Instead of reading the story (which in my opinion is not a strong read-aloud book for a class setting…the narrator encourages the children to count and identify out small shapes and objects which is best suited for up close read)
I pointed out different shapes (the large ones) and asked the children to identify them. They did well! Triangles, rectangles and squares are the stars of this lesson.
Each page in this book is a potential art lesson. I did different ones with each of my four kinder classes and some will be featured in an upcoming Art Booklet that will be available for purchase later this month. But the one featured today was quite successful and fun for the kids.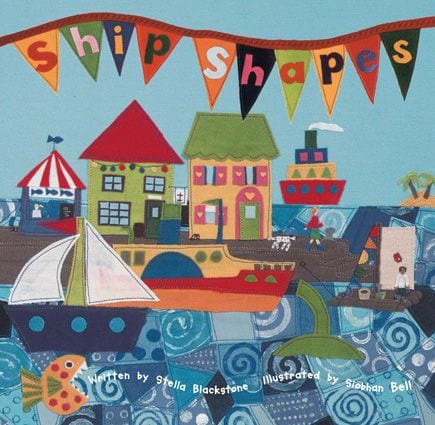 I adapted this lesson from one that appeared on a favorite art lesson site, Kid's Artists. The post City Waterfront has been in my to-do file since last year. While planning my kinder unit, I knew I found a perfect home for this unique lesson. While I chose to do this lesson with my kinders, it might be more suited to a first or second grade class. This lesson required 2, 40-minute sessions. Majority completed project within this time frame.
Supplies you'll need:
12″ x 18″ White Paper (regular sulphite drawing paper)
Oil Pastels
Colored Paper (cut into squares and rectangles)
Pans of watercolor paint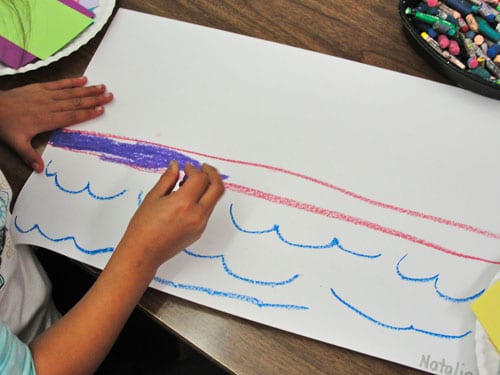 On the white paper, draw 2 horizontal lines. Below these lines, draw ripples for water.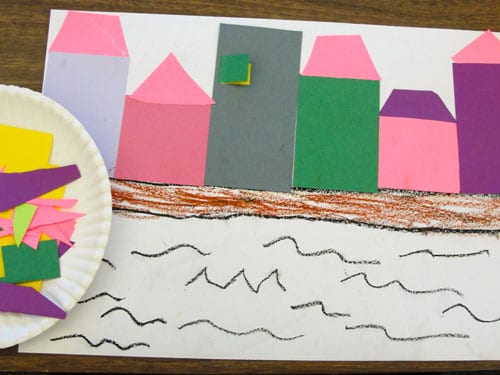 Color in "Wharf" and begin gluing down squares and rectangles along wharf. Add triangle and trapezoid shapes for the roofs. Use small scraps of colored paper for windows and doors. Use oil pastels for details. Final step is to paint matching rectangles and squares below each house.  Fill in white areas with blue paint.
KINDERGARTEN GALLERY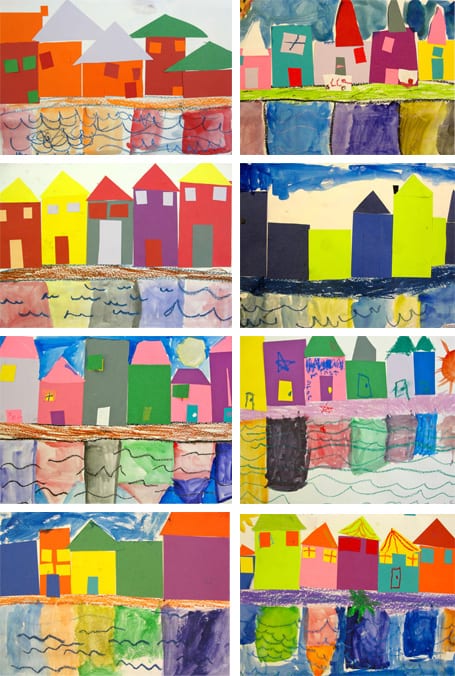 ---
ARE YOU A SPARKLER? Over 300 art lessons are available inside the Members Club. Access to videos, resources & trainings for one low monthly fee.
CLICK THE IMAGE TO SIGN UP FOR NOTIFICATION OF OUR NEXT ENROLLMENT