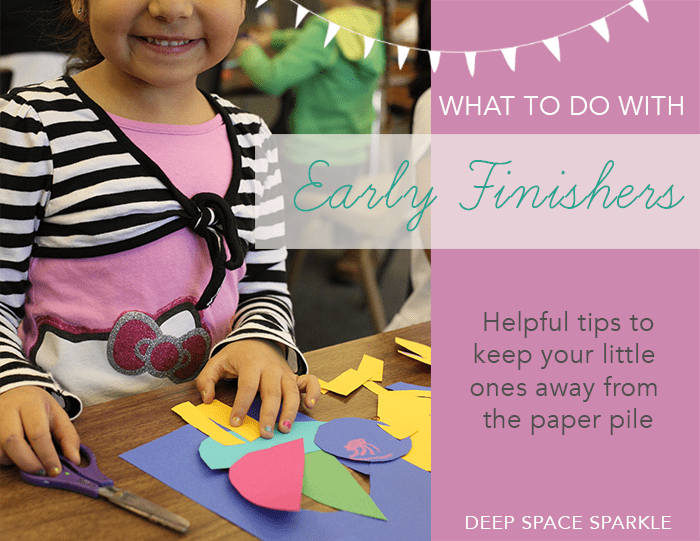 It's funny how questions come in waves. I just received this question from a reader and within a week, I had two similar questions in my inbox. I guess there are some antsy kiddo's in the art room this time of year!
Here's the question:
" I am a pre-kindergarten teacher and have been a fan of your website and blog for a few years.  My children have a wonderful art teacher here at school.  We are having a problem with pre-k students finishing their projects early.  We have tried "free time" paper and materials for students who finish early, but this sometimes causes other students to rush through so that they can have free time too.  What do you do with your students who finish projects early?  Thank you for any ideas! "
Does this sound familiar? I know it does because every teacher experiences this no matter what subject they teach. Children are different and they respond to lessons in their own way. Still, there are a few variables that need to be considered before I can address this great question:
How long is the art class? Pre-K kids generally don't have a great attention span so any lesson that is longer than 30-minutes is probably way too long. And although I don't teach Pre-K (I'm strictly a K-6 art teacher), I'm guessing that these little cuties are about 4 years old so sitting still, following directions and implementing a lesson is best done in short spurts.
What type of "lesson" are you teaching? Again, I'm not a Pre-K teacher but I did have a group of Transitional Kinders this year and I know that I had to adjust my expectations and lesson objectives very quickly. At first I wasn't sure how this group would differ from my other Kinder classes, but it turns out that their overall development and fine motor skills were at very different levels. I focused on art projects that reinforced necessary fine-motor skills such as cutting, tracing (holding a marking tool) and basic coloring. Here are some painting tips for working with Transitional Kinders and a cutting and pasting project that is perfect for little hands.
How much are you "helping"? Over the years, I have noticed that adults have the tendency to want to help children in Kinder classes. And the younger they are, the more the adult thinks the child needs help. And while I know it's difficult, I would try very, very hard to let the child trace, cut and color all by himself. This stepping back will pay itself ten times over in confidence and skill level of the child. When it is necessary to step in, try to do so by teaching the child a skill. Sometimes, I help by holding a paper while the child cuts, or showing a child up close how to cut out a circle but I try not to do any of the steps for the child. This opens up a lot of philosophical debates over tampering with a child's creativity, but I'm not interested in judging, I'm just reporting what I have observed.
So having gotten the variables out of the way, here are a few things to help little ones stay put a little bit longer:
Offer a new piece of paper and have the child make a second piece of art. It doesn't have to be a nice piece of paper, just regular copy paper is fine.
Just this year I tried an experiment with my Kinders: I stopped putting out free choice drawing paper, which is something I've done for years. Just like my reader, I had found that a few Kinders were rushing through their projects to get to the free choice (mostly boys). Believe me, my free choice is not exciting at all. So to keep them in a learning environment without taking away their need to do free choice, I allowed them to cut papers, use the supplies available on the table groups but basically, the children had to sit/stand at their tables until it was time to clean up. This seemed to curb the desire to run to the back of the room to the join the "Yay! I'm finished gang". On the same note, some times it was better to have the kids start clean up activities such as pick up paper scraps from the floor or tidy up the art supplies: something productive but not entirely desirable.
Offer a stack of books and place on the carpet in the front of the room. This is something that I have tried once and although it worked very well, I don't keep my art books in my classroom and since I bike to work, hauling them to and from my house was becoming a chore. It might work for you though!
Art puzzles/origami/coloring pages/blocks/dry erase boards are all suggestions that my readers have offered over the years. Personally, I find these too enticing. There may be kids in your class that have no interest in art but working on origami or putting a puzzle together is much more appealing. I prefer not to offer the choice whether to do art or not, as my responsibility is to teach art.
Overall, the very best solution is to know the class very well. Find out what the average attention span is in minutes and then develop the lesson very carefully. If you need to break at a certain part in the lesson because it make sense prep-wise, then do so even if you have a lot of time remaining. Read a book to the class or allow all the children to do free-choice after the art room is clean.
Do you have any suggestions? I know you do! List them in the comments below….
---
New to teaching art in the classroom? Download my free classroom art teachers toolkit by clicking the yellow box below!