Let's not sugar coat it. 2020 has been a peach of a year.
Art teacher's everywhere have been asked to teach art via a computer (how weird has this been?) or required to give up their beautiful art room and travel from class to class on a cart.
And parents have become jack-of-all-trades — juggling home-schooling for the first time– without the security of textbooks.
I'm confident things will look rosy sometime this year, but I don't really know when. SO, if you're wondering how to incorporate art into your child's week or how to make teaching art a bit easier, then bless your heart.
You're my kind of person…prioritizing art even in this crazy year.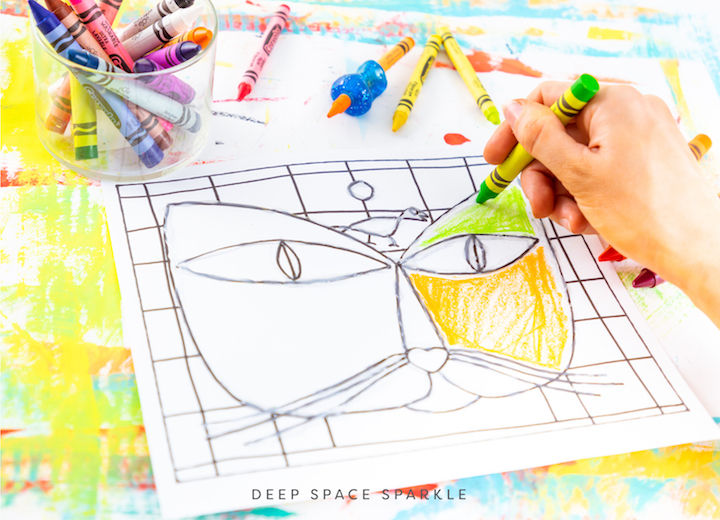 So I can very confidently make it easy for you if you are looking for an art curriculum that will deliver an art program to your child or entire school district that will do three very important things:

1. Ensure children ages 5-12 receive a balanced, standards-based, creative and technique-rich art program that is high on developing art skills for just the right age.
2. Make it effortless for a teacher to implement above art program with supporting resources, teacher aids, curriculums and videos.
3. Receive the support, encouragement and training to help you feel confident and creative.
In just a few weeks, enrollment to The Sparklers' Club will be accepting new members. The most common questions Team Sparkle receives is what curriculum or art program approach is best for them.
Here's a run-down of a few options that will help make your decision easier:
New Art Teacher
Congratulations! I say that with the most heart felt sincerity because I truly believe that being an art teacher is the best job in the world. But if you started this year, you were definitely thrown into the deep end.
The absolute best curriculum that we offer for new art teachers is our EPIC curriculum. It's based on the elements of art and principals of design (Elements, Principals, Integration, Curriculum).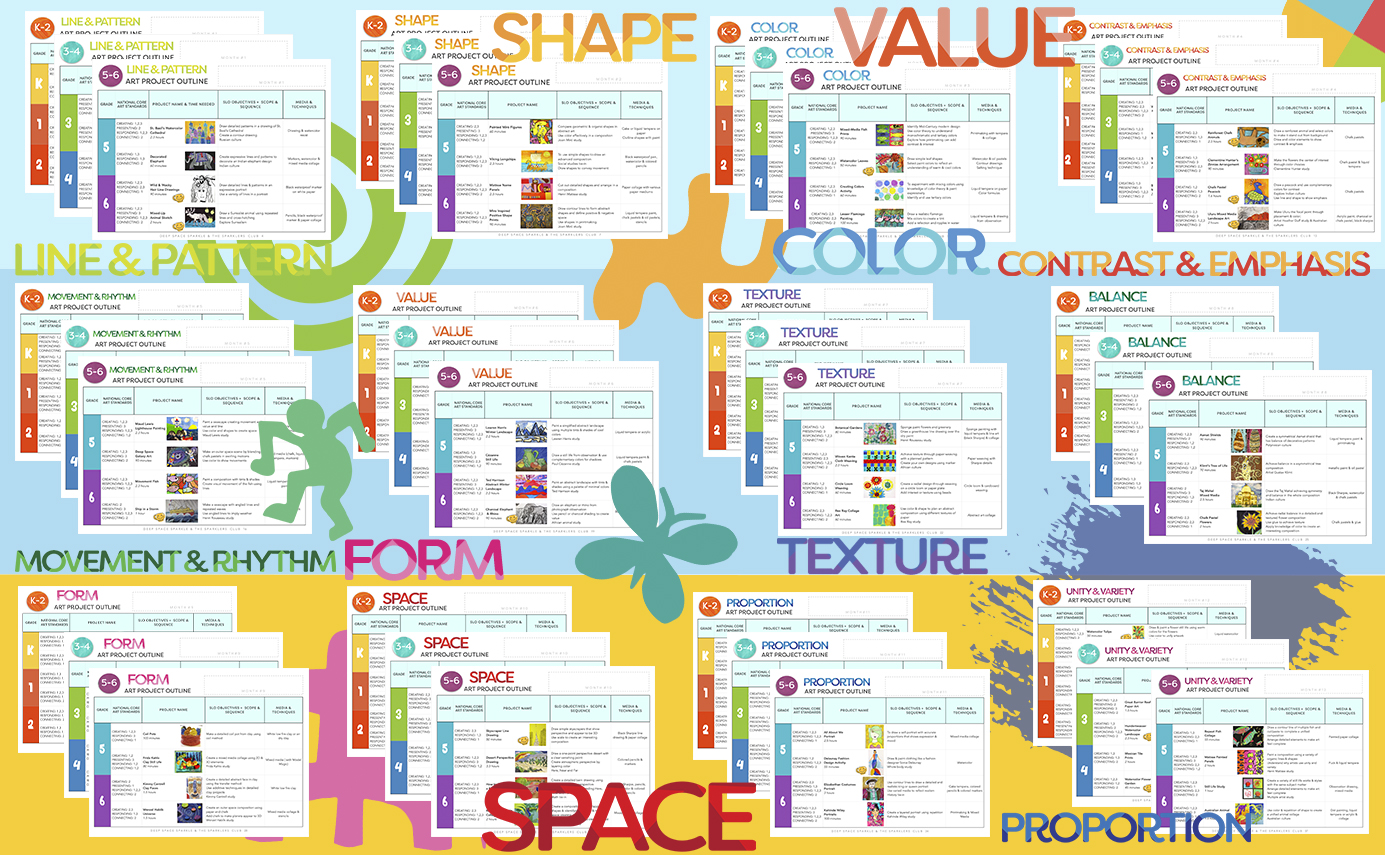 This curriculum is strategically designed to teach the elements sequentially throughout the year and though the grade levels. So what first graders are learning build upon the skills they learned throughout the year as well as in previous years.
With a brand new planning resource, 12 art Bundles that are based on an element, a principal or both, this 12-month curriculum gives you loads of creative possibilities.
This is my first year teaching and I felt like I have little guidance and was thrown to the wolves. The Sparklers' Club is a lifeline for an over-stressed new teacher like me.
— Angela (new member)
Experienced Teachers
Many teachers have standards, curriculums and processes down pat. That's why the majority of our members who have been teaching for a while enjoy selecting Bundles based on their own personal interests or curriculum.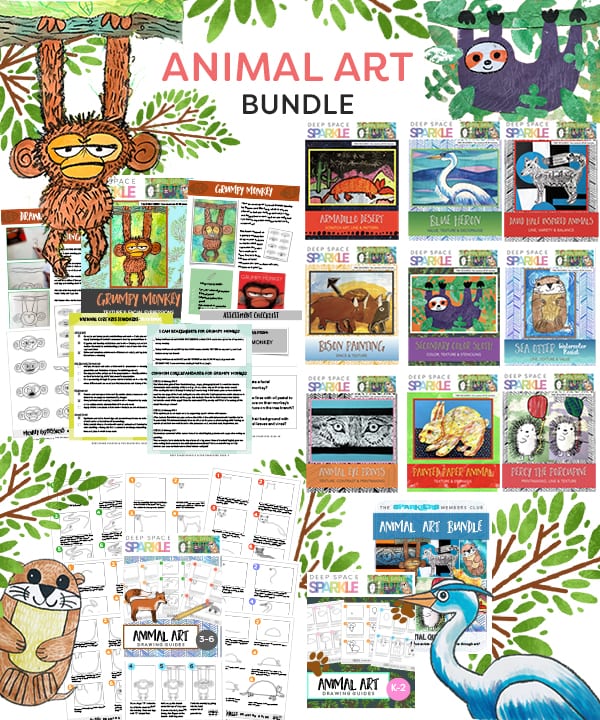 With over 100 art Bundles to choose from, Sparklers who like to try new techniques (clay, print-making, fiber arts, puppetry) or explore various themes (travel, science, animals, contemporary artists).
I have been teaching art for 18 years and felt some of my lessons were getting stale and it was taking me longer to come up with fresh exciting lessons so I signed up for DSS and I am loving it!!
—Tammy Jo Spillman
Parents or Home-School Families
One of the BEST resources for parents who don't have any art experience is art tutorial videos. And there's no better combination of a rigorous, creative and highly enjoyable art curriculum that our Art Through the Ages Curriculum (ATTA).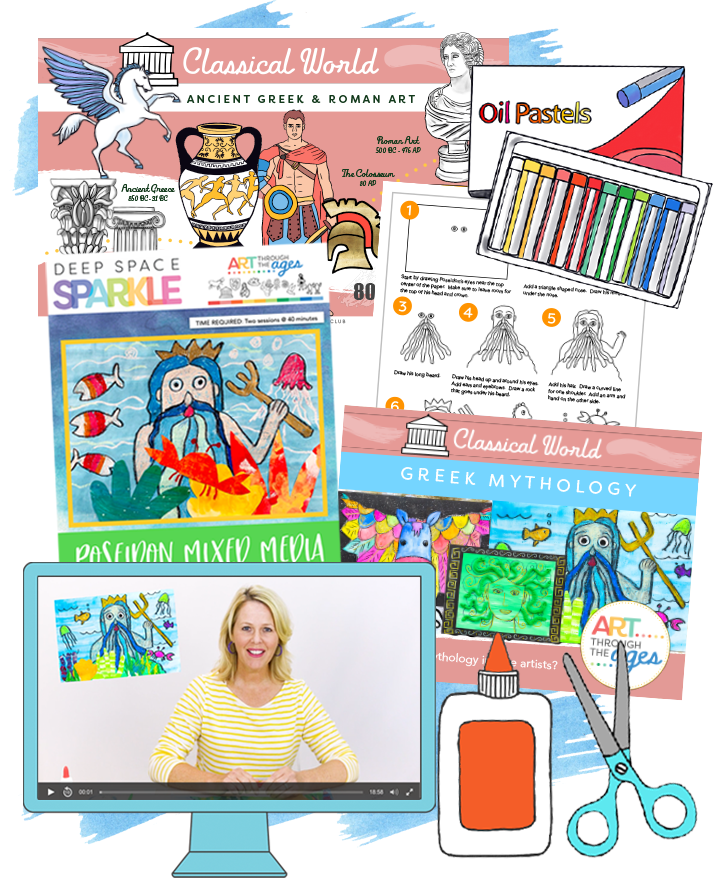 The ATTA Curriculum is designed to expose students to the breadth of art history, condensed into 10 bundles ranging from Prehistoric to Contemporary Art that can easily be covered in the span of a school year. All of the lessons from kindergarten through seventh grade have been aligned to the National Core Arts Standards and have Common Core connections already built in.
The ATTA Curriculum isn't just lesson plans. WE included curated resources like visual slide decks, engaging worksheets, helpful planning documents and EVERY single lesson features an accompanying instructional video for kids so that you can spend your time in more impactful ways.
I've said it before and I'll say it again, The Sparklers' Club is art teacher NIRVANA! But don't take my word for it. Here's a copy of our 2021 Bundle Guide that will show you what bundles themes are planned for the upcoming year, plus a checklist our members use to keep track of the bundles they want to access.
DOWNLOAD THE 2021 BUNDLE LIST