I've taken a lot of time this past year to step back. To reflect on what's important to me. To tap into what excites me.
It's been years since I have done that.
Committed to actual down time to let ideas flow – both in and out – and allow whatever happens to happen.
I've taken a few courses this Fall, too…art, gardening, cooking.
And I've read many books on just about everything. And I can tell you right now, when you allow your brain to soak up inspiration, it's like food for the soul.
Ideas pour out of you.
This learning stage of my year is vital to me as a business owner, but also as an artist and a creative person.
And if you are reading this, no doubt YOU are a creative person, too.
One of the things I love most is teaching. Both to children and to teachers.
Last summer, Team Sparkle delayed our scheduled Creative Juices workshop until February so we could implement an exciting addition to the workshop.
It's taken a jolt of inspiration and a shift in perspective, but we made some very exciting changes to our workshop.
DOWNLOAD my Creative Juices Overview that will show you exactly what to expect and how the course will work for you:
A Video Overview of Creative Juices:
Here they are…
The workshop is no longer a one day workshop. Now it's a mini course!
Don't worry if you are the type of teacher who just can't bear to sign up for another course because you NEVER complete it. It's just not that type of course.
Creative Juices is a process.
As you watch our presenters deliver ways to make teaching art to children exciting, you'll be guided through a sketchbook-making process that allows you to experiment, record and play with the techniques and projects.
You see, one of the things I struggle with is compiling information in one place.
Creating Your Technique Toolkit Sketchbook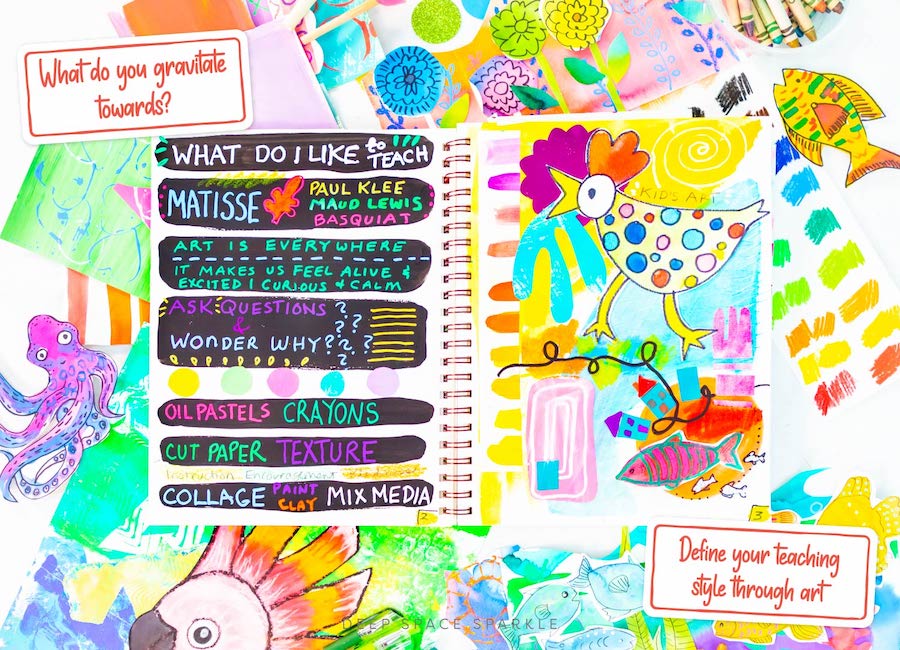 I'm always looking for that one lesson where I jotted down notes on the back of the art, or wondered what brand of watercolors I used for a project because I can't seem to get the same result again.
Are you with me? This is a REAL problem for someone like me who has created thousands of projects and played with hundreds of different art media, and sometimes it all feels like I can't remember anything.
Your sketchbook will record your ideas and will serve as your technique toolkit for years to come.
It will offer you a place to record the techniques and create the projects you learned from the presenters using the materials you have on hand.
Lifetime Access
Our past summer workshops were one-day events with a one year access. I wanted to change this. I've signed up for courses this past Fall that expire in a year. While I'm confident I'll be able to complete them, I really want to have access to the videos so I can go back again and again should the need arise.
With Creative Juices, you'll be able to do that!
More Than a One-Day Workshop | A Learning Community
As part of our commitment to helping teachers thrive, our Workshop's Private Community will be your place to discuss techniques, meet the presenters, ask questions and share your sketchbook.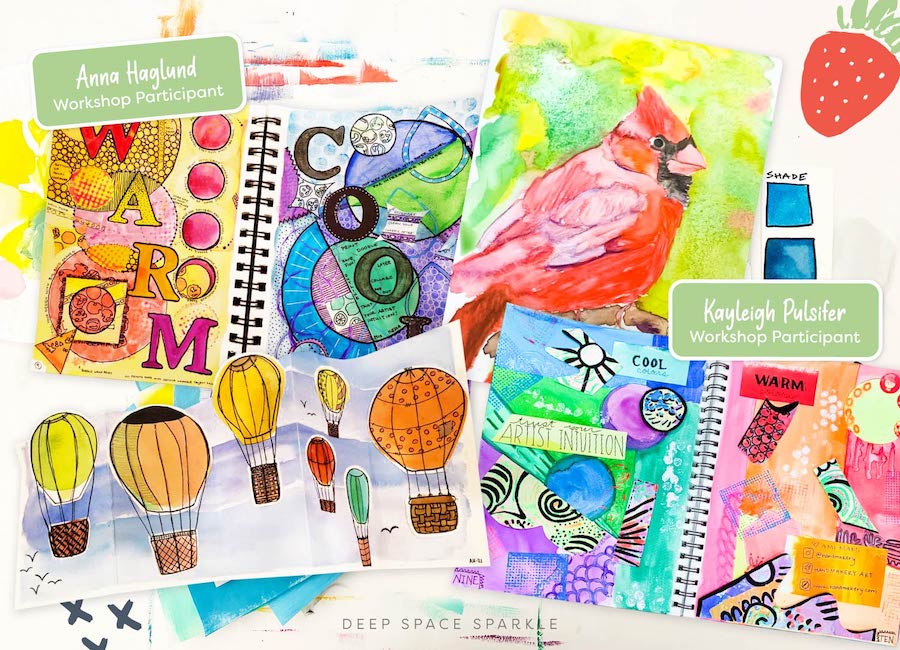 And if you'd like, you can share what your students create based on what you learned from the course.
I'll be hosting a Kick-Off Ceremony on February 13th in this private group to get started on setting up our sketchbook together. Honestly, I already created mine and I just have to say that it's the most fun I've had all Fall. Really. You NEED to do this!
4-Week Guided Course
Once we launch Creative Juices on February 4th, you can get started right away. Each week, I'll release 2 modules. This pacing will allow you to soak up ALL the inspiring goodness that our presenters have shared.
And with each presenter's module, I'll personally guide you through your sketchbook, showing you examples and offering templates.
What You'll Learn
This course will teach you many techniques used in children's art that children love.
We'll cover watercolor paints, tempera paints, acrylics, print-making, process art, observation drawings, craftsmanship, 3D art, paint and chalk markers, line drawings, gelli plates and more.