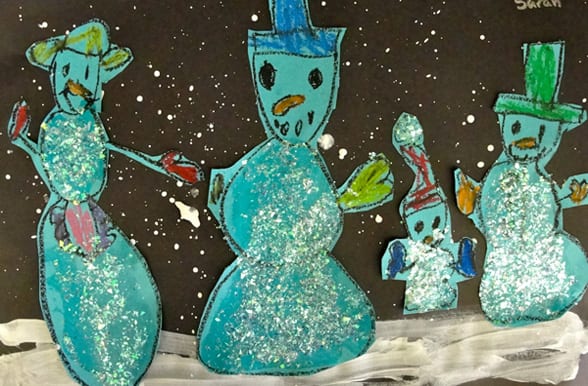 Kindergartners are quite young and some struggle with their fine-motor skills such as holding an oil pastel and cutting with scissors. This snowman art project is a great practice for developing these skills. All kids came away feeling mighty proud of their work.
How to draw a snowman without using circles
Drawing circles can be a challenge for this age group but I didn't want to resort to tracing plastic cups like I sometimes do, because this lesson is all about the drawing practice. Instead, I had another technique I wanted to share with my Kinders.
I talked about the construction of a snowman; turning a handful of snow turn into a heavy snow ball and topping with a hat. Using a black oil pastel, we drew a letter "u" for the head/face. On top of that, we added a hat. Instead of drawing circles, we focused on drawing curved lines.
As I walked around to check on the kids drawings, I realized how hard it was for so many to draw a snowman but it was very easy for them to "build" a clay snowman just a month prior. A testament to the benefits of clay, I'd say!
Adding color and glitter
After drawing our snowmen on blue or turquoise paper, the children got out their scissors and began cutting around the blacklines. It's a bit tricky cutting around the stick arms so I suggested they give a lot of space. If an arm got snipped, I had tape on stand-by mode.
After the snowman are cut out, use some watered-down glue or Mod-Podge and brush over surface of the snowman. Shake white or iridescent glitter over surface before glue dries.
Painting a snowy background
Give each child a black piece of paper (or blue if you want a daytime look) and a tub of white tempera paint.
Here's a trick: in order to cover the black paper with snow, don't add any water to the white paint. If it remains nice and thick, the snow will look better. But, if you want to splatter snowflakes like we did, you'll need to water down the paint so it can splatter well.
Another idea (and probably a good compromise) is to use Q-tips and the thick white paint for the snowflakes.
Didn't they do well?
Kindergarten Snowmen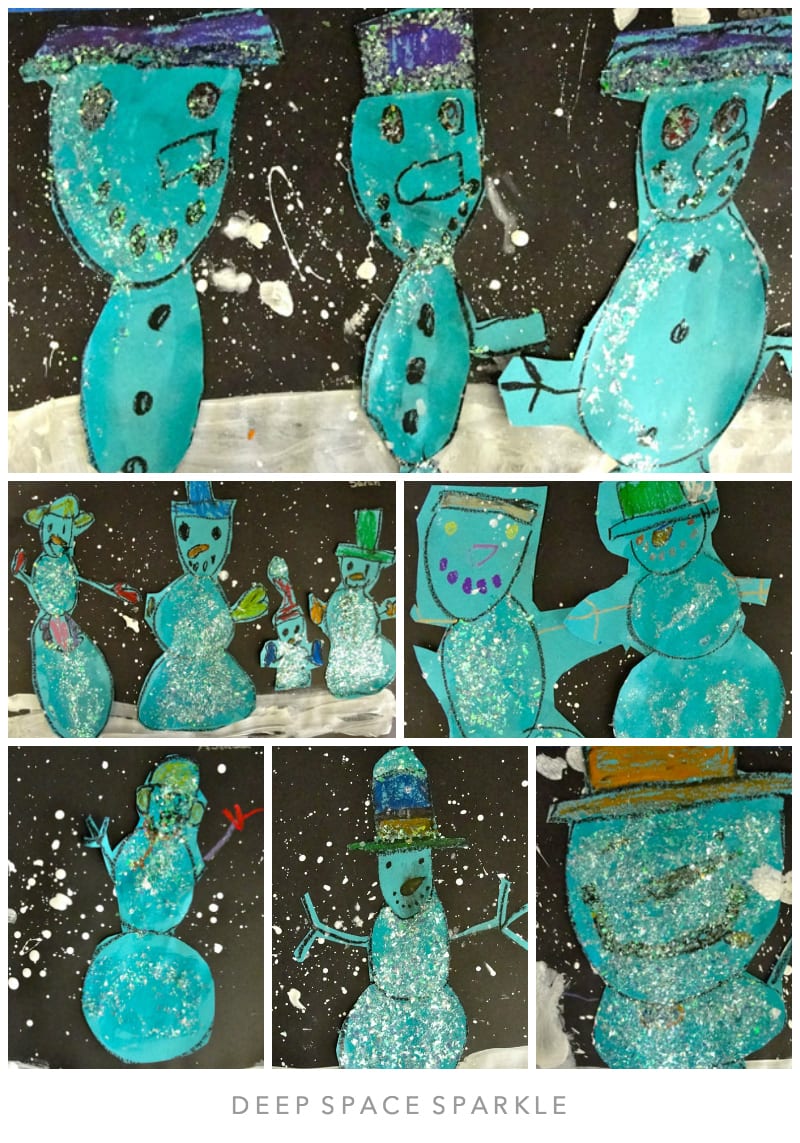 ---
Want more lesson ideas for the holidays? Download this free lesson guide by clicking the yellow button below and I'll send you my 5 Non-Religious Projects for the Holidays!