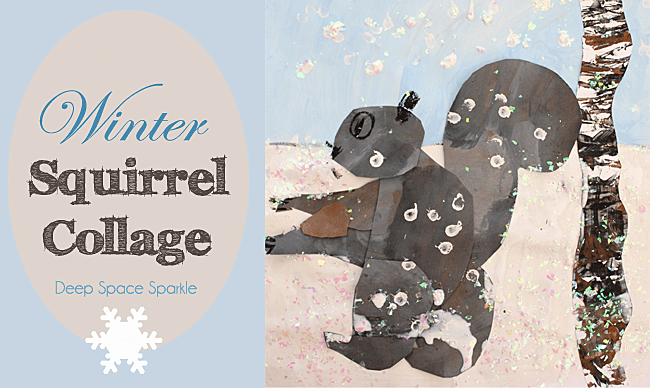 Every year I like to do a birch tree collage project. I've done variations of this project but decided I would try a woodland creature instead of a bird. I created a few templates, which worked out only so-so. When I do this project again, I think I'll stick to an observational drawing project or maybe try a directed line drawing. Here's a resource for drawing a squirrel from The Graphics Fairy.
Here's what you'll need:
12″ x 18″ white sulphite paper for background

12″ x 9″ white paper for trees
12″ x 18″ brown sulphite paper for squirrel
White, brown and blue liquid tempera paint to make the background and trees
Small piece of tag board (or a plastic gift card) for the trees
Brown, Black and gray paint for the squirrel
Black oil pastel for drawing
Snow glitter (optional)
Brushes and water
Scissors & glue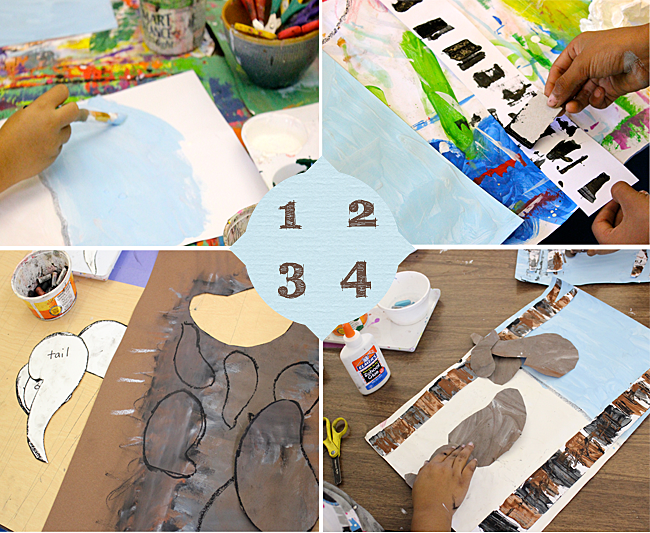 1. Paint a horizon line in the middle of the white sulphite paper. Above the horizon line, paint a sky with the blue and white paint. Below the horizon line, paint some snow (mix white paint with a touch of brown for a creamy look or blue for a cool look)
2. To make the trees, cut 9″ x 12″ paper vertically into one or two trees. Encourage kids to cut the paper with curvy lines. Using black and brown, dip cardboard/tag board into paint and drag across the paper trees. Use the edges to make sharper lines.
3. I used templates but since they didn't work out that well, I didn't include them in this lesson. Instead, try drawing a squirrel on the back of a separate piece of paper. We painted a brown piece of paper with a brush and brown, black and white paint. On the back of this paper, we traced our templates and cut out the squirrel. Place trees and squirrel on paper but do not glue until everything is dry. I set all 3 pieces on the drying rack.
4. Once all the pieces are dry, glue trees and squirrel to the background. using an oil pastel, define the squirrels eyes and add whiskers and some claws. Some students brushed Mod-Podge over their snow and sprinkled some snowy glitter on top. Pretty!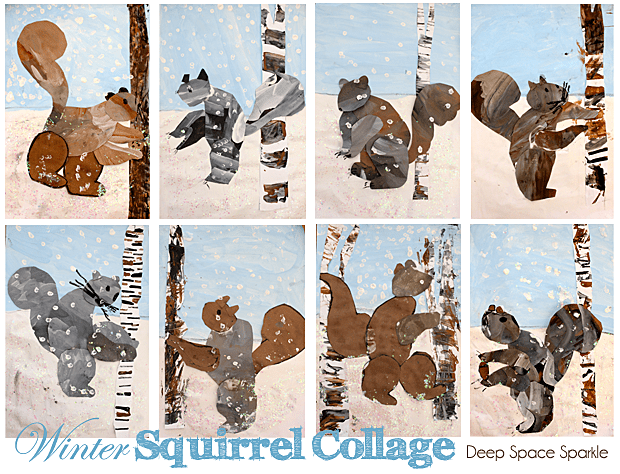 ---
Want more lesson ideas for the holidays? Download this free lesson guide by clicking the yellow button below and I'll send you my 5 Non-Religious Projects for the Holidays!