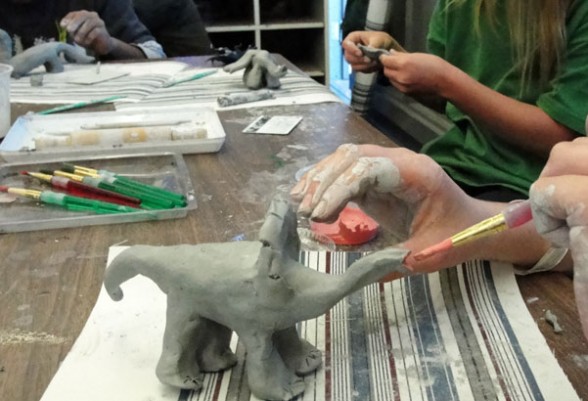 Things had been going so well. Half the year over, successful lessons, sunny days and then…boom! Fifth grade clay day. Sound the drums!
Fifth grade is a big grade level. Meaning I have two classes with about 30 kids each. Even the classroom seems crowded with my six tables occupying lumbering, growing bodies. But I'm used to that. Maybe it was the Friday afternoon antsy-pants blues? Whatever it was, my clay day hadn't come close to reaching even my lowest expectations.
I've been doing ceramics for six years. I've made dinosaurs with my fifth grade class for six years (except for the year I got a little Harry Potter excited and did wizards). I've lead large classes of 5th graders through the introduction and techniques of working with clay and quite successfully, I might add.
But those facts didn't matter.
It started out a bit rough. Kids were rowdy. Couldn't settle down. Usually when I pull out my sample  and begin my demonstration, eyes become focused.
Never happened.
I had to get a bit firm. That helped. I completed my demonstration, but in hindsight, I may have overstressed the importance of scratch-attaching and avoiding air pockets because, well…I'll get to that in a minute.
After I completed the demo, the kids fought for a seat and began working. Things were going pretty well until the 1/2 way mark when all of a sudden I found an abandoned dinosaur body. "Oh, he had to go to speech." Okay. Fine. Wrap up torso and add name. One unfinished body shouldn't be a problem.
Then a child burst into tears. Oh golly.
He became upset when I pulled too much on his dinosaurs neck. It broke off and became too skinny for him to attach again.
Tears galore. Again.
Oh golly. Didn't I stress how forgiving clay is?  Apparently not. I cheered him up then helped him rework the head.
Next table: two extra girls with no clay. Huh? Oh, yeah. I forgot. Two of the children arrive for last 15 minutes of art class. Quickly got them started.
Looked up. Twenty hands in the air. Panicked kids. Floppy dinosaur necks, no legs attached and 15 minutes of class time left.
Yikes!
I breathed deeply and rang my bell. I re-demonstrated how to add legs, but honestly, it was like asking the kids to create articulated wings. Some twisted their clay into balls, but by then, I knew I had lost.
Where exactly did I go wrong?
By the end of class, there were maybe 6 completed pieces. I knew a second day  would be needed. Out came the plastic baggies (too small mind you for the lofty heads!) but by the end of class, the teacher and I managed to get everyone's half-made dinos into a bag with some recognizable letter for a name.
I had ten minutes until my next group of 5th graders arrived. I was sweating.
But I did some quick thinking while wiping the clay from the tables.  One of the possible reasons why the last class went awry was basically good old-fashioned confusion. There were too many kids coming in and going out. And by the time I got the kids under control, 10 minutes had lapsed. In a 50-minute class, that meant the kids only had 40-minutes for the construction of the dinosaur. I usually require an hour for upper grade ceramics. We were behind from the get-go.
I realized it wasn't the kids. It was me. As I saw them falling behind my self-imposed time-line, my energy changed. I began to panic (Oh yes, the brow furling, talk-fast kind of panic). The kids sensed this and put pressure on themselves. However subtle, I'm convinced the energy of the class starts with the teacher.
Calm teacher=Calm class. Hurried teacher=Hurried class. I was hurried. Not good.
The next class bumbled in. This time, I knew it would be next to impossible to finish, so I was more relaxed. I didn't take any time to warn of improper techniques, I just showed the kids the basics. The simplicity seemed to work. About 3/4 of the class got the body, legs, tail and head completed. We wrapped the clay in plastic and anticipated adding the horns and bony plates the next week. Yay! Success!
The kid's energy was very high, but they displayed a level of confidence the first group didn't. There was certainly less confusion. Less kids moving in and out of the classroom, but more importantly, my expectations were adjusted.
Needless to say, I had a two glasses of wine for dinner that night.
Thanks to all of you who offered suggestions for clay storage on my Facebook page. I plan to buy freezer bags and set my expectations at a more reasonable level for the next time!
---
ARE YOU A SPARKLER? An amazingly supportive group of art teachers and over 300 art lessons are available inside the Members Club. Access to videos, resources & trainings for one low monthly fee.
CLICK THE IMAGE TO SIGN UP FOR NOTIFICATION OF OUR NEXT ENROLLMENT