So looong 2020!
So happy to have you behind us.
So let's ring in the new year with a clean slate! To help you plan and celebrate everything artsy, Team Sparkle has brought back our popular Art Teacher Calendar.
Designed to coordinate with The Art Teacher Digital Planner, our FREE calendar is designed to be printed out, marked on, hole-punched and used to help you craft YOUR beautiful year.
When I look back at all of the janky planner systems I used when I was a teacher (here is one of those oldies!), I can't help be a teensy bit jealous of all the beautiful (and efficient) options you have available to you.
I designed this planner (below) to be printed out and written on…I did absolutely ZERO planning on a computer when I was an art teacher!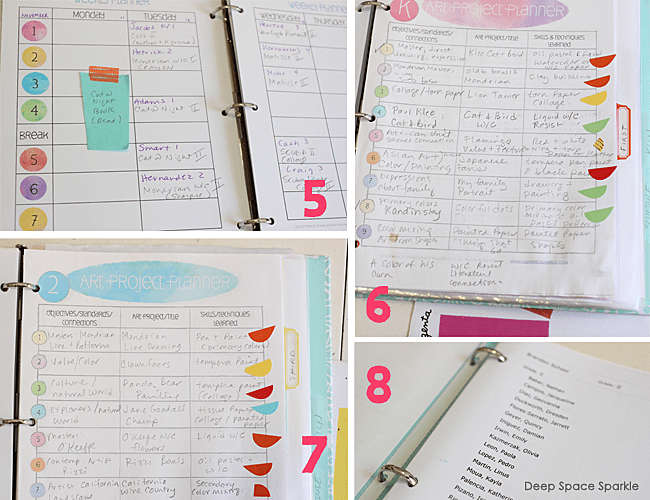 So when I tasked our creative team to combine a weekly planner | calendar | curriculum map | grade level project map | teacher resources into ONE planner that can be 100% customizable and would work digitally as well as a hard copy…well, let's just say they worked a miracle.
And while it is designed to be digital – meaning you can drag, drop, cut, paste, edit, add to your hearts delight…I still wanted it to be functionally beautiful when printed into a beautiful planner.
To customize it, you need to do everything digitally. That means, you can add in special times, less days, more days, fewer time slots, as well as your special dates and requirements.
PLUS…if you're a member of The Sparklers' Club, you can add lesson stickers from our bundles (we update it EVERY month) so that you can plan visually. And the stickers are linked directly to the lesson in the membership.
Cool, right?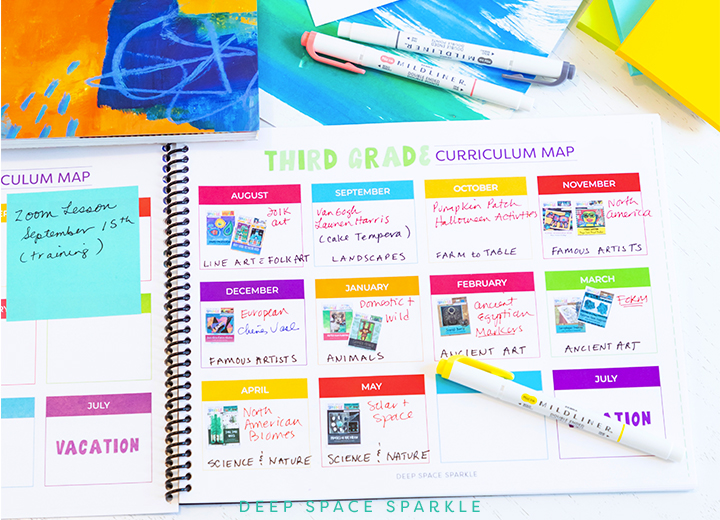 It's really a shame that I was never able to use this as a teacher but the next best thing is that YOU can.
And a head's up…this planner is FREE for all Sparklers. If you don't know what that is, or you're curious about joining, enrollment opens on January 3rd….we'll have LOADS of special trainings, tours and Q & A's for anyone who is interested so jump on this waitlist. We'll send you emails notifying you of special events.
Meanwhile, you can download our FREE 2021 Art Teacher Calendar below…