Dreaming of starting a business teaching art classes to children?
You're not alone. Thousands of teachers, artists and parents who love art and children plus have the desire to work for themselves, are feeling the pull to saying YES to their dreams of starting their own business teaching art to kids.
It's absolutely dreamy to envision how you would design your space, the materials you would buy and the projects you would create. And for the goal oriented teacher, imagining the potential revenue is very exciting!
But while setting up a maker's space and selecting the art activity is doable, it's not a business unless you create an offer, decide on your location and create a plan to fill your studio with students.
This is where many budding entrepreneurs pump the brakes and convince themselves that starting a business isn't for them.
What about the legalities of starting a business?
And insurance requirements?
Do I need to rent a studio?
Where do I find students?
Starting this type of business is really quite easy. You just need a roadmap to know what to do first and in what order.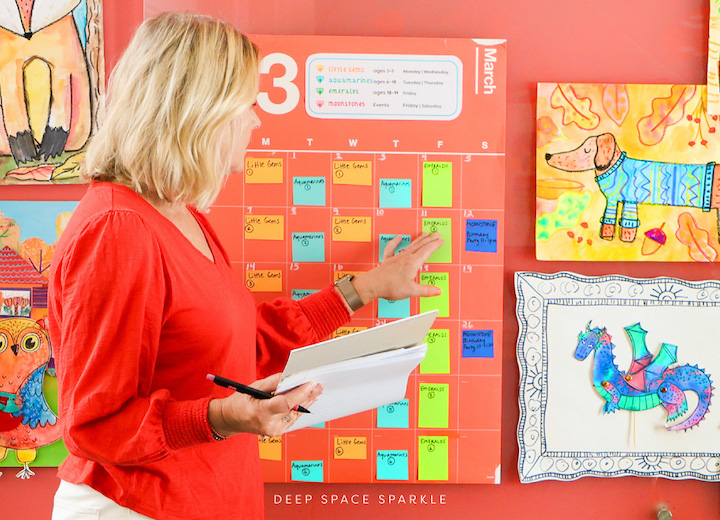 The first thing about being a business owner is realizing one thing: you don't have to reinvent the wheel.
In fact, few businesses are truly unique. Someone has most likely done what you want to do before.
That's why having a roadmap to follow helps you get started on the right path. It's a proven path to success!
Here's our 7 Step Roadmap to Starting YOUR Art Studio Business….
1. Pick a DATE for your first class
That's right. Jumping right in and picking a date that works for you is the best place to start. If you worry about everything else first, you may never get your class up and running. So pick a date about 2-3 weeks out and move onto step two….
2. Decide the TYPE of art or craft classes you will teach
This step might be the easiest for you. Perhaps you are a watercolor artist and can't wait to start teaching littles how to use watercolors. Maybe you love crafting and want to gather moms and daughters together for crafting afternoons.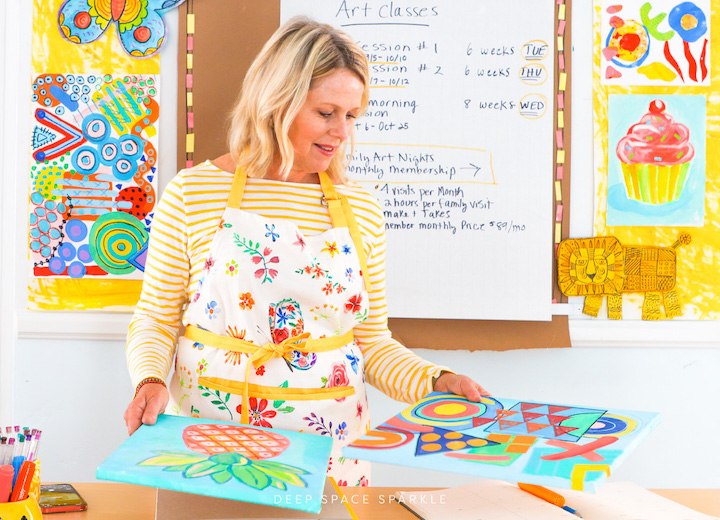 It might be challenging to narrow down what your future business needs to be so don't think too far into the future. Just pick ONE area of teaching art and start there. You can always change it later.
Okay. Whatever you have decided, put it down on paper.
3. Craft your OFFER
Now that you know what you will teach during your first class, it's time to put on your business hat and create your offer. Don't worry. It's not meant to be salesy or use words you don't like.
Simply decide: What your class is called, what artist will learn/create/do, how long the class will be and where, how much you are charging and contact info.
Here's an example:
Winter Fox Painting Class for children ages 7-10
Join Miss Patty and learn how to paint a winter fox nestled in a grove of trees.
Miss Patty's Home Studio on Fancy Name Street
75-minute art class $25/per artist
Call 555-1212 to reserve your child's spot.
Here's another example:
Butterfly Friendship Canvas Art Class for Parents & Kids
Create a one-of-a-kind canvas with your son or daughter. This beautiful Butterfly Canvas can be created using up to 3 canvases.
Miss Patty's Home Studio on Fancy Name Street
90-minute art class $75/per family (up to 4)
Call 555-1212 to reserve your child's spot.
4. Pick a business NAME
You don't have to get fancy with this or try to commit to a name that will last you forever, just find one name that you can add to your offer and allow other people to share your offer with. Using your own name is a great place to start!
5. Set up your studio SPACE
Of all the steps, this one can be the hardest to overcome for many new business owners. But try not to let this one stump you. The secret is to know that your first location doesn't have to be your last location.
Start somewhere, gather experience and move on (or stay!). Here are some location ideas:
– Dining Rooms. Don't underestimate the power of an unused dining room. Often, these spaces in our home are unused, closed off and perfect for gathering kids and artists!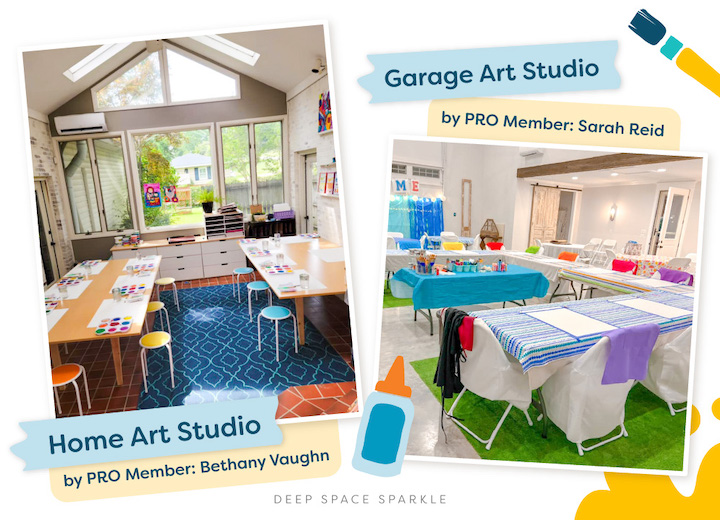 Sunrooms, garages, basements and patios all make for amazing locations to teach art.
Coffee shops and restaurants who have extra room or spaces
Churches or Community Centers often have spaces to rent or reserve.
Libraries
Community club houses
6. INVITE your first students
You are really on your way if you have gotten to this step. Give yourself a pat on the back because you have truly done the hard work!
Hopefully, this step is easy because you no doubt have some families in mind when you started dreaming about doing this.
Don't be afraid to send out an email to a bunch of friends sharing your big news of finally starting your own business. Many people will be very excited for you and will be eager to help by signing up their kids for your class.
You can offer ONE free class to work out all the kinks (I advise this to our Primerry PRO members who haven't taught a class yet) but don't make free a habit.
Pick a fee. Anywhere from $15-25 for one class is reasonable. (You don't want to be a babysitter so make sure to charge enough to communicate that.)
7. TEACH your class
You have come so far, did the work and finally the day is here! Time to teach your first class.
A few words of advice here: NO ONE and I mean this sincerely…no one person I know has ever knocked it out of the park teaching art on their first day. You learn so much during that first class and somethings will go really well, and others not so well.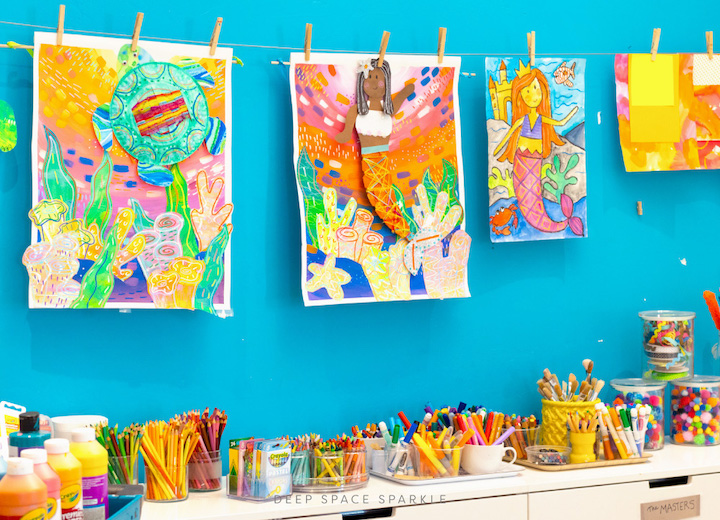 The secret is to learn from the process and make course corrections as you go.
Here are somethings to look for:
How did drop off go? Did parents want to hang around too long?
How did prep and material work out?
Did the artists enjoy the class?
Were there behavior issues?
Did the pacing of the class allow for all artists to start and create at a similar pace?
Did parents pick up on time?
Did you have any payment issues?
These are the questions we talk about and the processes we improve in Primerry PRO, our membership for aspiring and active Art Studio Owners.
Make sure to hop on our notification list to hear when we will have our next Art Studio Business Training plus enrollment for Primerry PRO.