If you love watercolor as much as me, you might be looking for the best watercolor projects to teach your students.
I've done hundreds over the years and my favorites always have one or more of the following techniques:
Waterproof marker as a precise drawing medium
Non-water soluble oil pastel or waxy crayon to act as a resist and/or barrier
Wet-on-wet technique for color blending
Salting for a magical touch
Watch this video as I walk you through each technique in this pretty Fall Art Project:
You can practice these techniques without doing a lesson. Introducing simple techniques as an experiment allows children to experience the techniques first and then they can use them in their own work.
The October Freebie pack is chock full of Fall themed lessons, drawing guides, technique tips and video tutorials. Download this handy drawing guide before you get started:
How to Use the 4 Watercolor Techniques in a Fall Leaves Art Project
Give each student a 9″ x 12″ @ 90 lb watercolor paper. Regular sulphite paper doesn't work as well as the watercolor paints will soak into the paper reducing the effectiveness of the wax resist, wet-on-wet and salting. BUT using a waterproof marker does work well.
Children should have access to a waterproof black marker (I like Sharpies), non-water soluble oil pastels or waxy crayons and some watercolor paint (either pan or liquid is great). Here's a post on the watercolor brands I like.
Additional projects you might like to try:
Watercolor Tulips
Notre Dame Cathedral Project
Technique #1: Waterproof Marker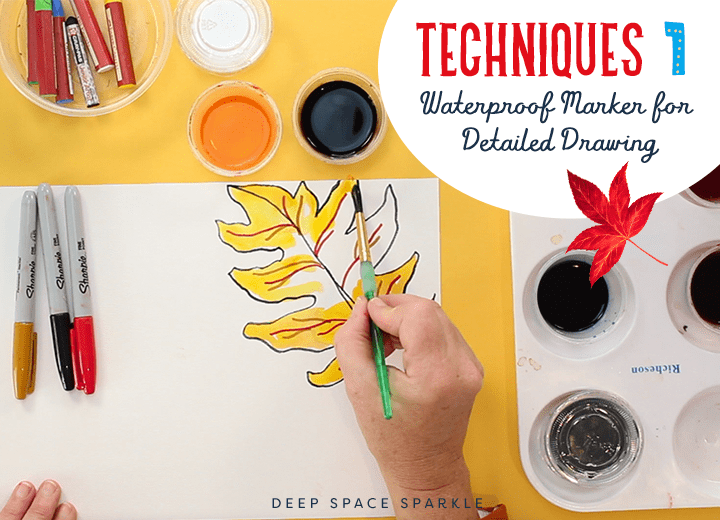 With a waterproof black marker, draw a simple leaf shape.
Carefully paint inside the shape with watercolor paints.
When to use this technique: When you want a strong, detailed line for an intricate drawing. For a leaf drawing, the waterproof marker creates thin, detailed lines.
Technique #2: Wax Resist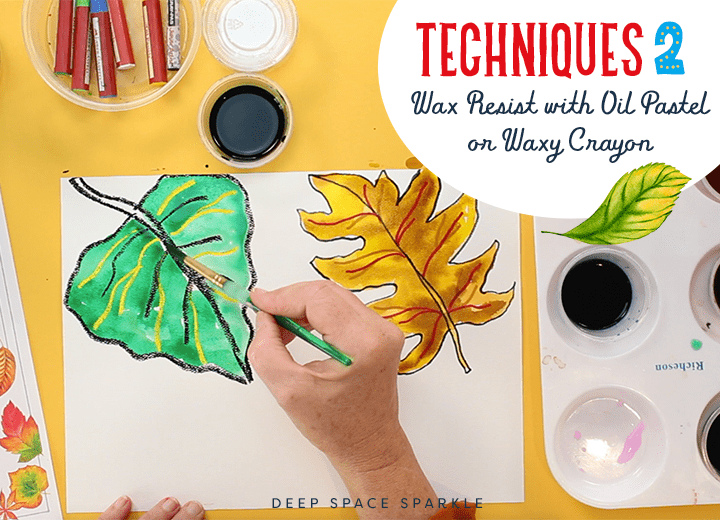 With a wax crayon or oil pastel, draw a simple lead shape.
Add in lines or details with oil pastel or crayon colors.
Paint over the entire drawing with one color of paint.
What happens to the lines?
When to use this technique: When you want to add colorful or white line details to a drawing and add a splash of color over top but not have the watercolor paint cover the details.
When you want to paint the background and don't want the leaf color to bleed into the background color.
Technique #3: Wet-on-wet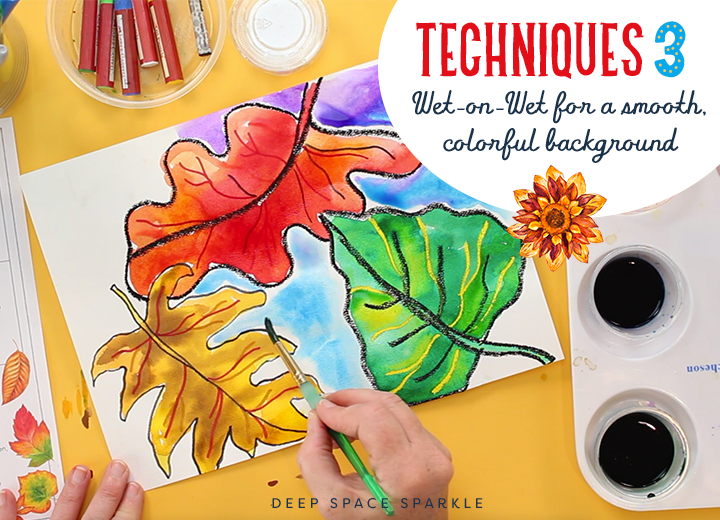 With a brush dipped in water, paint over a section of paper.
Select a color of paint and brush over the top of the wet section.
Select another color and dab onto wet surface.
What happens when the paint merges?
This technique is fun for kids to see as the watercolor often spreads like a star and mingle with any color getting in its way. It's also a great time to explain the scientific properties of water.
When to use this technique: The best time for this technique is when you want watercolor paints to mingle, creating a new color OR when you are painting a large background area. Kids tend to paint on dry paper which can be very streaky. Adding water to the paper first, softens their natural tendency to paint in uneven amounts.
The finished products looks pretty cool.
Technique #4: Salting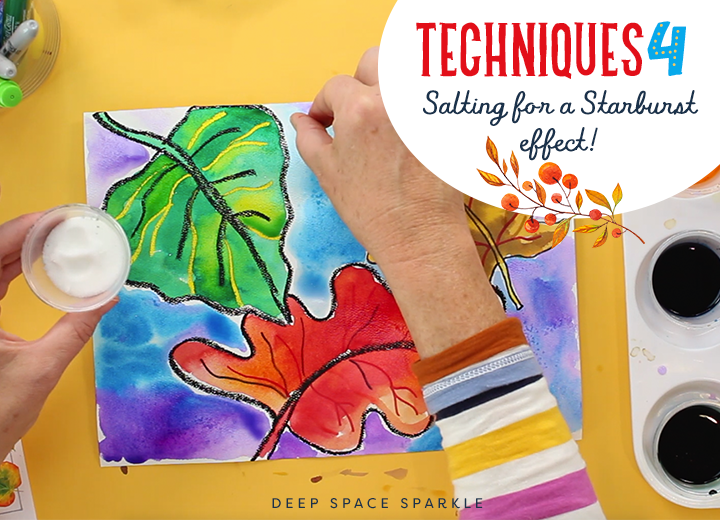 With a brush dipped in water, paint over a section of paper.
Select a color of paint and brush over the top of the wet section.
Before a paint dries, sprinkle table salt over paint.
What happens when the salt dries?
There are a few things that MUST be done in order to achieve a pretty starburst effect with salting:
You must use translucent watercolor paints. Cake or puck tempera paints or heavy opaque watercolor paints might be too heavy for the salt.
You must also give the salt and watercolor a chance to work by using watercolor paper. If the paint soaks into the paper before the salt has had a chance to take effect, nothing much will happen.
So use translucent watercolors (I LOVE liquid watercolors) and watercolor paper.