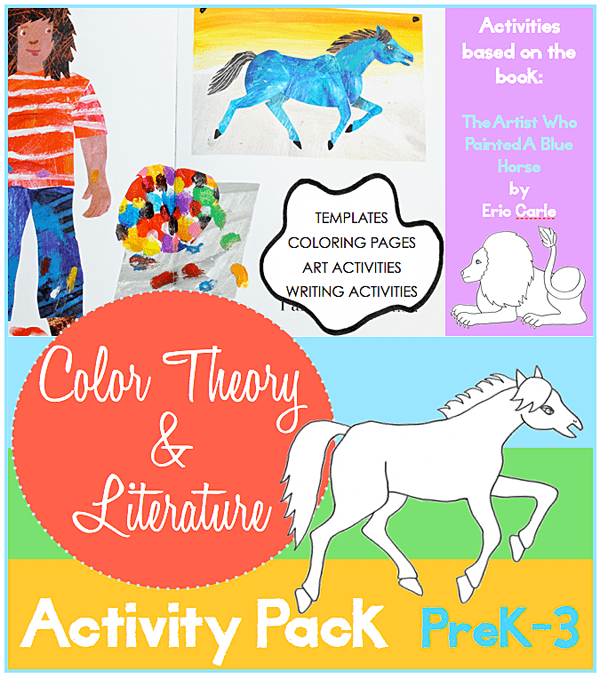 In my attempt to respond to my most frequently requested materials, I am thrilled to announce the arrival of my newest genre: Art Activity Packs! There are quite a few of you out there who want so desperately to read a book to your students (or children) and offer a simple follow-up art activity.
Notice how I said activity? In my mind, there is a distinction between an art lesson and an art activity and this is my version of the latter.  Inspired by Eric Carle's The Artist Who Painted a Blue Horse, this stunning book offers such a wonderful message to our budding artists: personal expression.
Children experience the fun of painting and coloring and cutting and pasting, and you don't have to do much. There are simple animal templates and more detailed coloring pages for the various skill levels and activities.
Choose which activity you want to do with your students from the youngest group (PreK) to the slightly older group (up to 3rd grade). The only supplies you will need are coloring materials like markers, crayons or oil pastels and some tempera paint. I used Puck Tempera for easy prep and clean-up.
There are writing activities that reinforce reflection of the art and color mixing exercise that help identify warm and cool colors.
I have to admit that I loved creating this pack. I loved illustrating the coloring pages while imagining how I would color the animals if I were the child. I hope you enjoy my first Activity Pack as well.
The 44-page activity book includes the following:
3 Art Activities for children in grades PreK-3 grade. Please note that these are activities based on templates and not fine art lessons normally seen on my blog and in my detailed art lesson plans.
Art Supply Links
Create Your Own Warm Color Activity Sheet
Create Your Own Cool Color Activity Sheet
Mix Your Own Color Activity Sheet
Mixing Warm Colors and Create a Name Activity Sheet
Mixing Cool Colors and Create a Name Activity Sheet
Cool Color List
Warm Color List
Color-Me Framed Art
Blank Frame Template
Personal Expression Art: Boy Template
Personal Expression Art: Girl Template
Personal Art Label
Detailed Animal Templates or Coloring Page (horse, crocodile, cow, rabbit, lion, elephant, fox. polar bear, donkey)
Simple Animal Templates for younger children to color or use as templates (horse, crocodile, cow, rabbit, lion, elephant, fox. polar bear, donkey)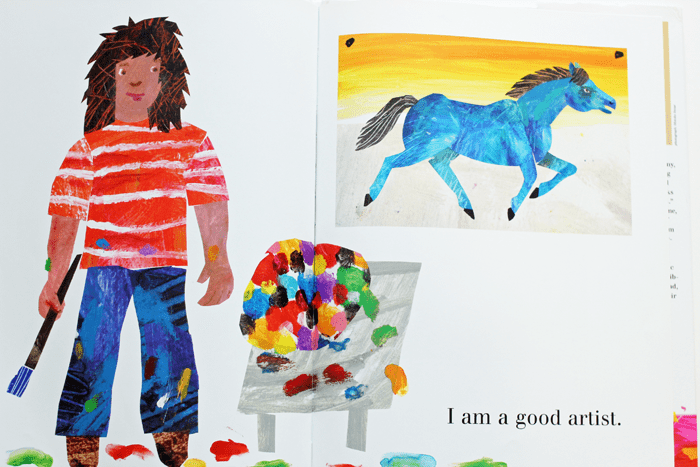 Here's a peek inside the contents of my Activity Pack: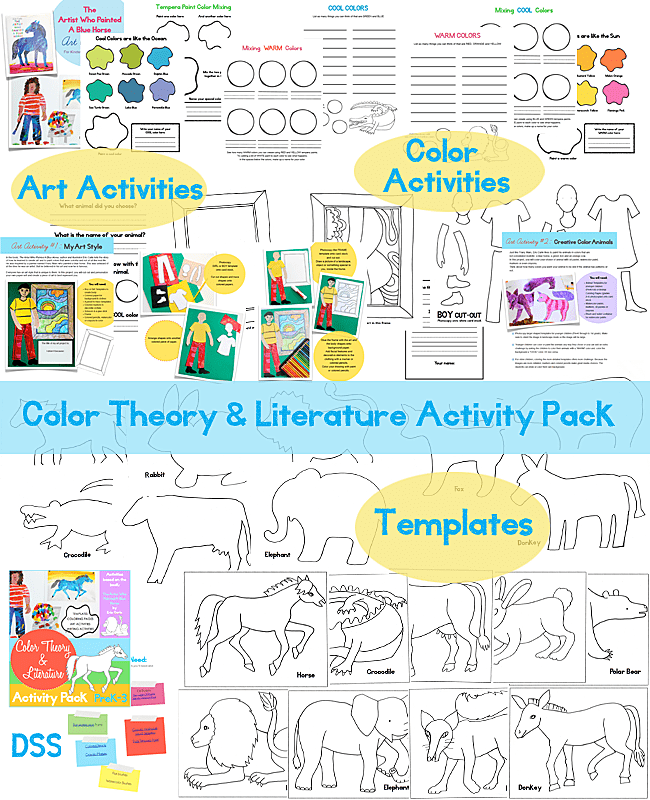 ---
This lesson is available in the Color Theory Bundle in the Sparklers Members Club
FIND THIS ERIC CARLE LESSON IN THE MEMBERS CLUB…