One of the most common questions and personal email queries I receive concerns about liquid watercolor paints. They are still a novelty for many people so when you first buy them, you may not know what to do with them. Here are my suggestions for working, storing and prepping liquid watercolor paints.
Liquid Watercolor Paints Questions:
What are they?
Liquid watercolors are a concentrated liquid watercolor paint that come in 8oz bottles. They can be used full strength, but I always add water. They are best diluted with regular water at a ratio of 1:1. The stronger you want the color, the less water you use. The lighter you want the color, the more water you use. They are a great substitute for pan watercolor paints as they produce such a rich, vibrant color.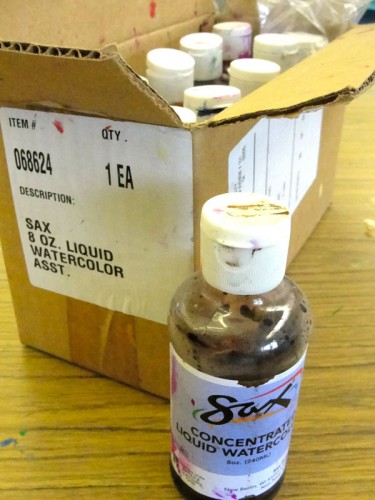 What Brand do you use?
I buy the Sax brand through School Specialty. I also like Dick Blick's Liquid watercolor. They have glitter liquid watercolor as well.
How much should I buy?
This is the toughest question and I'll be honest, a little frustrating. I can't possibly know how many students you have, how many classes you teach, how many projects you do that would use liquid watercolor. I think what people are really asking is, the bottles look so darn small. Is it a waste of my budget? I can only say that I love the results liquid watercolors provide and so do the kids. If you can afford a set, give it a try and see what you think.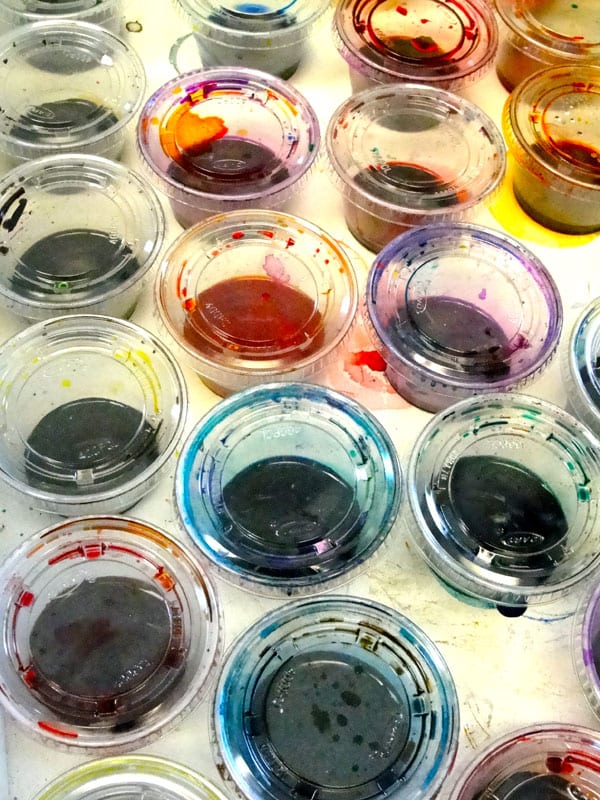 It may help to know that I don't throw my liquid watercolors away. I store them in small condiment containers with plastic lids or glass baby food jars. This keeps the watercolors well. If a color, like yellow, gets too muddy, I toss it, but mostly the colors stay true. For me, I can go about a year and a half before I start to run out of basic colors like red, yellow and blue. You may want to double up on those colors.
What about mixing?
Liquid watercolors are great if you want to cover a large area fast even on sulphite or regular drawing paper. The watercolor paints do sack into the paper but it dries well. For this pig painting, it was so quick and easy to splash some green and blue paint on the background and some watered-down red onto the pig. A very quick oil pastel resist lesson. I didn't even use watercolor paper, but the colors are much more vibrant if you do.
If you want to teach a lesson on mixing and mingling, I would stick with the regular pan watercolors.
How do you set-up the paint in a classroom setting?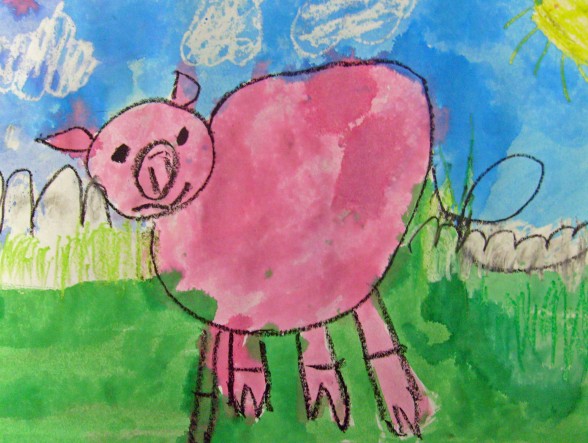 I use a 6-well plastic palette (again, from School Specialty or Dick Blick. Do a search on their site for palettes. Their stock varies from year to year so I can't be any more specific than this). I place the plastic containers or baby food jars that hold the watercolors in the wells. This prevents them from tipping over. I place the brushes in plastic water containers so the kids know not to set the brushes in the watercolor paints.
For a table of 5-6 kids, I use two water containers, 3 brushes in each and set the tray of 6 w/c paints in the middle. Works well.
After I'm done with the paints, I place them in a drawer in my art room (see picture).
For added watercolor art lessons for your classroom of children or kids at home, check them out HERE.
Please ask a question about Liquid Watercolor Paints below…
This post contains affiliate links.
---
WATERCOLOR TECHNIQUES FOR KIDS
Click the image below to receive our free PDF lesson guide!