APPLE ART PROJECT
While searching for a literature tie-in for this lesson, I found Nikki McClure's exquisite book Apple
. The story takes on you in a visual journey of the life cycle of an apple; from apple picking time to composting and re-birth. The children had fun anticipating what would become of the bright red apple.
Here is my book review for APPLE
I read this book to my group of Kinders. They were absolutely enraptured. The Kindergarten teacher and I marveled at the simplicity and effectiveness of the vocabulary and images. Afterwards, we created a very simple apple art project that featured five art techniques:
Tracing (holding an oil pastel)
Cutting and pasting
Painting with primary colors to achieve secondary colors
Adding value
Composition
What you'll need:
12″ x 18′ colored sulphite paper (background)
12″ x 18″ white sulphite paper
Black and brown oil pastel
White chalk pastel
Cardboard apple template (you can draw through observation, too)
Palette of red, yellow and blue liquid tempera paints
Scissors and glue
Burlap or colored craft paper for the "tablecloth"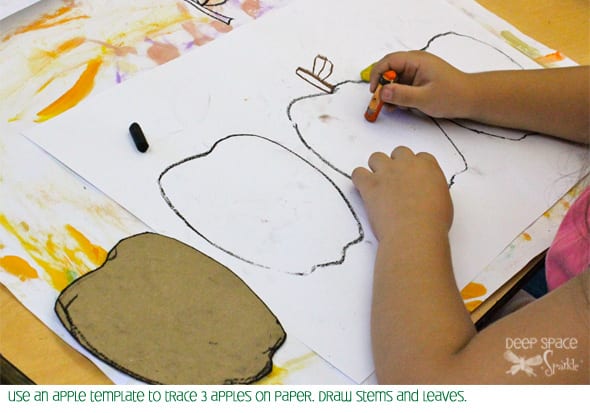 I used templates for this lesson as I have young kinders (4 and 5), but if you were doing this lesson with slightly older children, it might be more interesting if the children drew the apples using observation techniques.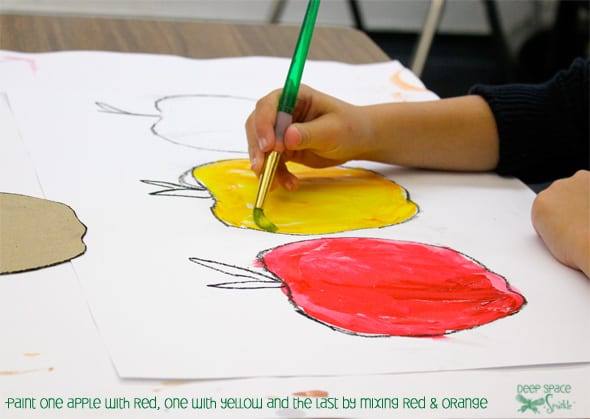 After the childen have 3 apples on their paper, have them draw stems and leaves. Now comes the fun part: painting! I placed the tempera primary colors in a muffin-style palette and had the children paint one apple yellow. They used very little water and cleaned their brushes by sweeping the bristles over the placemat. Next, they dipped their paintbrush into the red paint and painted the second apple red. Now, without cleaning the brush, dip paint brush in yellow paint again and paint the third apple. The children will notice right away that the yellow and red on their brush creates orange. If they need more paint, they can add more yellow or red directly to the apple.
After cleaning their brush, they painted the leaves yellow, then dipped their paint brush into blue paint and painted directly over yellow leaves. Don't worry about the stems for now.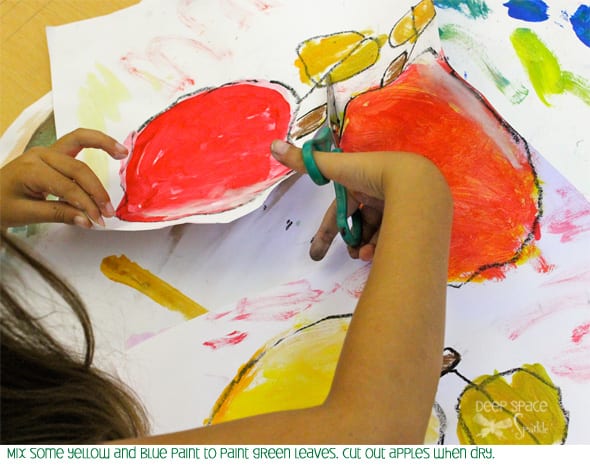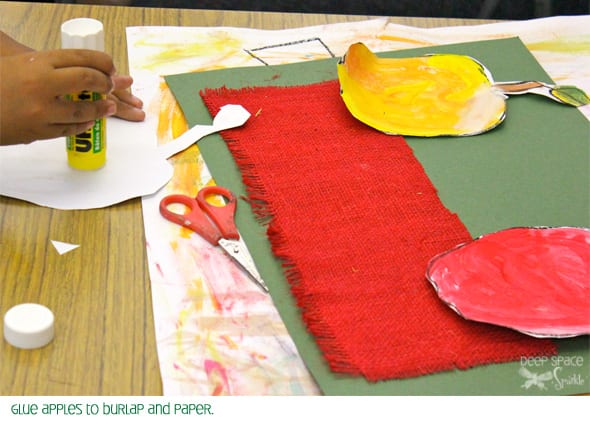 In the next class, or once the apples are dry, cut out around the apples and set aside. Place some pre-cut burlap and some colored background paper on a table in the back of your art room. As the children finish cutting their apples, they can select a background paper and a piece of burlap. Glue burlap onto the paper first, and then arrange apples onto the burlap.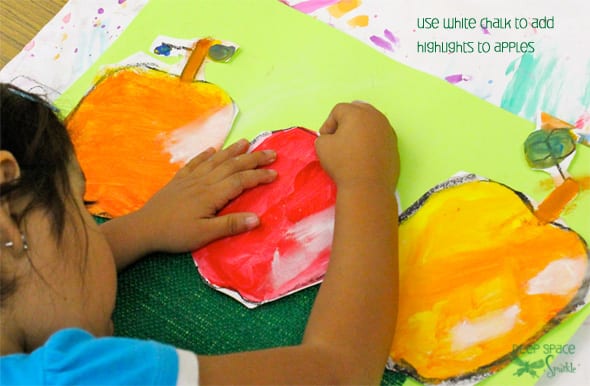 Once everything is glued to the background paper, the children can add the finishing touches: coloring the stems with brown oil pastels and adding chalk highlights. I showed the kids how to add a crescent moon shape to the top of their apples to create a shiny spot. They loved this!
My students apple art…Didn't they do a lovely job?