CARDBOARD FISH PROJECT
This art project was a huge success with my Kinder students. If you have some extra corrugated cardboard and a few bored kids, try creating these abstract fish and owls. I won't lie. It took a while to cut out 65 fish shapes plus the notches and mouth openings, but my Kinder students loved creating this cute project.
WHAT YOU'LL NEED:
Corrugated Cardboard
12″ x 18″ colored sulphite drawing paper
Colorful yarn
Scissors
Craft paper
Paper towel rolls
White liquid tempera paint (or craft acrylic paint)
Making the fish
To start, we added a bright pink or turquoise background. I happen to have a boxful of paper towel rolls, so I cut them into segments and gave a tray of white paint and the roll segments to each table. Children stamped bubbles all over their background paper, keeping in mind that their fish will occupy most of the center. Paper scraps were brought out and the children had a great time cutting fins, scales, eyes and teeth for their fish.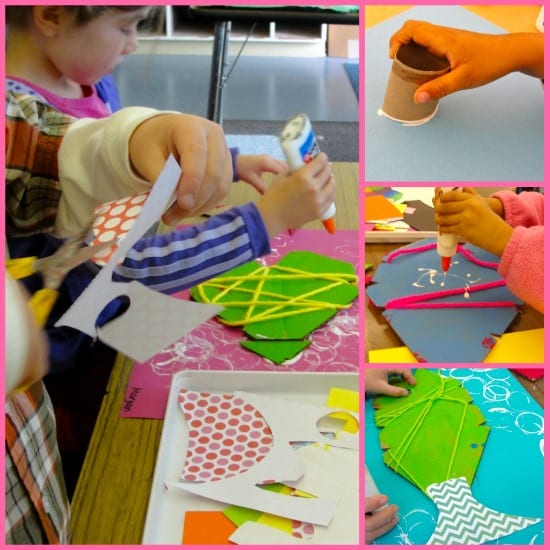 There is so much going on with this lesson: composition, squeezing glue bottles, wrapping and handling long strands of yarn, cutting, stamping and most of all…creating.
This can be a messy project, but if you organize the paper scraps in white trays and only give a few pieces of scraps to each table (see the photo above), then it becomes slightly more manageable. Also, if you can pre-cut the lengths of yarn for wrapping around the fish, you won't have to stand by the yarn and monitor the yarn table.
Kinder Cardboard Fish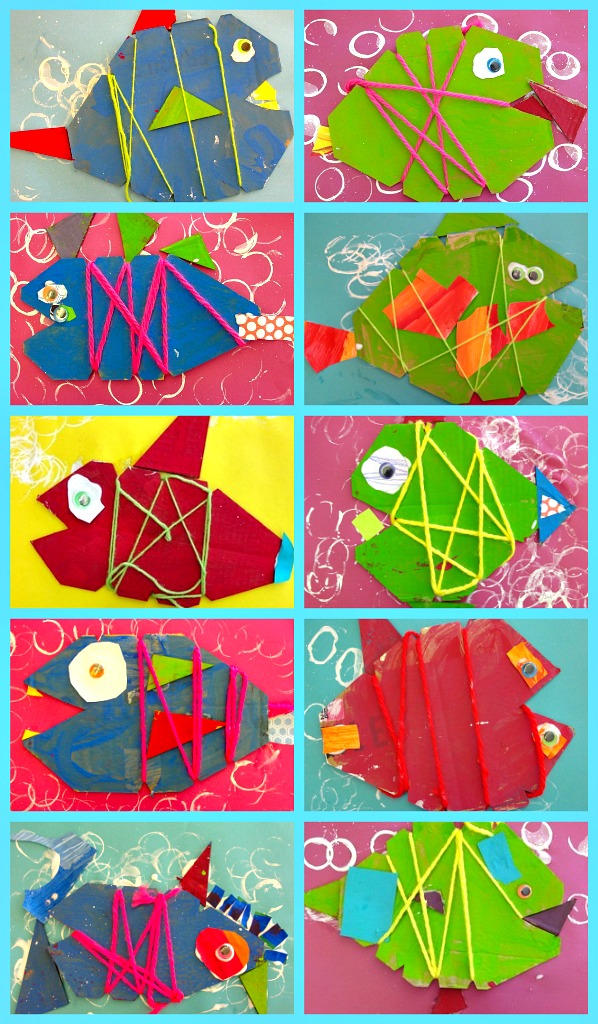 You can also rearrange the shapes to create cardboard owls!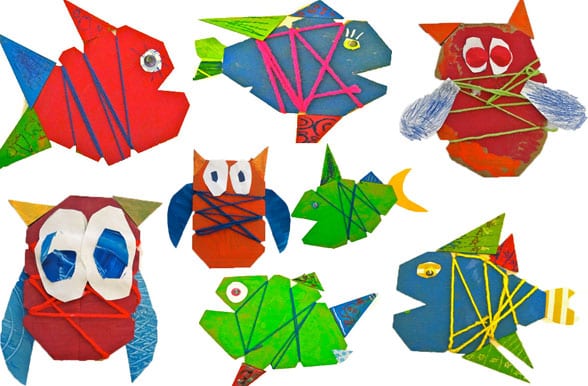 ---
ARE YOU A SPARKLER? These lessons and over 300 art lessons are available inside the Members Club. Access to videos, resources & trainings for one low monthly fee.
CLICK THE IMAGE TO SIGN UP FOR NOTIFICATION OF OUR NEXT ENROLLMENT