CONTOUR CAT WATERCOLOR PROJECT
The complementary colors of orange and blue are everywhere this fall season. And why not showcase these happy colors with a blue belly cat? A bit of doodling the other day prompted a quick contour drawing of this cute cat.
Using the simple drawing handout, children can free-draw their own contour cat watercolor to use as the subject of three watercolor techniques:
– Wet-on-wet watercolor (cat)
– Wet-on-dry watercolor (background)
– Wax resist (white outline and watercolor barrier)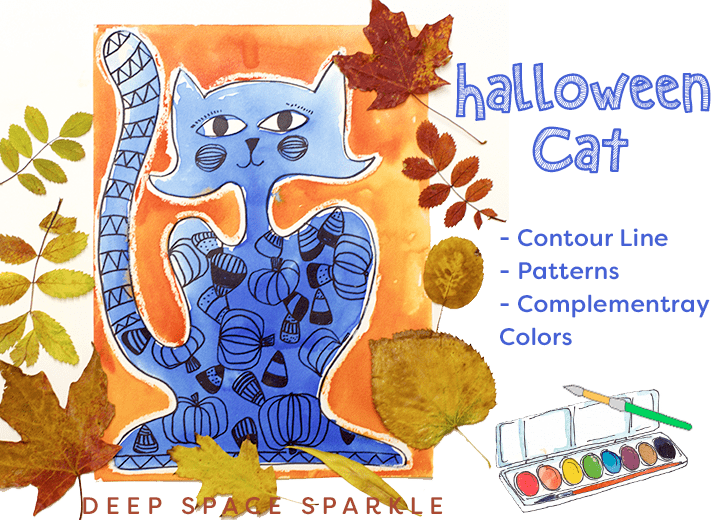 This lesson can be done in two steps. First, draw the contour cat with a sharpie on watercolor paper. Then paint the cat and background. Second, after the paint dries, add the pattern and lines.
ART SUPPLIES
waterproof black marker
watercolor paper (90 lb)
pan watercolor paints
white crayon or oil pastel
medium round brush
water
TECHNIQUES
wet-on-wet
wet-on-dry
wax resist
contour line drawing
patterns, shape and line
DRAWING DIRECTIONS
Use the drawing handout as a guide to draw a contour line of a simple cat. Focus on drawing two ears, a head, a long neck, hunched shoulders, simple paws and a long, curvy tail. Don't worry if it doesn't look perfect. The fun part is drawing wonky lines!
Draw two oval shapes for the EYES.
With a white crayon, trace carefully along the outside of the black marker line.
With a brush, touch the blue paint and dip into water so the clear water has a tint of blue.
Brush water inside the contour line.
With BLUE paint, start painting a LINE of color along the bottom of the cat. Hold paper upside down so that the blue drips and mingles towards the body.
Continue painting the cat blue, allowing the paint to migrate down the paper using gravity. This is really fun for kids as they can see how the colored paint will travel to the wet areas.
Paint outside of the contour line (NEGATIVE SPACE) blue's COMPLEMENTARY COLOR (orange!)
After paint dries, use the black marker to add a NOSE and a MOUTH.
Fill the cat with patterns, lines and shapes.
---
PAPER PATTERN CAT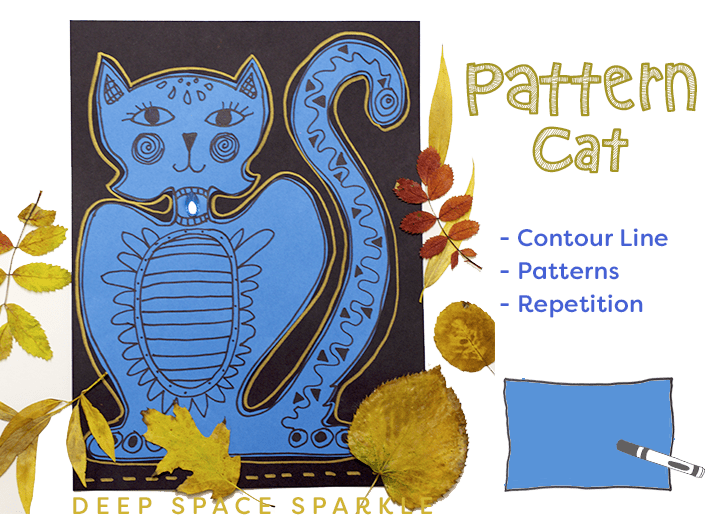 ART SUPPLIES
waterproof black marker
2 pieces of colored sulphite paper ( 9″ x 12″)
Optional: metallic sharpie
Optional: rhinestone or button for collar detail
scissors
glue
DIRECTIONS
– Draw cat on colored paper using the instructions in the PDF or from the instructions above.
– Add patterns inside the cat. Cut cat out and glue onto black or any other colored paper.
– Use a gold or metallic sharpie or permanent marker to outline the cat. The gold metallic pen really pops against the black paper. You can use a gold/metallic oil pastel if you don't have a marker.
– Detail collar with pom-poms, rhinestones, or buttons.
---
Click the image below to receive the Contour Cat Watercolor Freebie via email! For more watercolor projects click HERE.