Ready to create beautiful artwork for Day of the Dead? Grab your markers, sheets of white paper, a few crayons (and your kids) and let's celebrate the Day of the Dead with these easy, colorful drawings.
Día de Muertos is a special day that honors the beauty of life, as families gather to celebrate and remember loved ones who have passed. The art represented on Day of the Dead is vibrant, energetic and colorful.
Throughout my years of teaching art, I created quite a few Day of the Dead projects including sugar skulls for younger children as well as for older kids, plus catrina dolls and papel picado projects. Check out my collection of Day of the Dead projects right here.
These drawings use simple materials and only require about 45 minutes of your time!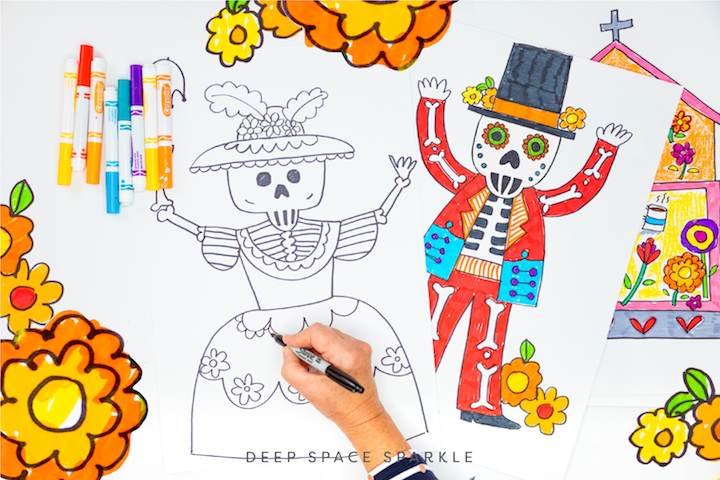 Book Recommendation
I used the illustrations in the book, Dia De Los Muertos by Roseanne Greenfield Thong and illustrated by Carles Ballesteros as inspiration for these drawings. Its length and pacing plus the colorful, simple illustrations are a perfect transition into these Day of the Dead creations.
Follow the steps in the handy drawing guide below to create a Day of the Dead catrina, skeleton and altar.
Download your Day of the Dead Drawing Guide below…
Create Your Drawings
To start, select your favorite subject and place a sheet of 12″ x 18″ white paper vertically.
To create the catrina or skeleton character, place your gently closed hand at the top edge of the paper, with your pinky touching the top edge. Where your thumb rests, make a dot. The area above the dot is the space for the hat.
Next, draw the brim of the hat over this dot. This is the start of the drawing and from here on, it's easy!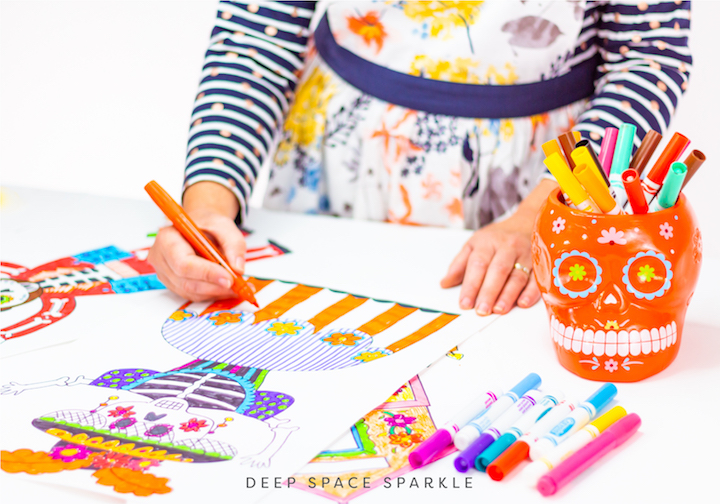 To create the altar, fold your paper in half vertically so that you can draw a symmetrical altar. Start with the top of the inverted "V" and work your way down.
Add details to all of your drawings. The catrina and skeleton feature pom-poms, braids, earrings, feathers, ruffles, buttons and bones. The altar features candles, cups of hot cocoa, sweet treats, a place for a drawing of your loved one and a spot to add your loved one's name.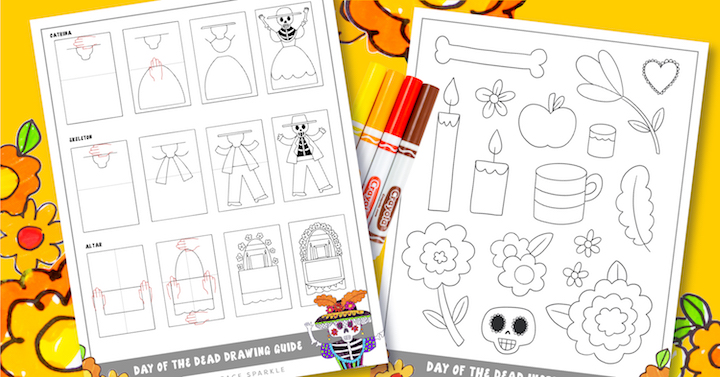 Lastly, use colored markers, colored pencils and even crayons to color in your drawing. Feel free to add a background or leave this plain. You can even cut out the drawings and hang them on your wall!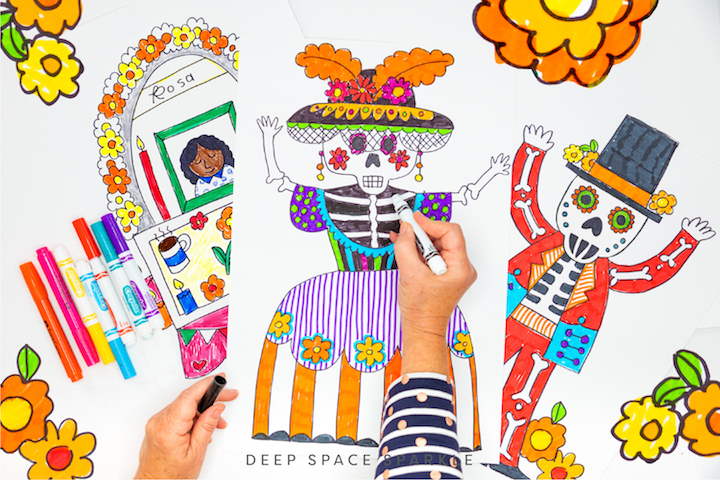 I can't wait to see what you create. Be sure to tag me on Instagram @deepspacesparkle.
Happy creating!