It's 5 am and I'm wide awake.
The coffee is brewing so I take a seat in my new den with a view over Santa Barbara and the mountains.
How did I get here?
The past 24 months have been a whirlwind of everything new, frightening, risky and downright fun.
So many things have happened since my life as a public school art teacher and if you've followed me through my podcast, Art Made Easy, you know them all.
But the most important one has been The Book. I capitalize because as simple and easy and wonderful as this book is, there is nothing quick about writing a book with a publisher.
And if I'm being totally honest here, I left my job as an art teacher to write this book and that was three years ago!
Heck, I wrote about how to write a book proposal two years ago.
But this August, my little book comes out.
August 2018. Really. And I'm not lying. Just look here…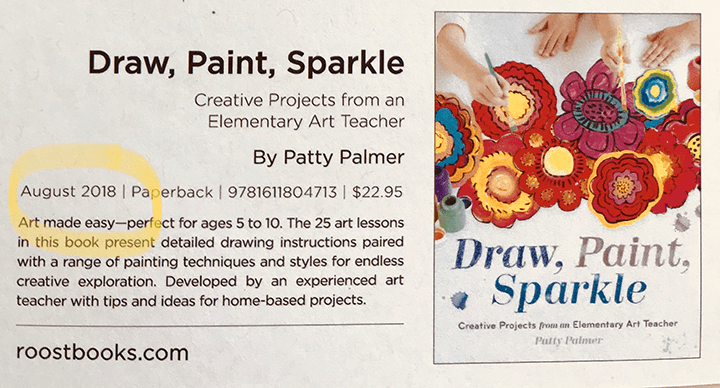 Would you like one of these project plan postcards? Comment below with you address and we'll send you one (US addresses only please).
Here's the skinny…writing the book was easy.
The process to publishing…well, that's a different story but writing it? No problem.
I love creating art with kids.
Watching how they react to a project, a drawing, a technique, and to each other is what intrigues me. I love making small tweaks mid-way through a project to see if that somehow makes a difference in a child's enjoyment factor.
These are the things I love to write about and share with you. The seemingly irrelevant details that can make or break a project for kids.
Like whether to draw first with a pencil when painting with acrylics or whether using a Sharpie marker instead of crayons would be more fun for a nine year-old. These types of decisions can encourage kids to work longer on their piece, paint with more passion and be a willing participant in the art discussion afterwards.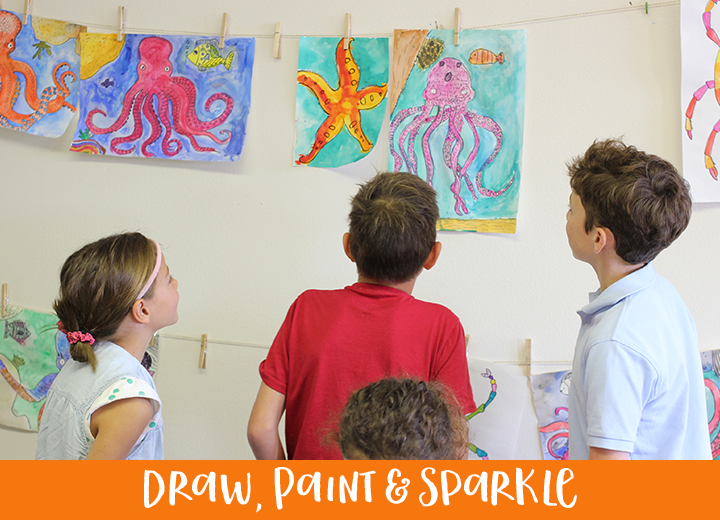 Back to My Roots & A Nasty Lady
I recently had my 5th enrollment period for my membership program, The Sparklers Club. Team Sparkle goes all in for 8 days showing people around the private site, answering thousands of questions, hosting live sessions, and reminding people of the enrollment via emails.
One email I sent obviously hit a nerve with one lady. She wrote back and scolded me for not staying true to my roots. By charging for my membership, she thought I was one bad art teacher.
I know. Occasionally I get emails like this, but they are rare, so don't worry. I'm not hurt.
The TRUTH is, this nasty lady actually said something that I liked…she told me to stay true to my roots.
And I have with my membership and with this book…
Draw, Paint & Sparkle is a collection of 25 beautiful art lessons for the 5-12 year old.
Each lesson is rich in techniques, color and joy.
Each lesson is peppered with my experience as a curious art teacher, who cares if a child enjoys the process. The book shares the philosophy of how to approach art with the child in mind. Standards, schedules, prep time or evaluations are not considered.
Each lesson brought me back to my real roots, of being the quiet 10 year-old who hid in her bedroom with a tin of Reeve's watercolors and a pencil, because there was nothing in the world she wanted to do more than paint.
If you like to skim instead of read posts, here's the summary:
If you send me a nasty letter, I will always spin it so it benefits me, not hinders me. So choose your words carefully.
Teaching art to kids is one of the things I love to do most because it's what I loved as a kid. Find what you love and surround yourself with it.
Draw, Paint & Sparkle is not ready to buy yet, but will be available for pre-orders in a few months. Hang tight and I will let you all know.
One more time…if you want me to send you a post card of my Expressive Fish Project, just leave you name and US address below and we'll send one off to you.