After my post on Open-Ended Art lessons, I couldn't wait to try a little color theory experiment. It seems as though we are a divided community of art educators, feeling that one approach might be better than another. I certainly have strong opinions on what works for me and my students but I sure do love to hear what works for everyone else. I received so much support for this site from this post but I also received some information on Choice-Based Art programs. I have a curious mind so it was natural for me to gravitate towards the teachers who offered a different perspective than my own.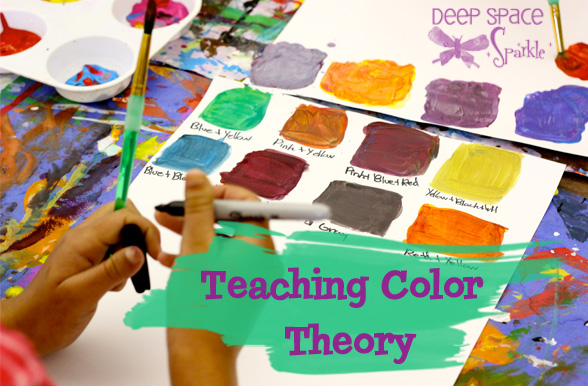 One teacher, Kathy,  who weighed in on our discussion last week favored an open-ended approach to art projects with I understood to be students taking what they know of techniques and materials and applying it to their art projects. This was her project recommendation:
Here are a few ideas: at the beginning of several sessions of painting, give students tempera with magenta, turquoise, yellow, white, palettes, smallish brushes, a sponge, small good-quality paper. Demo putting colors in to palettes with brushes and rinsing/wiping brush on sponge between colors to keep their paint tray colors fresh and thick. Then let them go mixing colors and naming the results. Invite them to write colors on the chalkboard when they make an amazing discovery, ie., Y+B+W=spring leaf or B+Y+R=monster slime, etc etc. Assign students to paint a sample of colors on their paper to save for future reference. We find that students who discover color recipes rather than copying color wheels gain an intuitive grasp of color and are far more adventurous and original in their future paintings.
It was Kathy's last sentence that caught my attention. More than anything, I want my students to grasp color theory that is intuitive to them.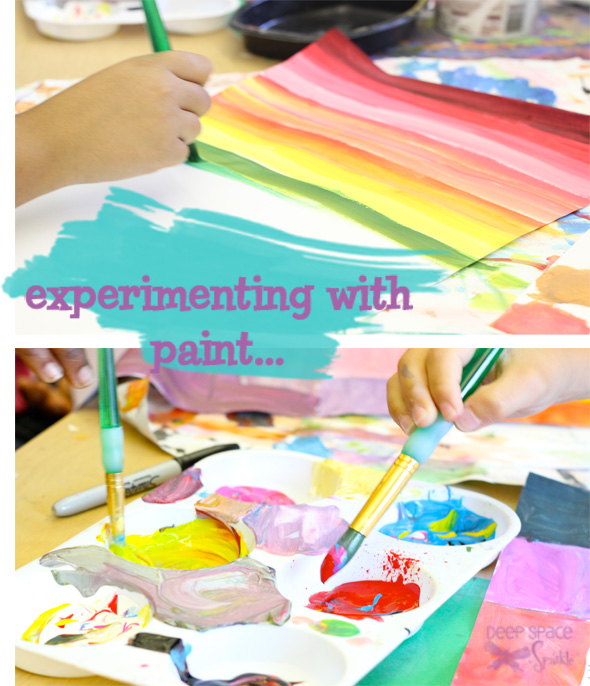 My sixth grade students had one remaining art class before the end of their art rotation. We had finished up all of our other projects, so a little paint fun seemed to be in the cards. I've been working hard on teaching color theory to all my students this fall and if you had asked me last week if I felt my students knew primary colors from secondary colors from monochromatic colors to complimentary colors, I would have said of course, but Kathy's suggestion left me wondering if there was a better way…
What we did…
Children received a palette of paint containing turquoise, magenta, white, yellow and red. Each table has paint brushes, sponges and some water. I also included a waterproof black marker so each child could record their findings. I felt so scientific!
I was VERY careful not to tell the children what their project should look like in the end, but rather focused on what their goals should be, which was making as many different colors as possible.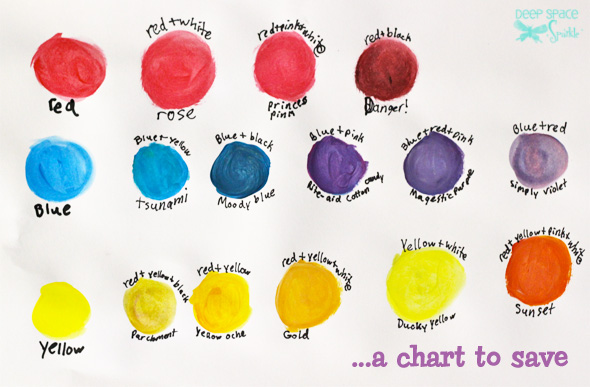 I demonstrated some basic techniques about the way to mix paints onto paper and we all took a look at the color wheel to see how it could help with some of their decisions, but generally, I left them alone.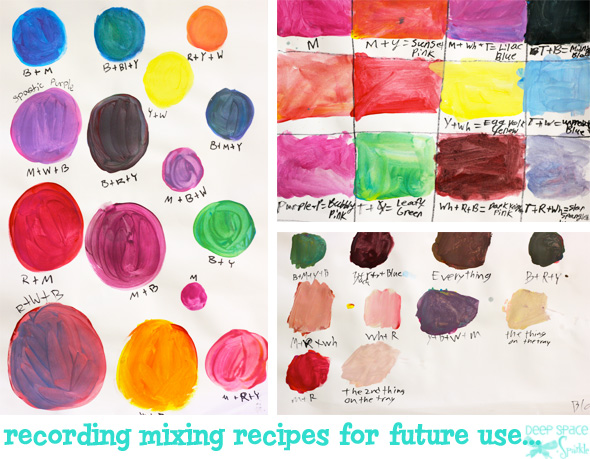 After mixing some paint colors together, the children recorded their "formula" on the paper with a marker. Some kids didn't want to do this but many of them did. It wasn't surprising which children took to the recording aspect of the lesson very seriously. They loved this part!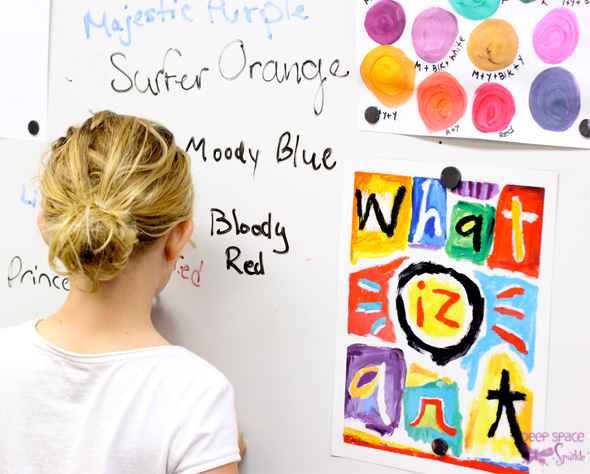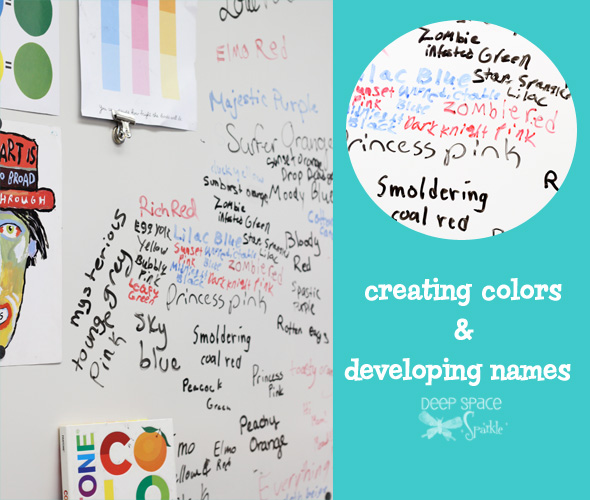 When they came up with a great color, they were invited to come up to the whiteboard and share their color names. This is the part of the lesson that I thought the kids would love. It started out well, but towards the end, it felt slightly out-of-control with some of the boys taking the novelty a bit too far. Hmmm.
A few of my great artists were a bit stumped with what to paint. I consider this more of a reflection of my art room expectations. I only see the children 15 times a year, so I don't have a lot of opportunity to allow the children to paint whatever they want. I strongly believe that if a choice-based art program was the foundation of my art room philosophy, these children wouldn't feel the pressure that I sensed they did.
Of course, a few children didn't fully commit to the process, either fooling around with the paint or just mixing everything together in the palette which was frustrating for their table groups. I still consider this learning and valuable.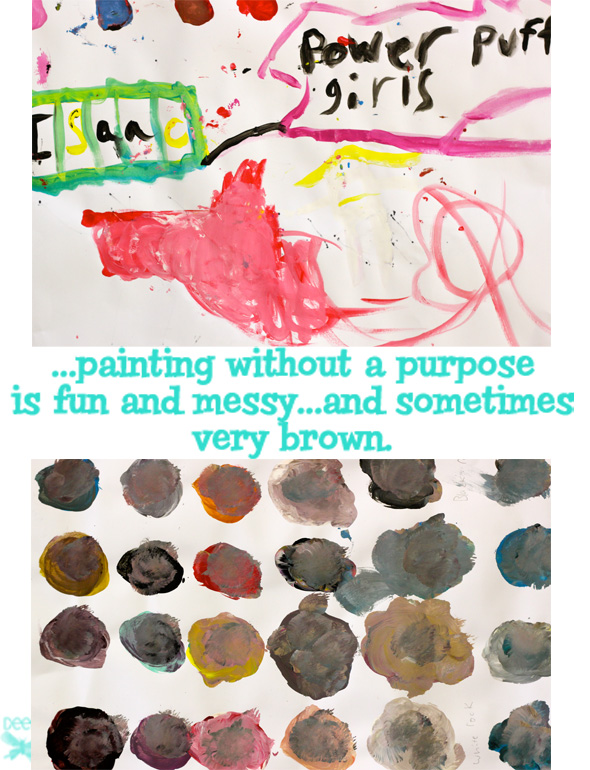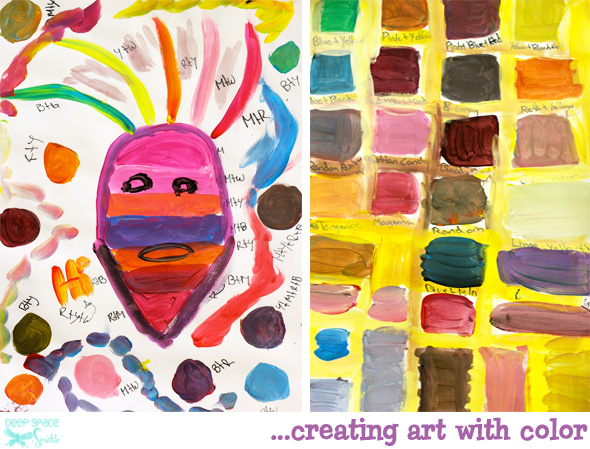 Would I do it again? Absolutely! But I'm not ready to swap what little time I have with my students for too many of these types of projects. I do realize, however, that there is so much more to choice-based art than what I did. I hope to investigate this open-ended art more, so we'll see what I come up with!
What about you? What are your best open-ended art projects/tips/suggestions?
---
Want a free PDF guide to mixing colors? Download this guide by clicking the image below and we'll send it to you!