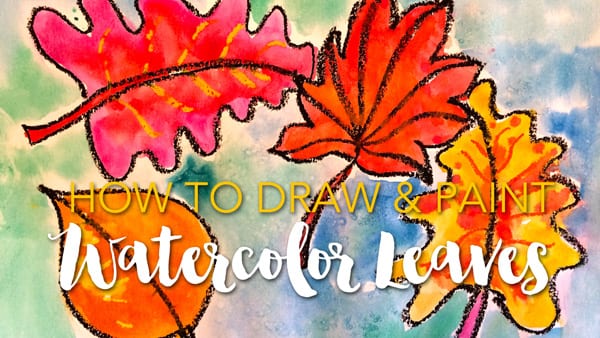 Raise your hand if Fall is your favorite time of year?
Santa Barbara doesn't experience Fall until well into November but I fake it by switching out my summer whites for long sleeves.
And just because I can't get enough of Fall and the beautiful leaves I imagine are falling in cooler parts of the country, I played around with my Faber-Castell Art Supplies and made this video for you…
How to Draw & Paint Fall Watercolor Leaves Video
Art Supplies
If you are wondering what art supplies I'm using, check out Faber-Castell's line of children's art products. I used them last Spring with all of my students and was so impressed. In this video I used the Watercolor Palettes and the Oil Pastel 12-pack. The oil pastels are the best I've ever used and the watercolors are more opaque than transparent so the effects are really brilliant.
The watercolor paper is 90-lb Canson School grade watercolor paper.
---
Want more lessons for your fall art activities? Download this lesson guide by clicking the yellow button below and we'll send you a PDF on How to Draw a Pumpkin!