This easy cat project is purr-fect (sorry, I just couldn't help myself) for just about any grade level. Add a selection of seasonal paint colors like I did for Valentine's Day or choose your own and you have a project good for any time of the year.
This project is a throwback lesson back on a Valentine's Day Project in my Draw, Paint, Sparkle book. Except we'll be dressing our cats in a more springtime fashion!
Click the yellow button to DOWNLOAD the Funky Cat Drawing Guide. Just add your name and email and we'll send it straight to you! (We recommend using Chrome or Safari.)
For a less messy approach, my Valentine's Day Cat art project uses mediums of markers, liquid watercolor paints and colored pencils, and is a great lesson to incorporate a book review of Here Comes Valentine Cat.
WHAT YOU'LL NEED:
– 12″ x 18″ white drawing paper
– Liquid tempera paints (red, white, fuchsia, orange) OR cake tempera or watercolor paint
– Black oil pastel
– Medium paint brush
– Drawing handout (access above)
HERE'S WHAT TO DO:
Set 4 tubs of colored liquid tempera paint (I like Faber-Castell or Crayola Artista Premium) at each table group. If you have students sitting at individual desks, consider using egg cartons divided in half with small amounts of tempera paint poured into each egg shell.
Give each child a medium-large brush and a black oil pastel.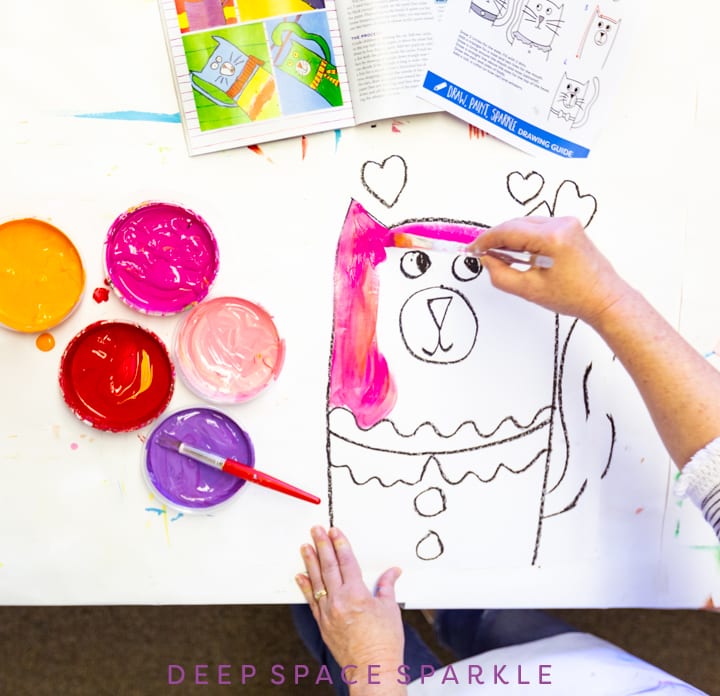 HOW TO DRAW FUNKY CAT:
You can do a guided drawing for the cat but I think it's better to do a demonstration pointing out where to start, where to place the eyes and what options the children might consider.
For instance, you can have two papers on your white board and draw two different styles of cat. One cat may originate from an upright position while another can be placed on an angle. The important part is where the eyes are placed. It's good to place the eyes near the upper portion of the paper.
Use an oil pastel or black crayon to draw the cat. Children can add details to the cat like a collar, scarf, necklace or anything they think is fun. Plus they can decide to break up the cat shape into patterns, spots, stripes, etc.
Use the drawing handout (access the handout above) for the steps.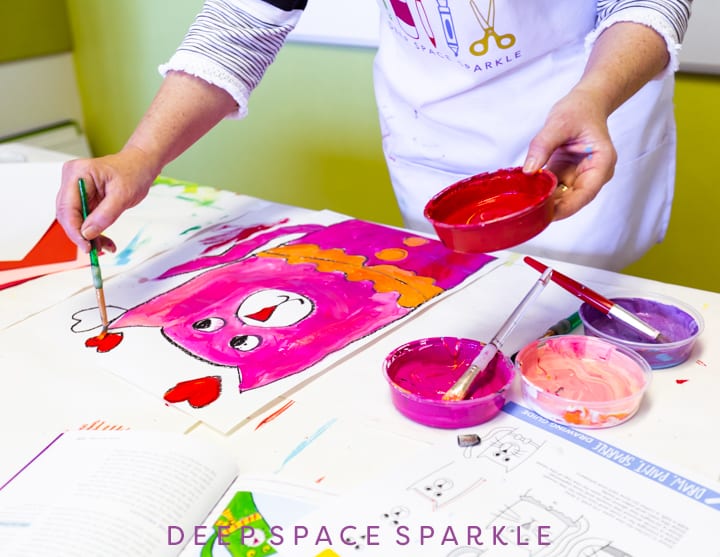 Dip the paintbrush into a dark color and start painting. Mix the paint with some white to create a pastel hue. The trick with the painting is not to use much (if any) water.
The paint should be watered down just a bit so to encourage loose application of paint. If the paint is too thick, it's hard to smooth out.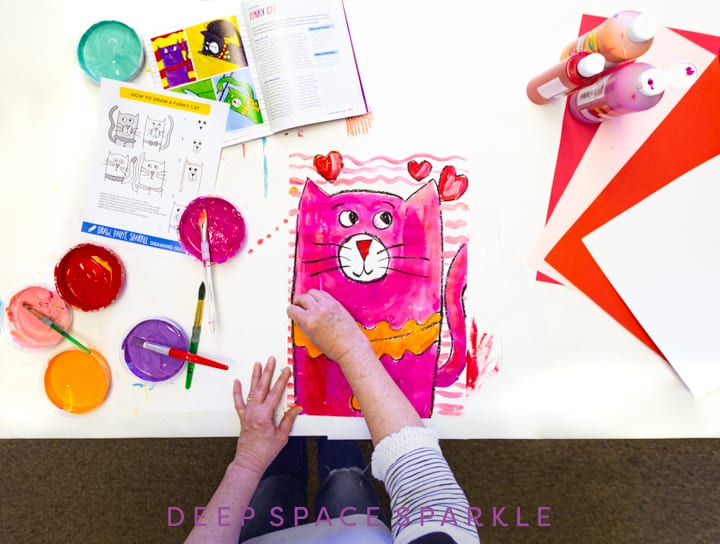 FINAL DETAILS:
Decorate the background with a solid color, patterns, stripes, etc. It's always fun what children will choose to do. Some may leave their background plain white and that's fine.
PIN ME!