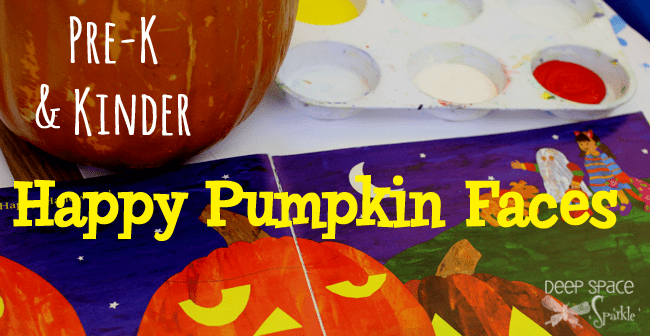 Although Jack O'Lanterns have a strong association with Halloween, it is the one "holiday" based activity that I do. Here are two lesson tutorials that I've created last year:  Painted Pumpkin and Value Pumpkin lesson. There's a lot of art happening in this project: color mixing, observation drawing, painting techniques and a little creative expression.
DOWNLOAD a How to Draw a Pumpkin Art Handout
*Click the yellow box below to enter your name and email for access to the drawing handout
Transitional Kinders
I have a Kinder group that includes a number of transitional Kinders- children who haven't turned five by September 1st. These children are expected to complete two years of Kinder, but I believe it's up to the classroom teacher to determine if the child is ready to move onto first grade. In my opinion, there is no better place for an almost-five to be than in art class, but honestly, it's a whole new experience for me. I often have a few young ones in Kinder class but this class has many.
I love my situation as it provides a unique challenge to me as an art teacher. I don't feel that a structured art class for pre-kinders or pre-schooler's benefits the child. Sometimes crafts that develop the fine motor skills are better. Exploratory art feels like a better approach.
But, this is art class and there are children in this class who are at Kinder level, so I needed to figure out a lesson that works for both groups. I loved the Painted Pumpkin project that I did last year, so I did it again….
Drawing the Pumpkin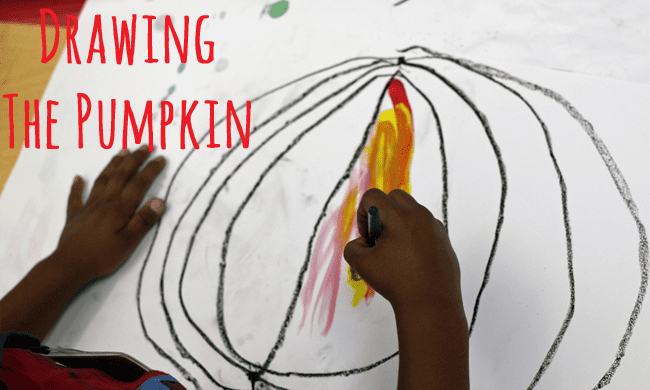 For this lesson, I sat the children down on the carpet and read them a pumpkin book (any one of the hundreds of books on pumpkin patches are fine). We looked at a pumpkin (they just visited a pumpkin patch) and noticed how the pumpkin just isn't a circle, but a form with many segments (new vocabulary word). I showed them how to draw a segmented pumpkin without drawing a circle or oval. Then, the children sat in their special chair (assigned seat) and held up their oil pastel to show that they were ready to listen.
Directed/Observational Drawing Combo….
To draw a segmented pumpkin, the children used an oil pastel and made two dots: one near the top of the page and one near the bottom. They connected the dots using a curved line on both sides of the invisible line. Be careful when saying invisible line as some kids just hear "line" and draw a line from the top dot to the bottom dot (see above).
To make the next segment, place oil pastel on the top dot and draw another fat curved line to reach the bottom dot. Do again on the other side and then as many times as you want. Stop when your pumpkin is big enough.
Painting the Pumpkin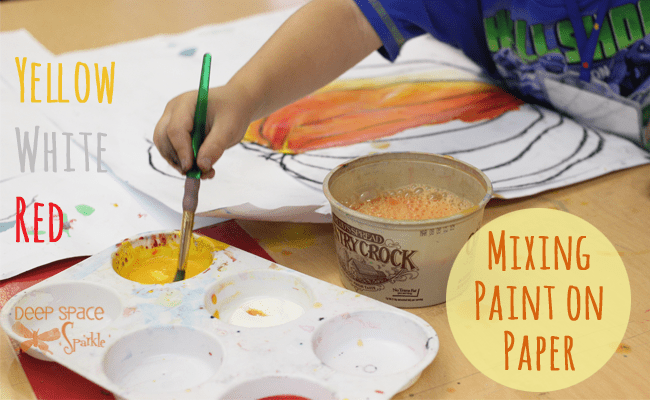 Place a palette of yellow, red and white on each table for kids to share. Starting with the yellow paint, children take a paintbrush from the water container and dip into yellow paint. Paint a section on the pumpkin with the yellow paint. Then, without cleaning the brush, dip brush into the red paint and scoop up a teeny tiny amount. Paint over the yellow section. Ask what happens. Do the same for the white paint: clean brush then dip brush in yellow paint and paint segment. Then, dip in white paint and paint over yellow. A lighter yellow appears. They can add red if they think the segment is too yellow.
How to Teach Young Children to Cut with Scissors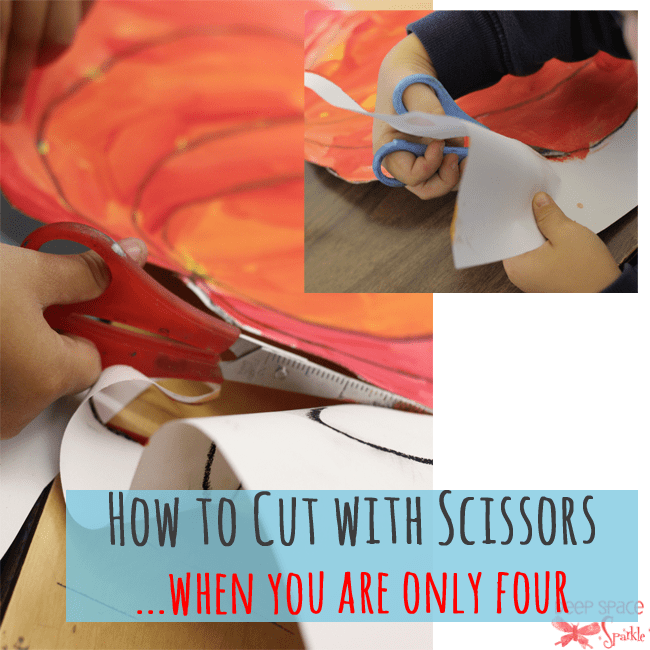 Okay. This is when things got a little hairy. Many of my students had never seen scissors before. Take a look at the photo insert above. This little guy wasn't the only one holding his scissors the wrong way. The classroom teacher and I spent some time walking around and helping the children hold scissors with the thumbs up, the scissor end pointing away and opening wide. I'm pretty happy to report that with a lot of patience, most kids ended up freeing their pumpkins from the white paper.
Here are some tips for teaching a child cutting techniques:
– Smaller hands like scissors with enough room for their fingers, so make sure you have the right one
– Make sure thumb is pointing up, not down
– Hold cutting arm elbow firmly into waist and don't move. Practice just opening your scissors without moving elbow.
– Use the opposite hand to rotate the paper, keeping the cutting hand stable
– Practice cutting ropes of Play-Doh
Adding the Happy Face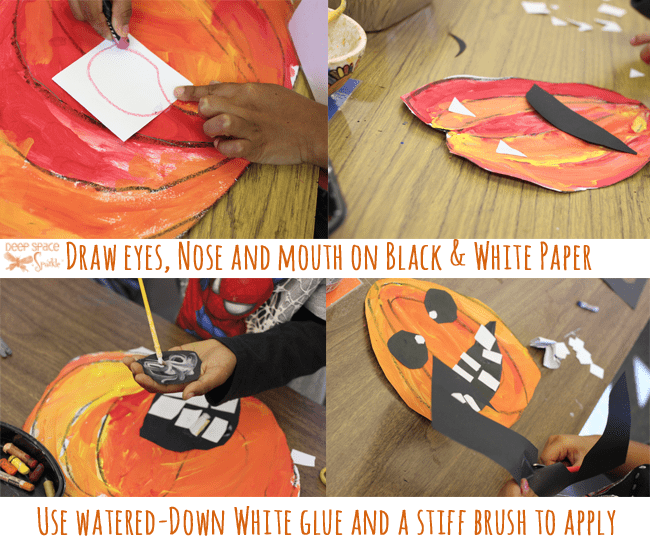 Set a tray of black and white paper on each table. Draw eyes with an oil pastel on white paper. Some kids drew triangles and others drew ovals. I encouraged ovals as triangles are more associated with Halloween. Add small black paper dots to white eyeballs. This is when the children notice that where they place the dots, the expression changes. Use black paper to make a big mouth (any shape) and add white teeth. Lots of cutting going on here and this seemed easier for most kids. Maybe the smaller paper was easier to manage.
Instead of squeezing white school glue or using glue sticks, I opted to use school glue that had been watered down a bit. I had some very inexpensive paint brushes to use as applicators. This is by far the BEST glue system for little kids. Very little excess glue and the white glue performs far better than glue sticks.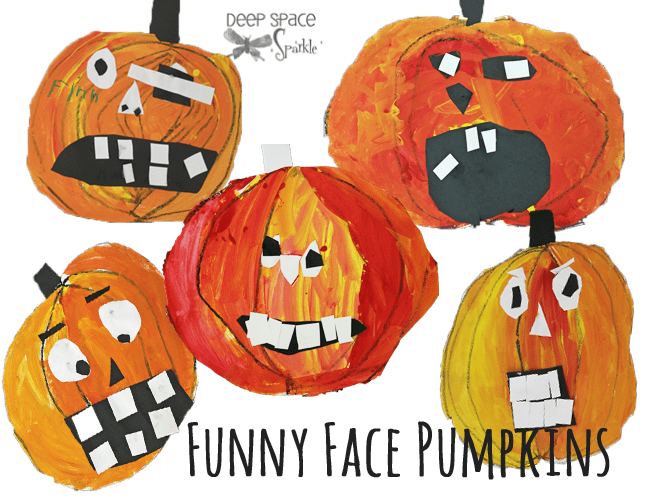 The children were very pleased with their pumpkins. Needless to say, I was too!
Have you done this lesson with your little ones?