Who says giraffes can't dance? According to my first grade students, they not only dance, but sway, gyrate and hip-hop. Based on the book of the same name, the lesson was done in two, 40-minute sessions.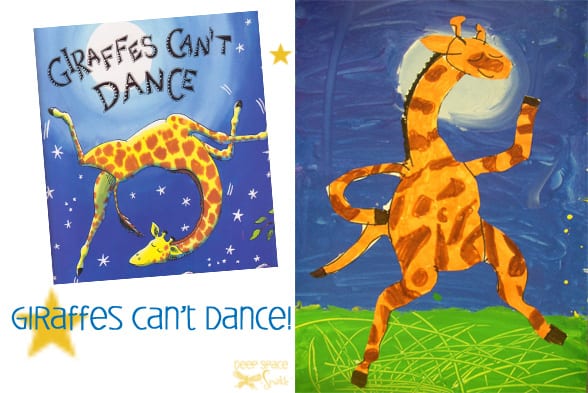 Supplies for Giraffe
– 12″ x 18″ white sulphite paper
– Pencil/eraser
– Brown, orange, yellow and black broad-tip Crayola markers
– Scissors
Supplies for Background
– Plastic cup and pencil
– Palette of green, yellow,white, purple and blue tempera paint
– 12″ x 18″ white sulphite paper
Drawing the Giraffe
I used a directed line instruction for the giraffe drawing and gave the children options for creating their own unique movements. Use pencils. It's a hard drawing and the kids will get frustrated if they can't erase. Keep the lesson simple. Concentrate on the big shapes (big circle for the belly, skinny rectangles for legs, etc.) Color the giraffes using yellow or orange broad-tip markers (I like Crayola Washable) then add spots and marks using a brown or black marker. Finally, cut the giraffe drawing out. This takes a bit of time but let the children at least start so they can practice this skill. If they don't finish in a reasonable amount of time, cut the rest out for them. This way, all the children will be at the same place for the next class.
Tip: Make sure to put the student's name on the back of the cut-out giraffe!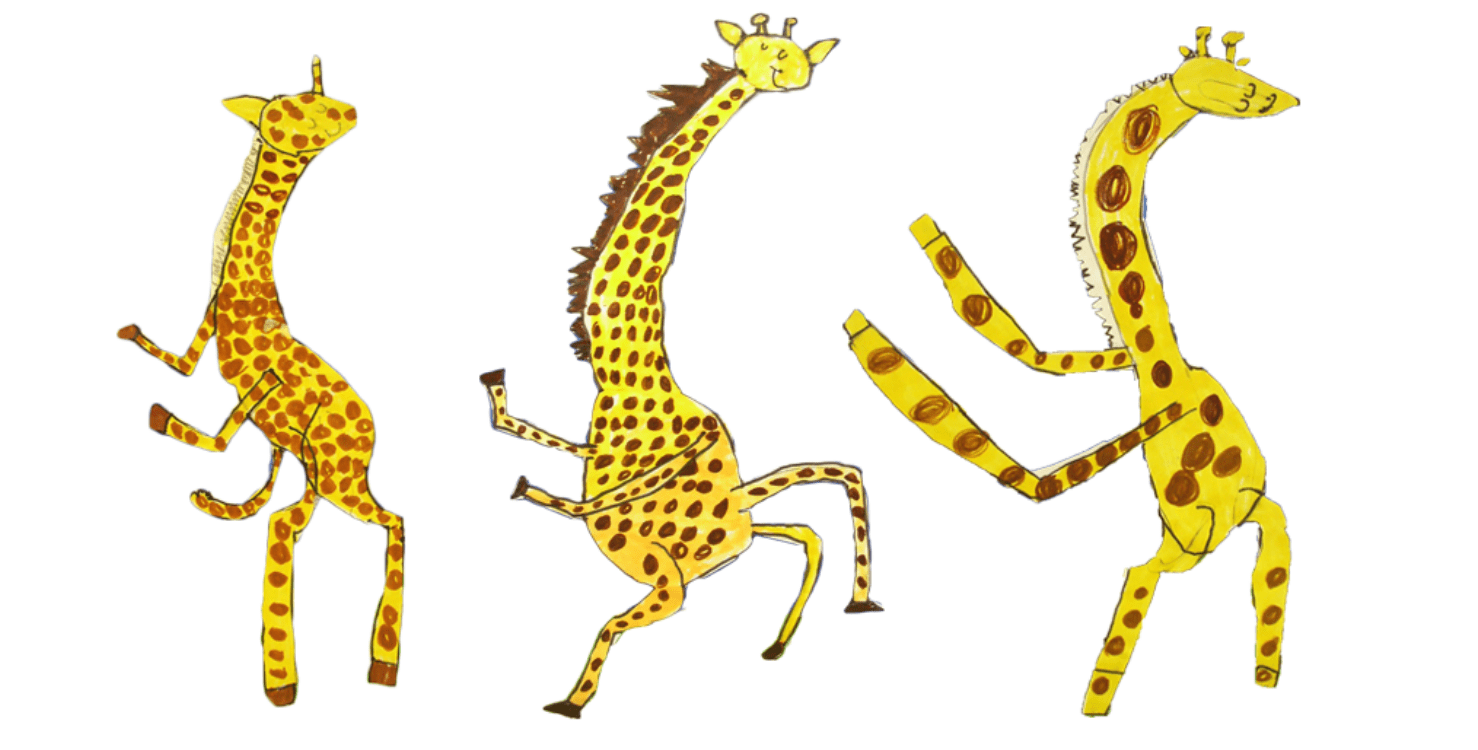 Painting the moonlit sky
Using a plastic cup, the kids traced a big circle for the moon. Mixing the blue and purple paint directly onto the paper, the kids used big sweeping brush strokes to paint the sky. Start from the bottom (about a third of the way up) and paint towards the moon, being careful not to paint inside the circle shape.
Next, the kids painted the moon using white paint. They painted in a circular motion, starting in the center and moving outwards until they touched the blue paint. I encouraged the kids to paint over the blue, so the white and blue sky would mix.
Finally, the kids painted the grass yellow, waited 30 seconds, then painted over the yellow with green paint. Using the ends of their brushes, the kids etched grass into the paint. Paste the giraffes onto background and enjoy the lovely art!