When I was teaching art to hundreds of children, one of my favorite ways to teach children how to use paints was to begin with kid-friendly subjects like fish, butterflies, or flowers. In fact, I have so many projects based on these subjects that it's almost dizzying!
Once children have a base drawing, the real experimenting begins. And that's what I'm demonstrating in this video: how to mix paints together to create colors.
Designed for children who may not have an art teacher guiding them through the steps, this project is perfect for parents hoping to create a little magic at home.

Here's what you'll need:
– 12″ x 12″ white mixed-media or all-purpose paper
– Black crayon or oil pastel
– Circle tracer (food container tops are great!)
– Paper plate for paints
– Medium round brush
– Craft acrylic paints or liquid tempera paints (warm colors like yellow, pink, red, orange and cool colors like blue or green)
– Tissue paper in various colors
– White school glue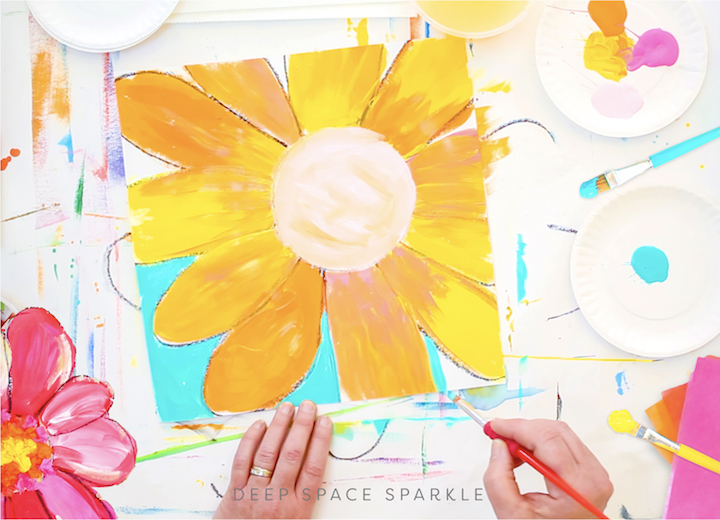 The Project
In this video, I walk kids through a very basic flower drawing that literally falls off the page. Inspired by American artist, Georgia O'Keeffe, children learn how to see a flower from an insect's perspective.
We explore mixing paint colors together to create tints. I use craft acrylic paints in the video as that is what many children have at home. But if you have liquid tempera paints (I love Faber-Castell and Crayola Premium) then please use it. Liquid tempera is washable whereas craft acrylic paints (the kind that comes in limitless colors in small bottles from craft stores) are not.
If your child enjoys drawing and painting with me, Miss Patty, I invite you to check out Primerry, my art membership for children. Here's a link to the website where you can try out an art episode for free.
I'd love to see what your child created. Tag @deepspacesparkle or @primerrykids on Instagram.
Print out this PDF that shows you a full list of what art supplies I love that can be found in most craft stores…
PIN ME!