With more and more art teachers growing art businesses, becoming social media influencers and stepping out in front of a video camera, there's more reason than ever to consider adopting a signature look.
Here's the thing: you already have one. You just might not be aware of it. So the question is: have you considered defining it?
When I was a new teacher, I definitely had a look. But it often identified me as a lunch lady and not the art teacher.
So my search began for aprons in colors and patterns that protected my clothes and announced to all who passed by, that I was the an art teacher not a chef.
I had a selection of cooking aprons from William's-Sonoma that took on a new role. They were meant to be temporary but once tempera paint splatters over a Williams-Sonoma apron, no amount of Oxiclean can revive them to their former glory. And here's the truth: whatever fabric this company uses to make their heavy duty aprons, they are almost impossible to clean.
After I left teaching, I threw away the aprons. Happily, I might add.
But not longer after, I started creating art videos for Deep Space Sparkle. That's when I consider my presentation for the video: backdrop, clothes, art supplies, lighting.
For my first round of professional videos for my Art School for Kids brand (remember those? I don't sell them individually anymore but are available inside The Sparklers Club)… anyway….I wore the same shirt 5 days in a row to shoot 40 videos!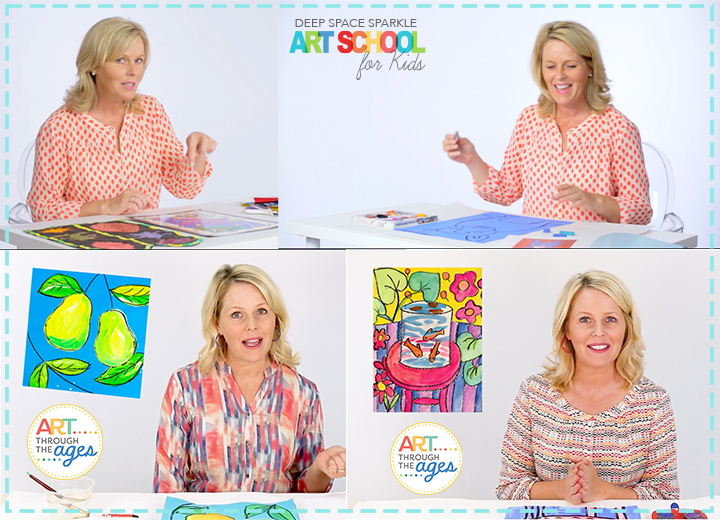 There was something consistent and calm about the dotted coral shirt, that I actually loved. It placed the focus on the art not on me. And for those early teaching videos, that's what I wanted.
When I planned the filming of the Art Through the Ages video Curriculum, I wanted to wear clothes that represented the 10 timelines of art history that we designed for the series. I tried to match the energy of the art period with my shirts without resorting to costumes. In the end, it felt mismatched and uncoordinated. And that's not something that I wanted as my signature look.
It wasn't until I became Miss Patty for Primerry, my personal art classes for kids, did I consider my roots of my early teaching days. I love pretty aprons, pops of color and a color palette that is friendly but not too sweet.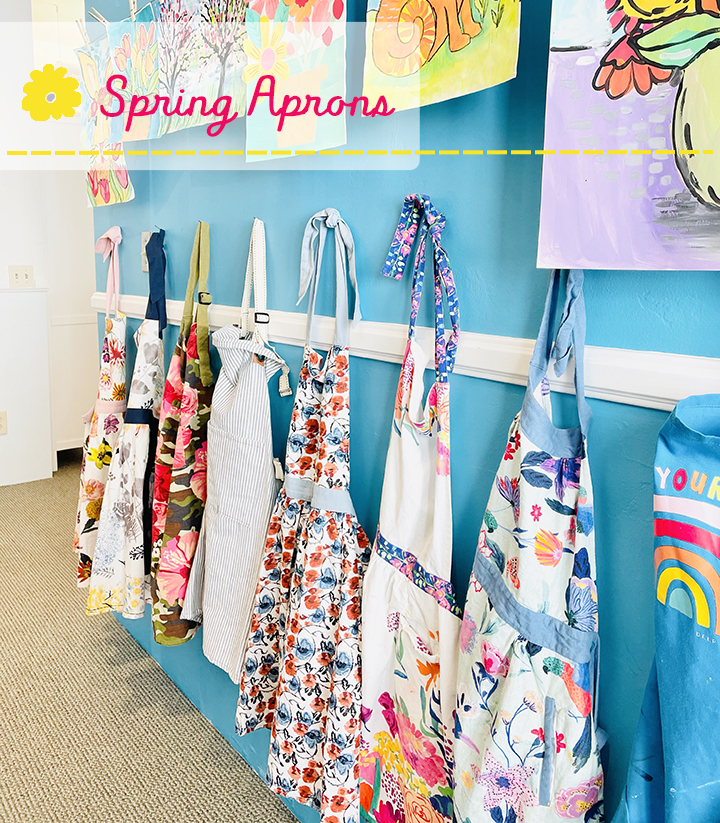 So began my search for aprons.
The Deep Space Sparkle studio is in downtown Santa Barbara and I often take short walks in the afternoon to stretch my legs. We're close to an Anthropologie store and while the store doesn't exactly scream art teacher, Anthropologie has provided some great inspiration for projects plus a surprising collection of the cutest aprons.
Every season I buy whatever they have. I love coordinating my striped and polkadot t-shirts with the flowery aprons and it has quickly become my signature look for my Primerry Art Episodes.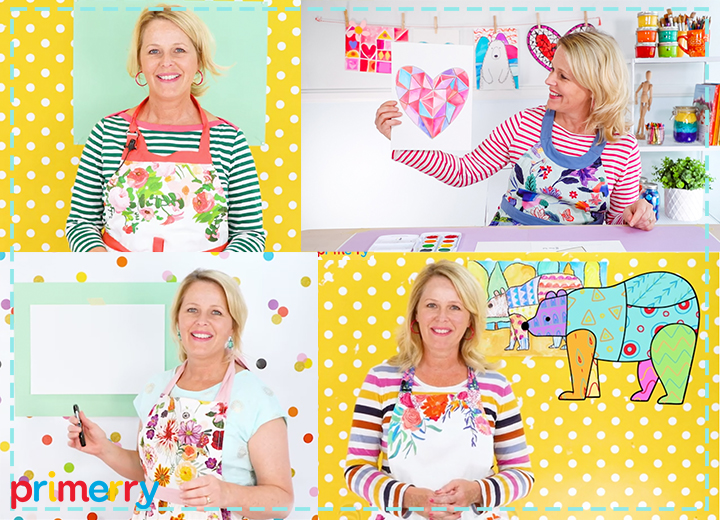 But finding art aprons isn't always easy.
Last summer, I found myself on an extended holiday at my cottage in Prince Edward Island. It wasn't planned, which meant that I had to figure out how to film a month's worth of art episodes without my usual set-up. I hired a videographer, rented a studio and organized the lessons…but no aprons.
I spend two days scouring just about every store in Charlottetown for a cute apron but came up short. Luckily I had two Deep Space Sparkle aprons at the cottage so they had to step in and perform.
The truth is, it's hard to find aprons. They are either too chef-like, too crafty or kitschy, too inappropriate (think French maid) or too matronly.
I'm picky. My aprons need to reflect my brand and not make me feel like a grandmother (at least before I actually am one).
The best places to find aprons is high-end cooking stores, the occasional gift boutique, places like Wayfair and Home Goods which sometimes receives a shipment of seasonal aprons.
Here are a few places where I found aprons:
Amazon
White apron with orange tabs Paint and Petals (IG @paintandpetals)
As you develop your art teacher persona, the trick is to actually give it some thought.
What is your art style?
What is your personal style? Are they similar? (Mine aren't by the way…my everyday clothes are grey cashmere and linen shirts).
What type of clothes do you have in your closet?
Are you trying to copy someone else? If you are, don't. You will be a more successful YOU than a duplicate of someone else.
Most of all, how do you want to feel when you are teaching? If prancing around in flashy skirts is your thing, do it.
If kicking it up in colorful Hoka's is more your style, rock it.
I prefer a coordinated, understated yet colorful look. I want kids to feel calm when they are creating art with me. Is that the only way? Of course not. The most important thing is to deliver consistency. Children love consistency in teachers. It builds trust. And trust builds engagement. And engagement means that kids are creating.
And that's our goal.
What's your style? What style are you trying to develop. And if you have a shop recommendation for an apron, let me know!