How to make a coil pot is a standard practice in many art rooms, but for me, I held off teaching them for over six years. For some reason, they scared the dickens out of me. I had seen far too many elaborate coil pots photographs that I couldn't imagine my students completing a project of this scale in the time period that I had. My concerns were justified because coil pots can take some time to complete. If you are new to ceramics or don't have a kiln and you don't have much time with your students, here are a few tricks to ensure coil pots make your art project list.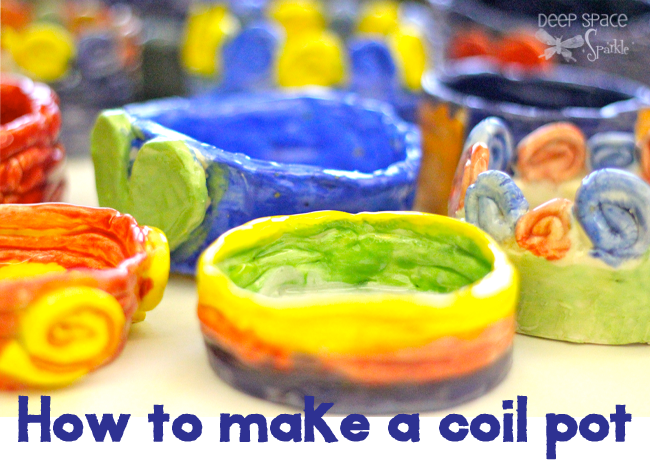 Tip #1
Keep your expectations low. You will not be making this: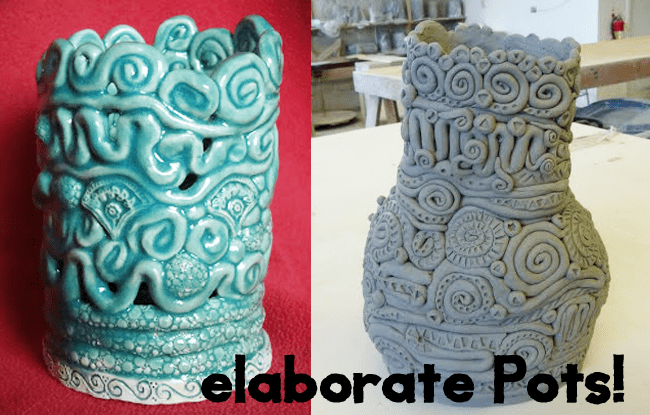 (Credits: Left Tia Made, right Pippi's Jewelry)
Of course, you could, but they take some serious time. Instead, we will attempt to make a pot that requires only two, 50-minute sessions.
Building the Coil Pots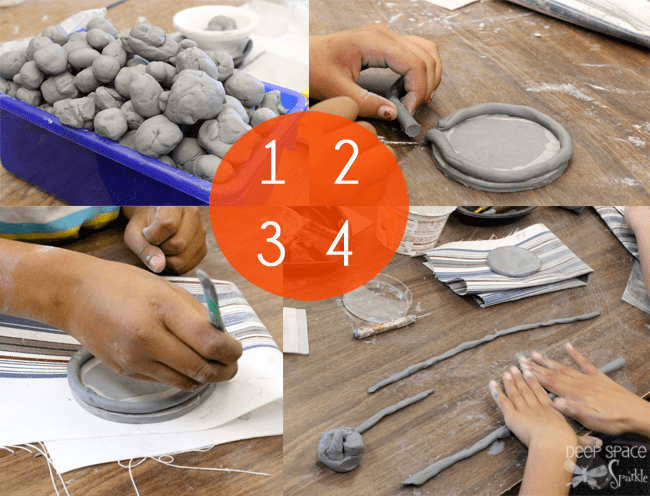 1. This is a great project to do towards the end of a ceramic unit when you have a bunch of clay balls. I keep my clay balls in the original clay bag and add a sprinkling of water every now and then to keep the clay moist. Give each child a few balls of clay and 1 tile of clay.
2. Use a plastic container cover to trace a circle from the flat piece of clay. This will be the base of the clay pot. Peel away excess clay and keep for "ropes".
3. See how the ropes are placed around the round bottom? To make sure they stick, use a mixture of clay bits, water and a splash of vinegar to make a "slip". The vinegar adds some stickiness to the slip and also aids in the breakdown of the clay. Demonstrate how to brush a bit of slip onto the flat base, place rope on top and brush rope with some slip. It's just like adding wet sand to a sand castle. Holds everything together.
4. How to make ropes: This is by far one of the more challenging ceramic techniques for kids in my opinion. It's very hard to keep the ropes even in size, so make sure not to set up an unrealistic expectation by demonstrating perfect rope-making yourself. Keep it a bit sloppy then the kids will not be so hard on themselves.
Here's what I do:
Place a ball of clay between your palms and roll back and forth until you have a piece of clay the size of a small sausage. Place "sausage" on mat/table and gentle push the sausage back and forth until it starts thinning out. The trick is to gently slide hands outwards as you roll. This extends the rope. Tell the kids they do not have to make skinny ropes: any size will do but the rope should be long enough to wrap around the base.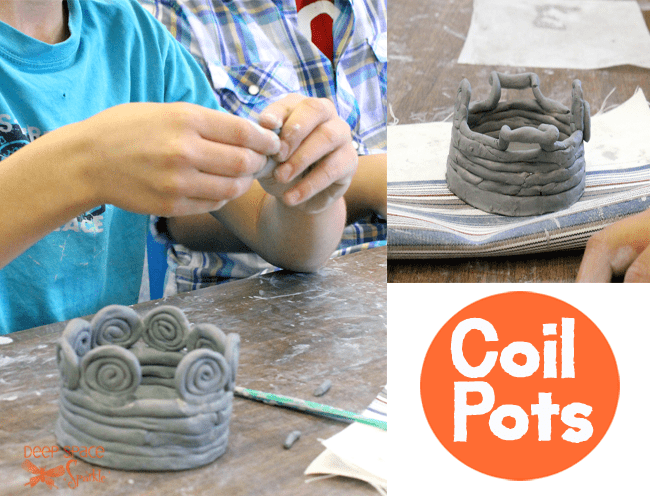 Tip #2
After about five ropes are stacked and "glued" to the base, the children can start making decorative scrolls. Anymore "stacks" and time will start to run out. The goal here is to complete the pot in under 50-minutes which includes the demo, so there is not a lot of time to go crazy with the stacking.
Some kids will want to add handles, etc. All good except they sometimes forget to use the slip. My theory is that they just get too excited with the decorative elements, they forget the "rules". Go around and remind them or else you will have a hundred little pieces of clay at the bottom of your kiln.
Finishing Up & Drying:
Once the 50-minutes are up, make sure each child etches his name on the underside of the pot. Bring to a table and allow to dry for a week to ten days. You can see that many of my students pots are incomplete. I really try hard to encourage the kids to work at a steady pace so they can finish the pot. They know that they only have a certain amount of time, because they experienced this the last time they did ceramics with me. I'm consistent with the time-frame so most kids know that when the time is up, its up.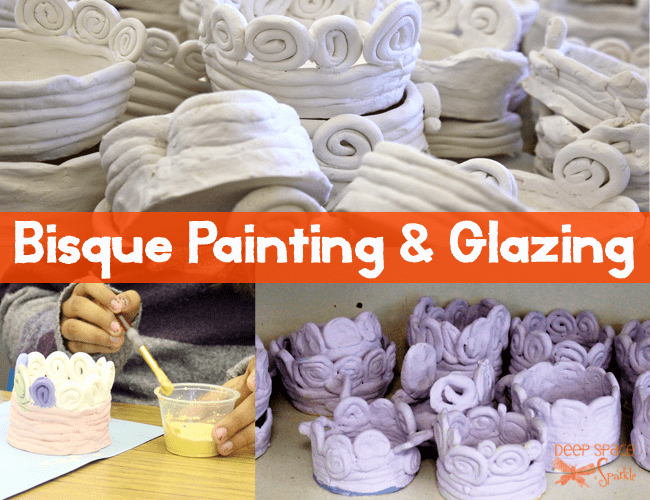 After a week or so, the bisque should be ready to place in the kiln. Follow the clay instructions for firing. After the pots cool down, the kids can paint them. Here are a few options:
Paint with underglaze then dip or brush on glaze (shown above), then fire once more. This is what I do as I have underglaze and I love how it looks.

Paint with acrylic paints and send the project home (just one firing!)
Paint with watercolor paints and add a glossy coat of Mod-Podge or Spray Acrylic.
What to do when a child misses this session:
This always happens, so don't complain and begrudge the kid's lack of attendance. Simply prepare a plastic ziplock bag and place inside a few balls of clay, a tile and a wooden dowel. Ask the classroom teacher to allow the child to finish the project during a free-choice time and then when the child finishes, the teacher can put the piece in the art room or teacher box
Beautiful Coil Pots…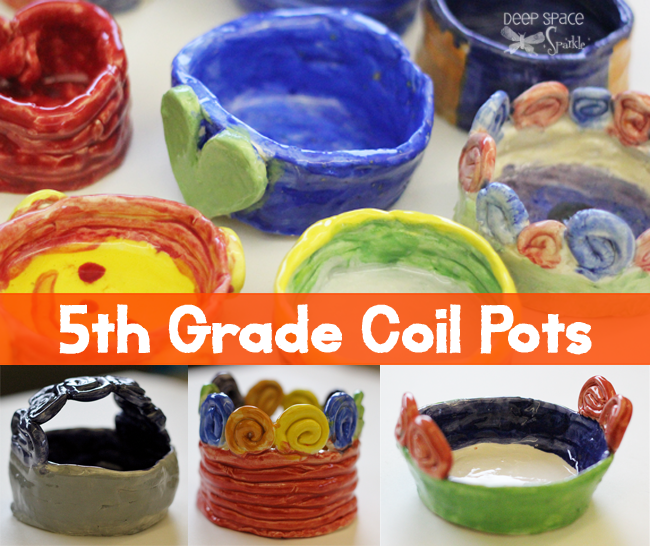 Clay Alternatives:
If you don't have a kiln, you can do this project with air dry clay. I have only tried one brand and it was for an experiment in my e-course. Laguna air dry clay worked really well but the only problem was that it was very hard to manipulate. By adding some water to the clay block before hand, I softened the clay to make it more workable. Many art teachers have tried other brands and found that the creating of the pots worked out well, but the delicate pieces on the decorative coils broke off after drying. I would experiment with sealing the piece as quickly as possible and stressing to the kids to make their ropes thick.
Do you have any tips for coil pot newbies?
Learn how to Create with Clay projects with your k-3 students in the art room.
---
Want a free download to another Deep Space Sparkle ceramic lesson? Click the yellow download button below and we'll send you a PDF lesson plan on how to make a ceramic snowman!