When I think about springtime, I immediately think of beautifully blooming flowers sprinkling color everywhere after winter thaws. These paper flower bouquets are just what you need to brighten up your classroom for springtime and use up some scrap paper in the process!
This lesson features several different ways to create organic flower shapes beginning with a simple, traced circle, which makes it perfect for middle elementary students. All of the bright, punchy flowers are then overlapped and arranged to create a beautiful, layered bouquet that you can enjoy all year long!
Watch a quick video tutorial here…
Click the yellow button below to DOWNLOAD the free drawing handout for the flower drawing guide, as well as the other March Freebie Pack drawing guides. Just add your name and email and we'll send it straight to you!
WHAT YOU'LL NEED:
– 12″ x 18″ piece of white sulphite paper
– 4″ x 12″ piece of paper (solid, patterned or scrapbook)
– 6″ x 6″ square of colored paper
– Green paper for stems
– Painted paper scraps
– Flower shape guide handout
– Markers
– Scissors & glue
– Circle tracer
INSTRUCTIONS:
Glue a piece of solid, patterned or scrapbook paper to the bottom of a 12″ x 18″ piece of white sulphite paper to make the tablecloth. Mine was approximately 4″ x 12″, but yours could be larger or smaller, depending on what you have available.
Fold a 6″ x 16″ paper in half for the flower pot. Use a marker to draw the flower pot: two horizontal lines on top and a diagonal line that reaches the bottom of the paper. Cut along the outside of your lines to create a symmetrical clay flower pot. Unfold and set aside.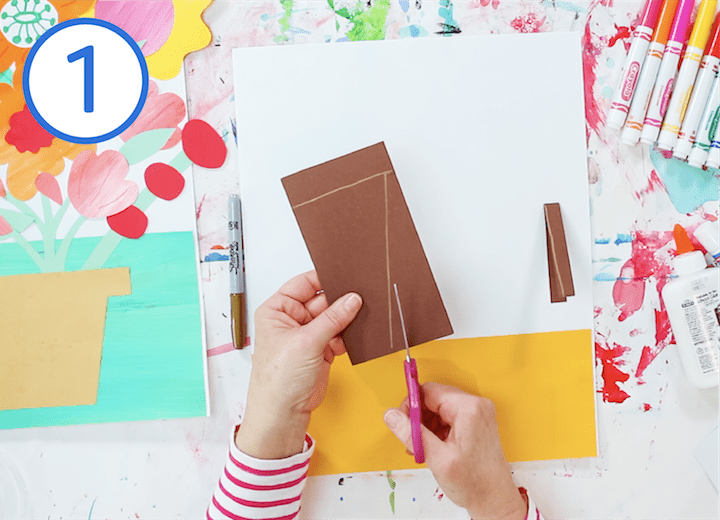 FLOWER #1:
Use a medium-sized circle tracer to make a circle in the center of a piece of painted paper. Use scissors to cut a short, bumpy line around the circle to create your first flower shape. Cut a circle from another color for the center of the flower. Glue the center on and set your flower aside.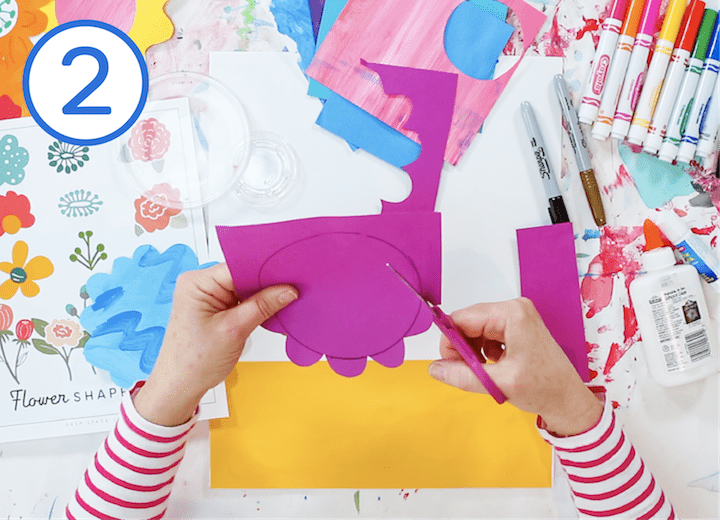 FLOWER #2:
Trace a smaller circle on another piece of painted or colored paper. Use a marker to draw a tall, bumpy line around the circle. The petals of this flower are much longer than the first and will reach almost to the edge of the paper. Cut along the lines. Cut a smaller circle from a contrasting color of paper and glue to the flower. Set your flower aside.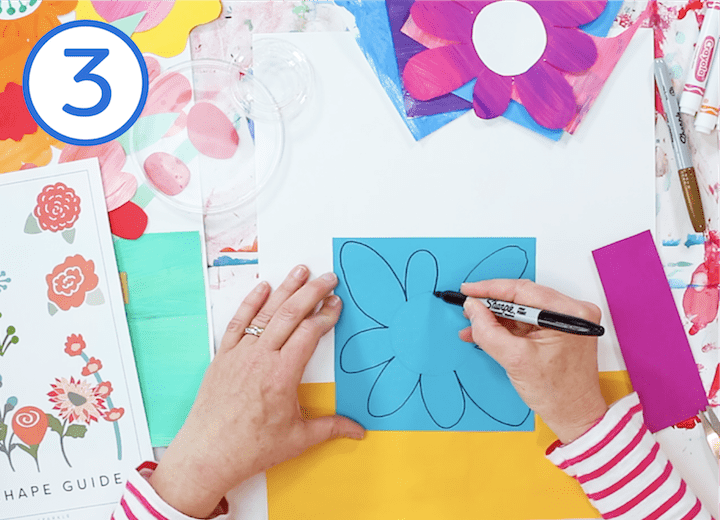 FLOWER #3:
Fold a piece of painted or colored paper in half. Draw smaller flowers in the center of the paper and cut out to create two identical flowers. Cut out a long, green stem and place several smaller flowers along the same stem. Set your flower aside.
Continue creating flowers using the previous methods or look at the Flower Shape Guide and create your own! Five flowers is a good number for a full bouquet.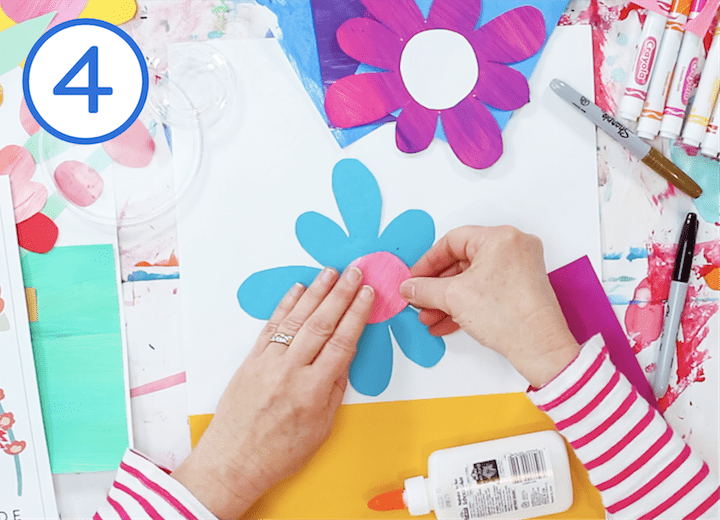 CREATING STEMS & LEAVES
Use green paper to cut long, thin stems for all of your flowers. Don't be afraid to add in some curved stems; they will help make your bouquet look more realistic than stick straight stems.
Your flowers will overlap quite a bit, so you don't necessarily need a stem for every flower.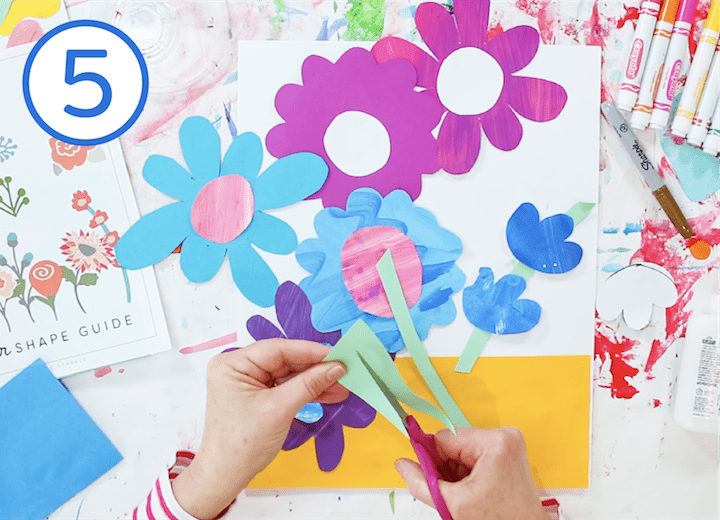 To save time, fold a piece of green paper in half and cut out a leaf shape to make two identical leaves. Use a marker to add veins to your leaves.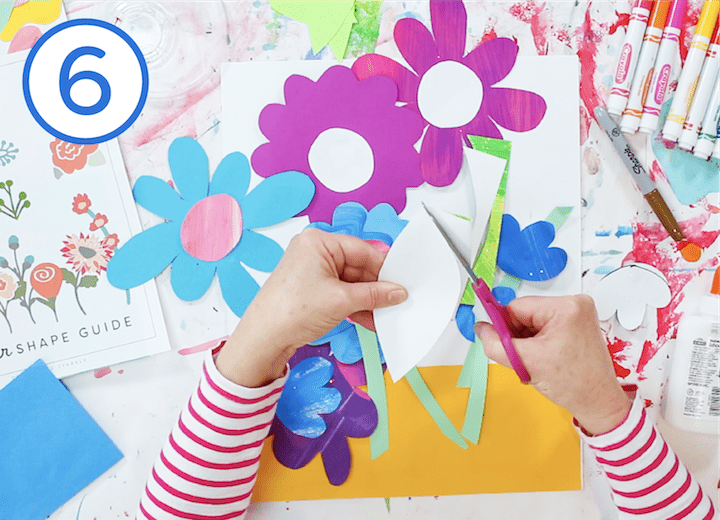 ARRANGE THE FLOWERS AND GLUE IT ALL TOGETHER
Set your pot down on the tablecloth, then add some stems that extend out from the bottom of the pot. Place your flowers on top.
Arrange the flowers until your have a balanced composition that looks good to you. Don't be afraid to re-arrange a few times until you are really happy with what you have.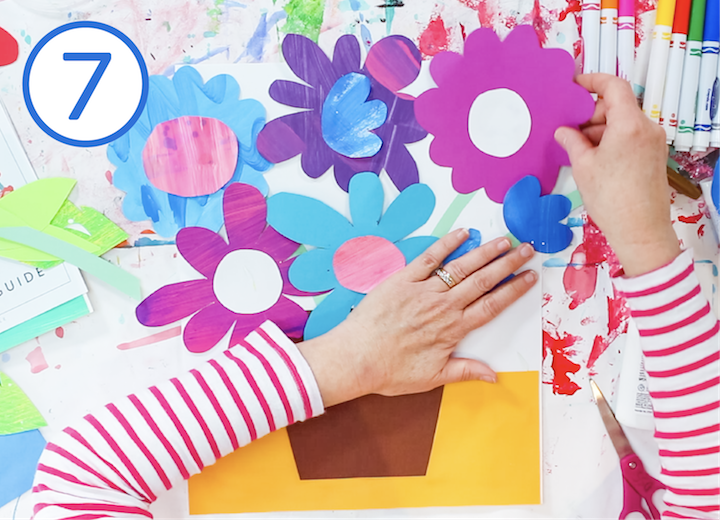 Glue the stems and the pot down first, then add the flowers. Tuck leaves into open spaces to fill up the space. If you have extra flowers, you can add them if there are any bare spots in your bouquet.
Turn your whole paper over and gently rub the back to ensure that all of your flowers are glued on securely.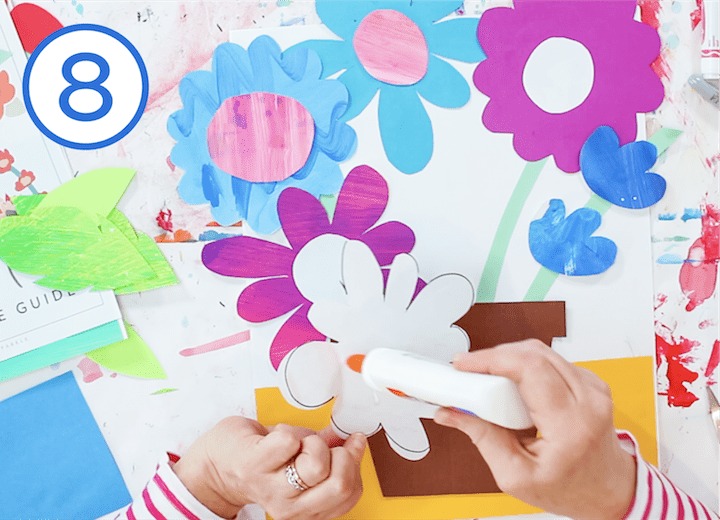 Use markers to add additional lines and shapes to the center of your flowers to really finish them off beautifully. You can refer to the Flower Shape Guide if you need some inspiration.
You can also add some designs to your flower pot and the tablecloth if you'd like.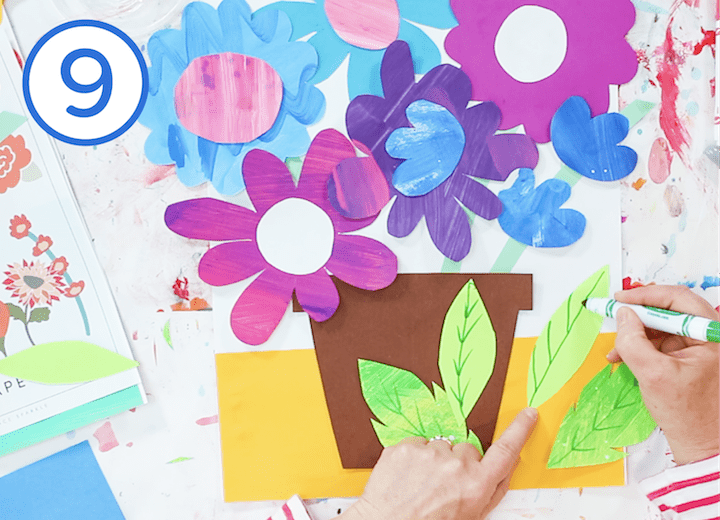 Now your flowers are ready to brighten up your classroom, hallways or your home!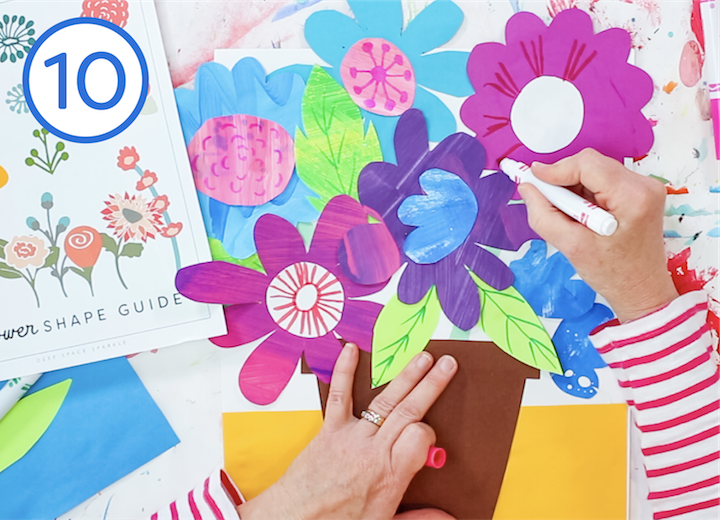 For more information on joining, sign up to our waitlist HERE.
Click the button below to DOWNLOAD the March Freebie Pack for more fun art lesson you can use this month!
PIN ME!