There is just something about dots that make them the quintessential art project embellishment.
I don't know if anyone loves them quite as much as Yayoi Kusama, who's out-of-this-world artwork inspires art teachers everywhere. Kusama is one of those highly relatable artist's for young students. Her artwork is approachable, whimsical and covered in dots!
But having kids paint dots is not always an easy task. I tried my best to do Kusama justice by coming up with different ways children could make polka dots as easily as possible…stencils, stamps, a hole punch, even clay to add a 3D element.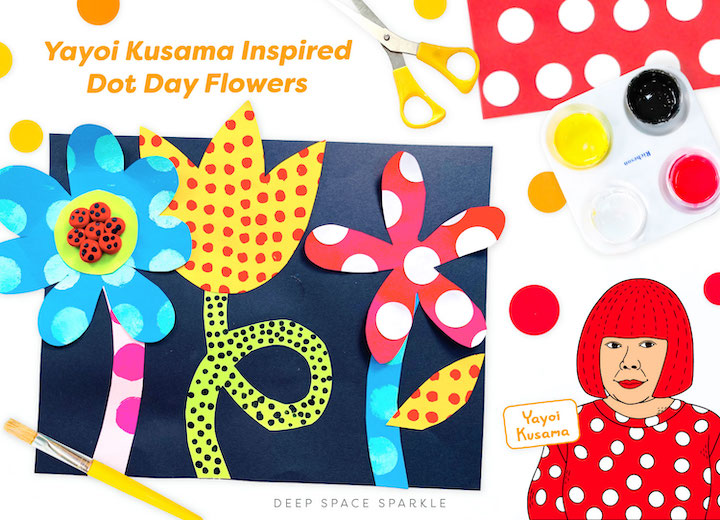 Here are a few techniques that I just loved…
STENCILING
I created this polka dot technique by accident. I had some tag board lying around and a big hole punch that I got from Michael's craft store a while back. It's a Martha Stewart Brand and is widely available in most of the stores.
I was using the tag board to punch out dots for a Kasuma project that I was doing for members of The Sparklers Club.
As I was amassing the punched out dots, I ended up with a stencil.
Instead of throwing out the hole-laden tag board, I turned it into another way students could create nicely rounded dots.
All you need is thick paint like premium liquid tempera paint or acrylic paints and a flat brush.
I used thick liquid tempera paint (Crayola) and dabbed the paint onto regular sulphite paper from Tru-Ray. (80 lbs)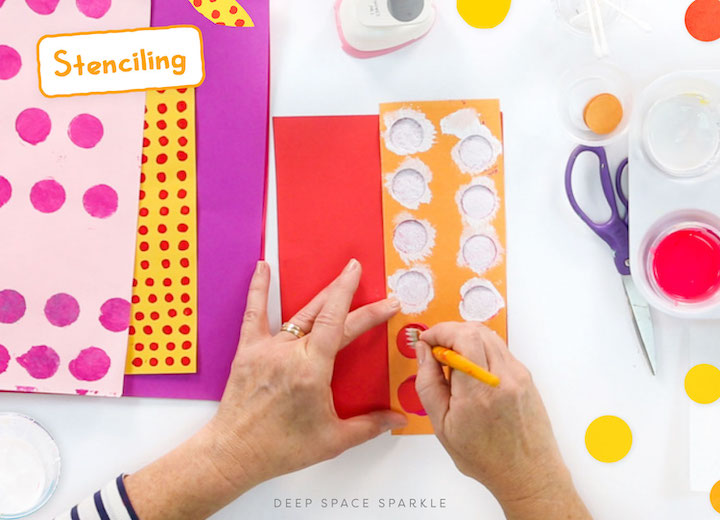 Q-TIPS
This technique is pretty common in the art room but just in case you haven't done this before, you simply must. It's wonderfully satisfying with the repetitive dots and colorful results.
I used liquid tempera paint, regular all-purpose sulphite paper and good old Q-Tips (this brand is best as the tips are thick).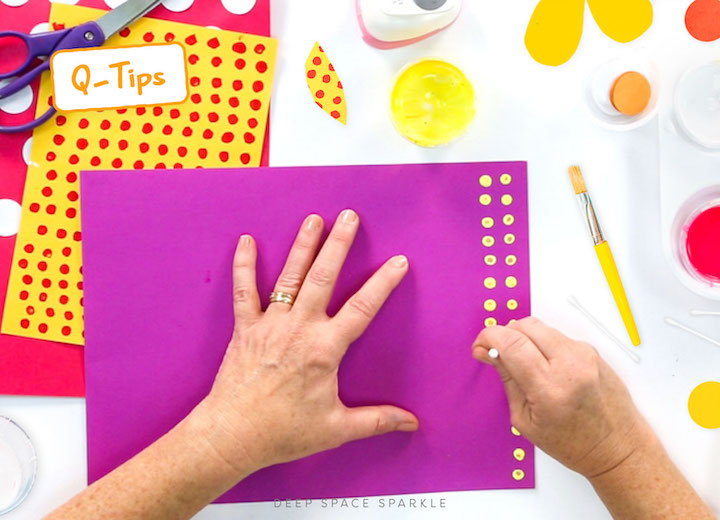 PUNCHED DOTS
Remember the dots from the first technique? This is what I do with them. Take a container of paper-punched dots, glue the paper with a glue stick and assemble over a colorful piece of paper.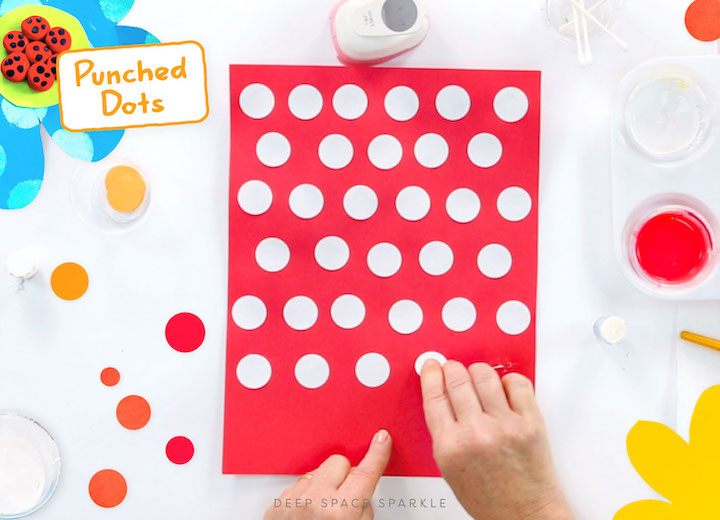 And the best time to do this project is now!
MORE DOT DAY PROJECTS
International Dot Day, based on Peter Reynold's book, The Dot, is coming up on September 15th.
If you haven't read this book to your students yet, please consider putting it at the top of teacher to-do list right away. It's just the BEST.
The Dot is the story of Vashti who is overwhelmed at the sight of a blank piece of paper. Her art teacher gently encourages her to explore art her way. Most art teachers consider Peter Reynold's books essential reads for the art room as he addresses the issues children face when learning how to be an artist.
I did an entire episode of what things to do on dot day on Art Made Easy plus added a video of one of the projects, too. Check it out HERE.
Behind Dot Day Projects – The Benefits of Expression: AME 065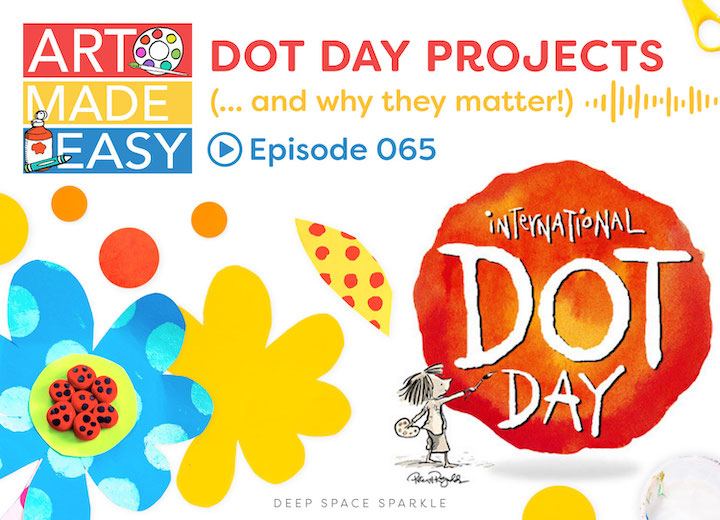 For more colorful inspiration for your art room, these bold colors and comic book imagery of famous artist Roy Lichtenstein are sure to grab your students' attention! With Lichtenstein's birthday coming up in October, this is also a great lesson to teach the introduction of this artist.
Kusama Collage & Kusama Cat Project
Modern artist Yayoi Kusama is a fabulous artist for young students to learn about because her artwork is approachable and whimsical. With the Kusama collage lesson found inside The Sparklers' Club, your students will love to create fun, dotted paper that they will turn into a playful flower collage.
Kusama Cat lesson is another great introduction for younger students who love mimicking Kusama as they create a unique, polka-dotted cat based on her series of polka-dotted animal sculptures.
Both of these lessons are found inside the Sparklers' Club. Click HERE to join the waitlist and learn more.
If you would like more project ideas, follow us on Instagram @deepspacesparkle.com