HUNDERTWASSER INSPIRED ART
Hundertwasser is best known for his use of "bright, dark colors" and organic lines, including hi shamus spiral shapes. For many of my fifth grade students, learning about and creating their own "Hundertwasser" inspired art was the best ever lesson. Combining a lesson in warm and cool colors, patterns and lines, composition and flow, these two lessons have it all.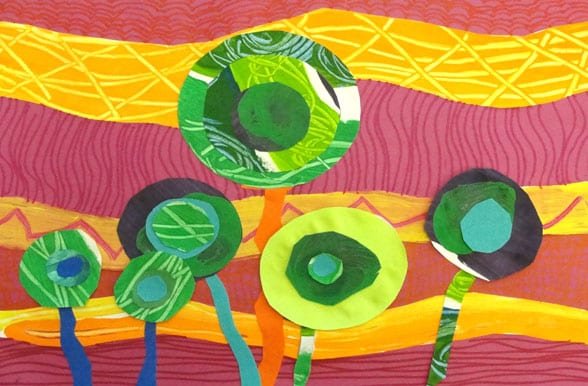 I picked up the book by Harvesting Dreams: Hundertwasser for Kids by Barbara Stieff and was absolutely thrilled. Inspiring text, interesting graphics plus the combination of Hundertwasser's art creates a visually, dynamic book. The story is a creative journey into Hundertwasser's passion for art. I read parts of the book to my class and they were riveted. Amazing book.
Painting with Warm and Cool Paints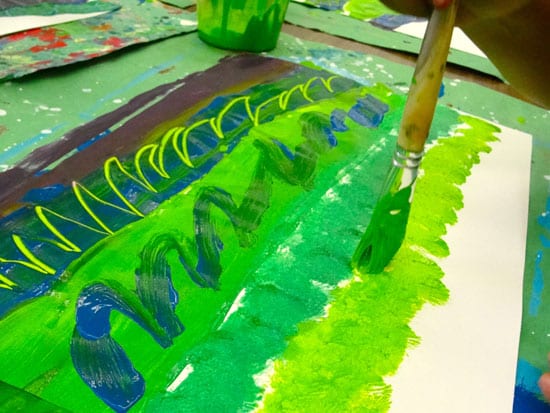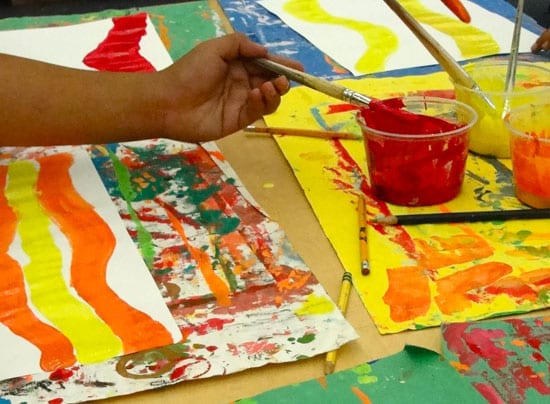 To begin, I spoke about Hundertwasser's love for lines and color, especially dark brights. On two pieces of white 12″ x 18″ white drawing paper, kids painted strips of warms colors (red, pink, orange and yellow) and cool colors (purple, blues, greens) on the other. Painting thick and thin horizontal lines, students used combinations of the colors to create new colors.
As the paint dried, I showed the kids how to repaint over the dry areas and then, while the paint is still wet, scrape off some patterns with the wooden end of their brushes. The dried paint underneath peeks through.
Cutting the Paper into Strips and Circles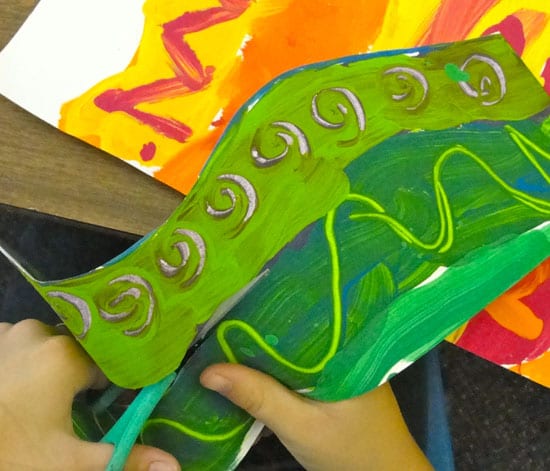 After the paintings are dry (the second class session), the students need to make a decision: should the background be warm or cool? Whatever they decide, take either the cool patterns or warm patterns and divide into strips.
If the student chose the cool colors, hand him a blue sheet of paper to glue the strips to. If the student selected the warm tones, hand him a pink sheet of paper. Glue strips onto a cool sheet of solid color paper.
Adding Lines and Patterns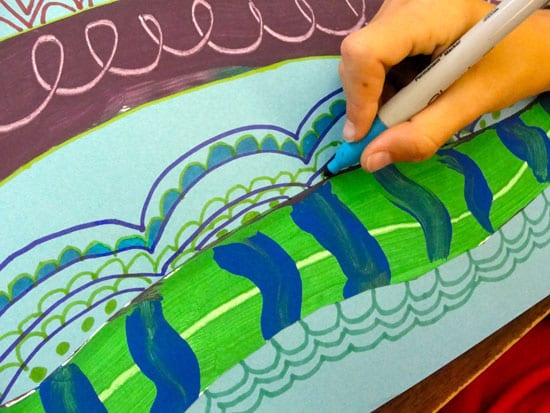 For an extra "Hundertwasser" touch, use colored markers to add line and pattern details. Some kids really got into this. I mean, really. Their efforts had to be curtailed as they would never have completed the project. I told them they could add more line details when the pieces were all glued down. Now everyone was happy.
Creating the flowers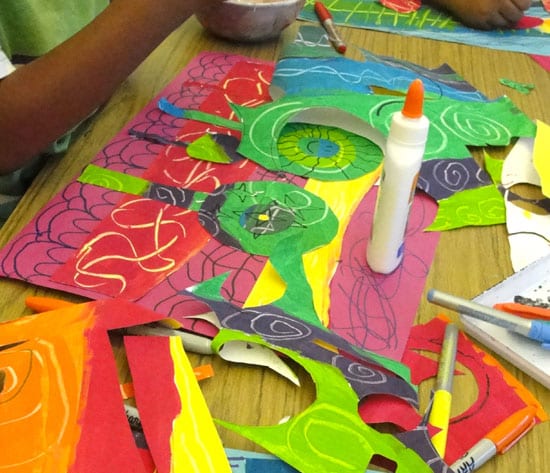 Now comes the messy and colorful part: making the flowers. The students used whatever sheet of painted paper they didn't use for the background to make the flowers.
I set out a variety of plastic containers and lids. Kids could use the varying sizes to cut out circles but many chose to draw their own circles. Either way is fine: the latter being more organic and the former being a bit more structured. It's fun to see what the students chose to do.
Make stems by cutting strips of paper and glue everything down with white school glue. It's sometimes helpful to place some heavy books on the dried stack so that everything lays flat.
Fifth Grade Hundertwasser Inspired Art!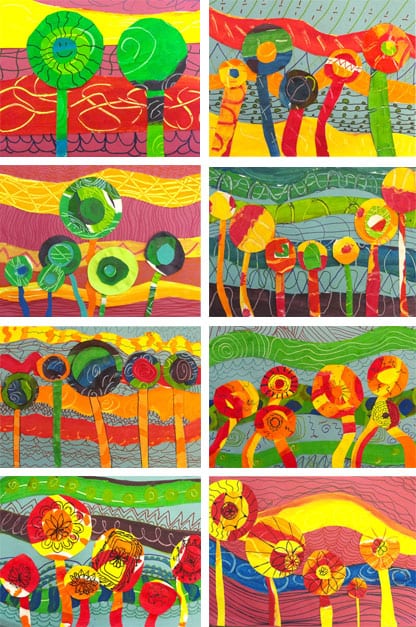 This is what the Hundertwasser inspired art looks like on my art wall (mixed with a few Kindergarten owls!)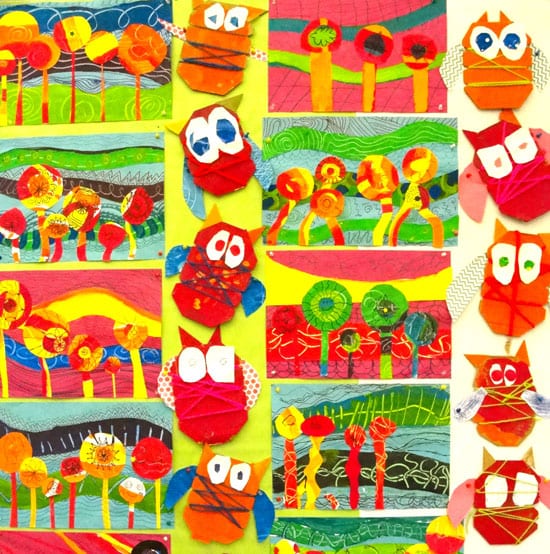 Click HERE for another Hundertwasser lesson using watercolors.
---
Get a Hundertwasser Lollipop Flowers Freebie sent to your inbox by clicking the image below!