Kandinsky and the Rainbow Art Project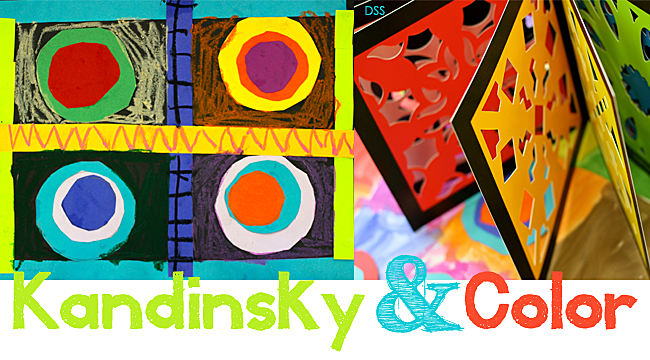 Russian artist Wassily Kandinsky's paintings use color to show emotions rather than painting an object to look real. This concept is particularly intriguing to young children as they generally strive to make all their drawings look as real as possible. Introducing young children to Kandinsky's abstract artwork encourages them to see that art is created many ways.
Pairing colorful paper circles together gives the kids a chance to see which colors look best together. To introduce this concept of emotion and color, I read the children the book, The Rainbow Book by Kate Ohhrt. It's a perfect art room-read as it is short, colorful and provides one perfect sentence per color and emotion.
"When I feel GREEN, I am fresh and alert"
To start this project, use a cafeteria tray to collect supplies for each table. I line up the 5 trays and place a small bin of colored paper squares, a bowl of kid-scissors, small cup filled with pencils, various sized circle container covers and a small container of white school glue mixed with a bit of water. I like using brushes and glue when there is a lot of gluing going on as it feels easier for the kids.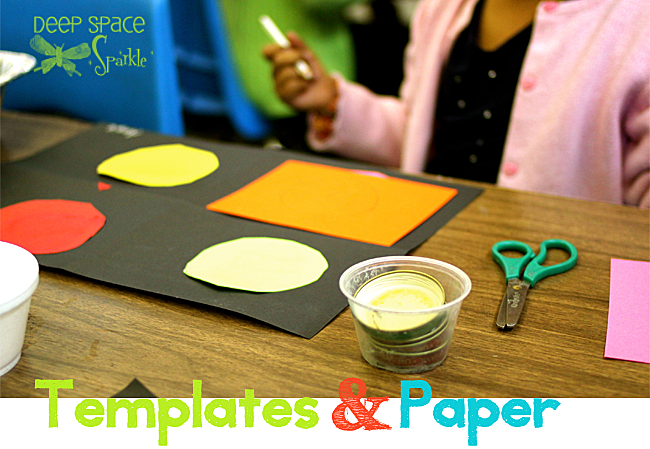 To prep the black sulphite paper (12″ x 15″) for the circles, children fold paper in half and in half again to create 4 sections. Then, they pick their 4 favorite colors and trace the biggest circle template onto each color and cut out. This is a challenge for many of my four and five year olds but resist the urge to cut out the shapes for them. Its great practice.
Glue the four circles to each section on the black background.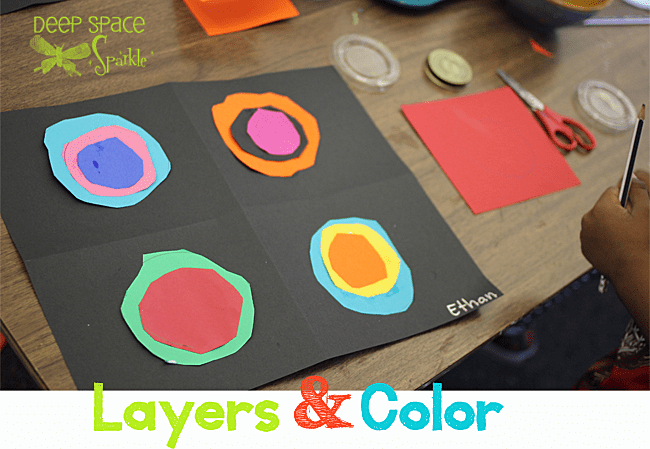 Once the kids have their first circles glued down, have them select another color. In my demonstration, I show them how to use the color wheel to select the opposite or complementary color. They place their finger on the color they have glued onto their paper and walk their fingers across the wheel to the other side. Whatever color is there they chose a paper color that is similar. A few kids really got this and selected their colors carefully, but many grabbed whatever color was closest to them in the tray.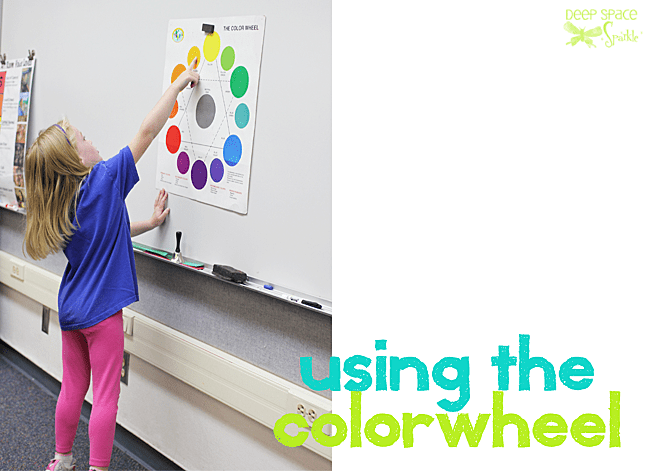 Adding layers of circles is a concept that can be confusing to some kids. They get that they have to cut out lots of circles but some feel its best to glue all the circles on top of one another. This doesn't happen often, but be prepared for it.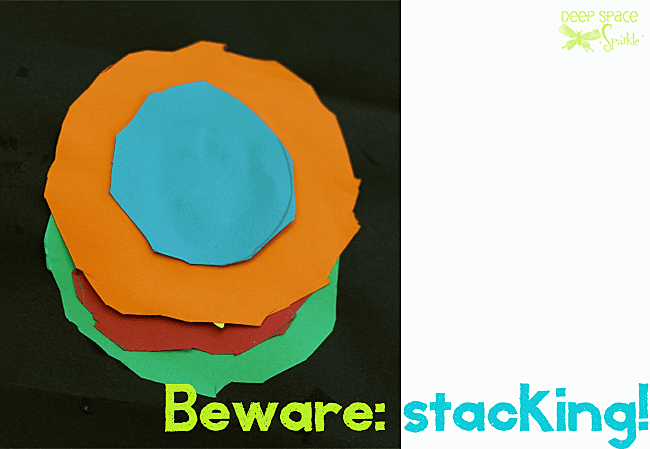 As a final embellishment (mostly for the kids who finished early) , I allowed them to use oil pastels and strips of paper to decorate the outside of their papers.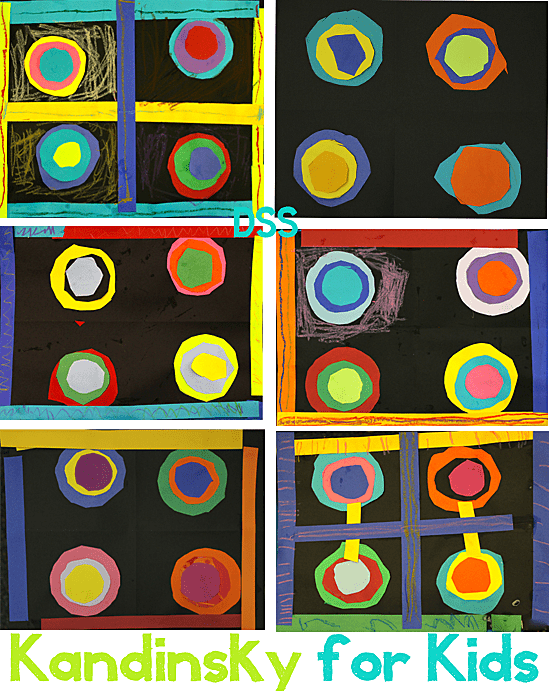 I've also recreated this Kandinsky project using tempera paint. My students folded a piece of white 12″ x 15″ paper into quarters. Then, with tempera paint, they painted a circle and expanded the circle with as many or as few colors as they wanted. I demonstrated how adding water dilutes the paint and makes the paint more transparent. Children experimented with tints and shades using black and white tempera.
The kids added words or phrases (inspired by Fred Babb's expressionistic art) to make their pieces unique to them.
Third and Fourth Grade Efforts…