I've tried many different lessons to with my five and six year old kids and this one is my favorite.
Step One:
I start with an oval template and instruct the children to trace onto skin tone colored construction paper. Then, we trace the neck template and glue both onto a piece of 12″ x 18″ sheet of colored paper.
Step Two:
Once the "faces" are glued on (tip: use a glue stick not white glue), the children cut out oval shapes of white paper for the eyes.
Note: The combination of step 1 and 2 takes a full 30 minutes!
Step Three:
For the next class, we work on coloring in the eyes, adding eyelashes, nose and a mouth. Then we add the hair. I cut strings of yarn in different shades of black, brown, yellows and oranges. The kids paint on a mixture of glue and water (easier to control) and pat on their "hair".
Step Four:
For the next class, the kids add decorations. With tempera paint, the children paint shirts, bows, flowers, etc. I give them a tin of buttons and if they wish, they glue buttons to their shirts.
This lesson took three, 30-minute class sessions, but I think it was worth it. The children were very proud!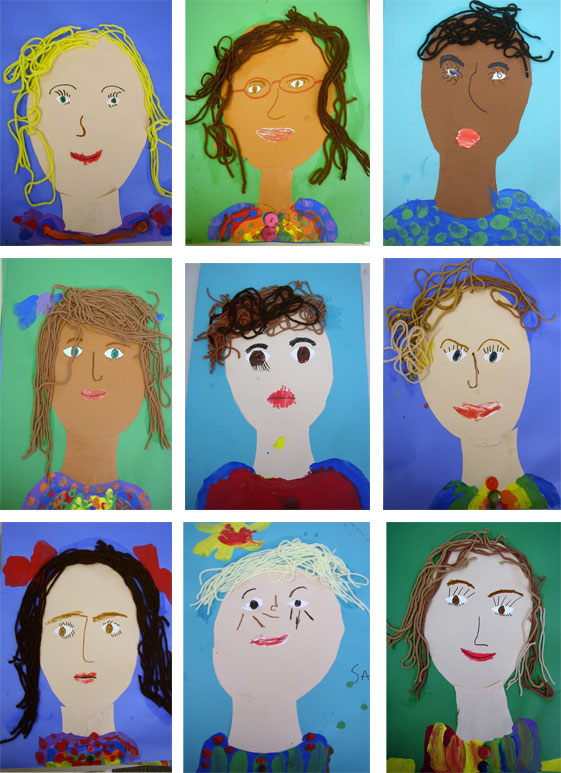 ---
New to portrait making in the art room? Download this free guide by clicking on the yellow download button below and we'll email you the K-6 portrait making guide!