Last summer, I hosted a workshop in Santa Barbara. The event center was rather bland and barren, so my team of fantastic 16-year olds painted large scale flowers and leaves to pair with our Science & Nature theme. We posted the bright painted tropical flowers around the stage area and did the best we could to brighten the dull room.
I was so surprised that throughout the 2-day event, many art teachers had the same questions:
How did you make the flowers?
What paint did you use?
Can I have them when you're finished?
I was a bit surprised as the flowers were about as easy as you can get in terms of slapping paint onto a piece of paper and cutting them out. But I understand. There is just something special about seeing something so large and colorful. Imagine how you students will feel when they create these large-scale flowers on their own?
This is what you'll need:
24″ x 36″ white or colored sulphite paper (yes…the same paper we use for all of our projects but order the large size)
Liquid tempera paint OR Crayola acrylic paint
Large brushes like Chubby or brushes from the paint store
Scissors
* optional: Mod-Podge and fine glitter
STEP ONE: GATHER YOUR PAINTS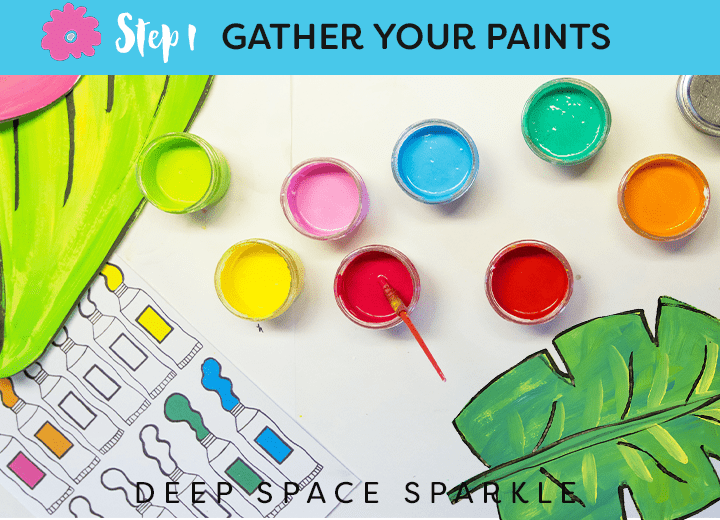 Take some time to mix beautiful paint colors. Give yourself permission not to pour straight from the crayola bottle and instead create your own. Use the handout in the download (scroll down) for reference. 
Here are a few tips for the tropical flowers:
Always add white to whatever color you are mixing. Even if it's just a dash, the white will brighten the colors.
Use the color wheel as a guide. Mix colors that are beside each other to achieve slight variations of secondary and primary colors
Use plastic containers with lids or mason jars to mix paints. While the paint won't last forever, this container system means you can save your paints for a few weeks.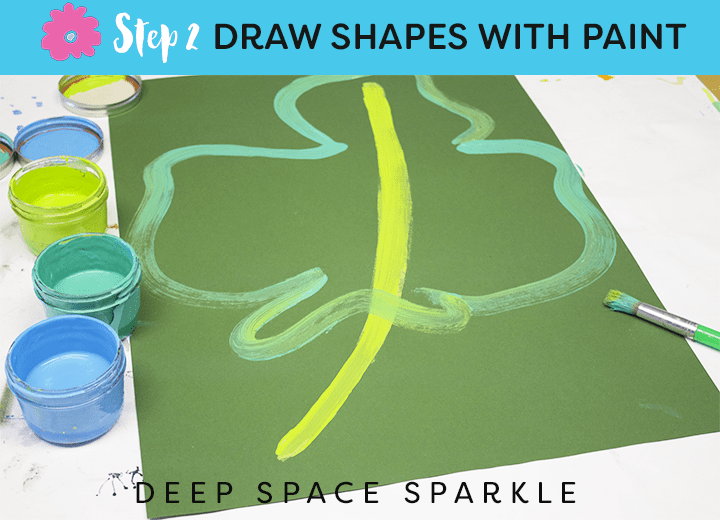 For leaves:
Use a relatively large brush to paint. The reason is that you want a brush that can hold a lot of paint. Draw the stem first and then add the contour shape for the overall leaf shape.  Draw the stem from one corner of the paper to the other so that you can make the leaf as large as possible.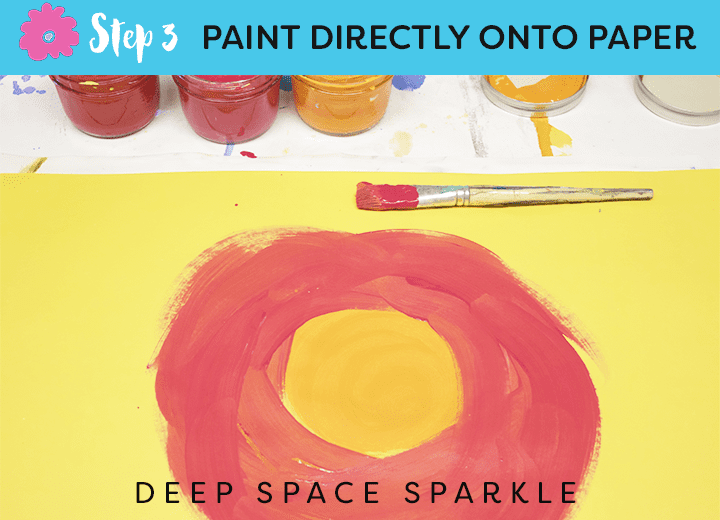 For flowers:
Start in the center of the paper. Feel free to use white or any color of paper. Show children how to paint starting with a dot and painting round and round until the dot gets bigger. Use the lightest color in your palette (yellow).
Without cleaning the brush, dip paint brush into the next lightest color and paint a ring of color around the dot. Start to round the strokes so petals start to form.
Add one more layer of petals with the next color. This time the petals can be more defined or prominent.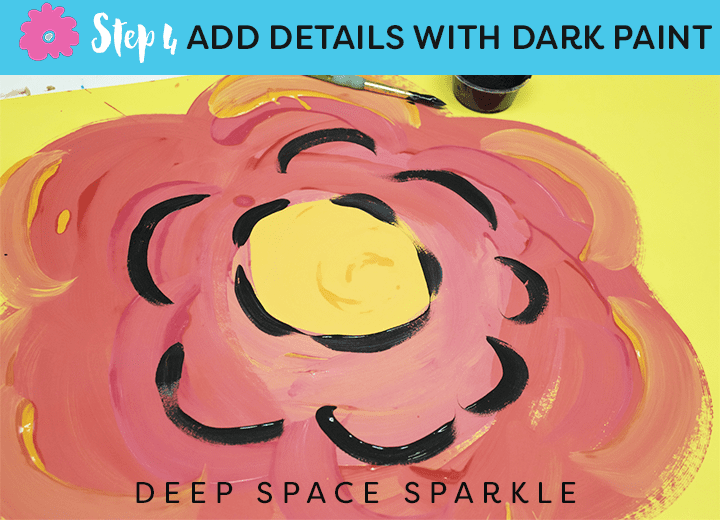 Finish the leaves and tropical flowers with smaller brush and black paint. This is optional of course, but it really adds great details. Use black sparingly or add many details. It's up to you!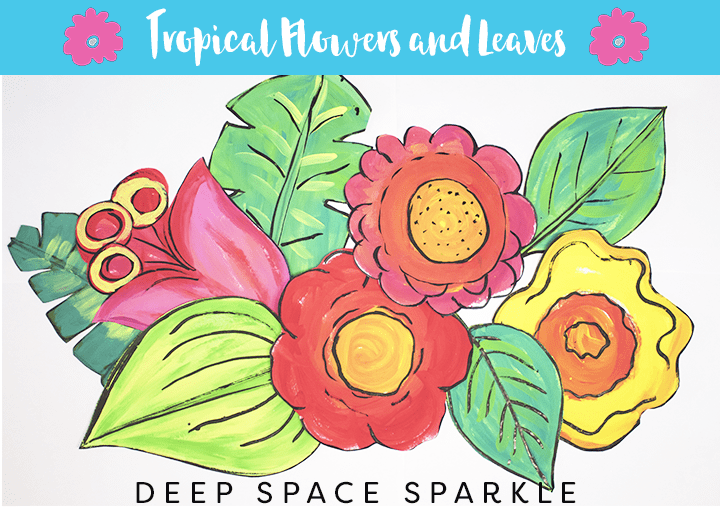 ---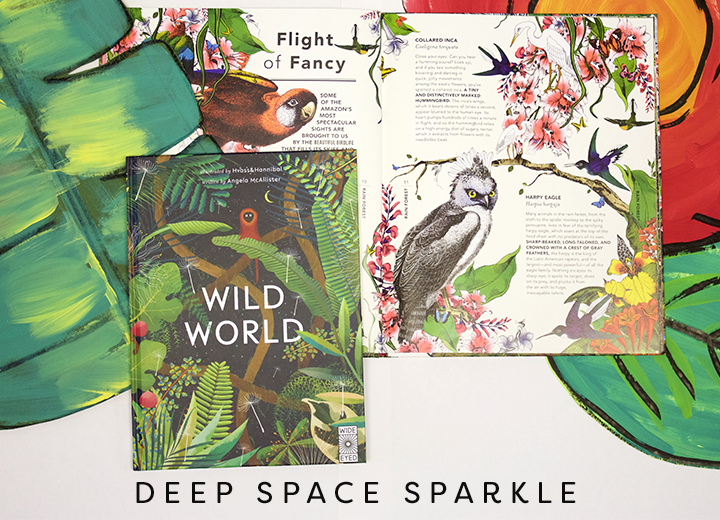 I love a great book to pair with lessons. Here are a few books to pair with this lesson:
Wild World by Hvass & Hannibal and written by Angela McAllister
The Wonder Garden by Kristjana Williams and Jenny Broom
Planting a rainbow by Lois Ehlert
---
WATCH THE LIVE ART TUTORIAL
Large scale tropical flowers with color mixing PDF

Posted by Deep Space Sparkle on Thursday, April 26, 2018
---
WOULD YOU LIKE A COLOR-MIXING REFERENCE SHEET?
Click the yellow box below, add your name and email and we'll email you the PDF. Make sure to check your junk mail inbox, too.