LAUREL BURCH CAT ART PROJECT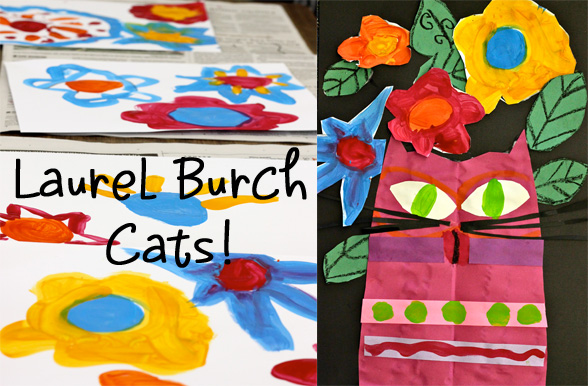 I've been admiring this art project for a while now. VK Bowerman's Laurel Burch Cat project is colorful and fun. VK doesn't have a website, only a Flickr account, so I can't provide a website. But please visit her Flickr page and prepare to be inspired by wonderful work.
I studied VK's project and visited the official website of Laurel Burch. Between the two, I was able to introduce this California folk artist to my second and third grade students. The project requires a few steps and lots of different sized papers as well as colorful paint.
Art Supplies
12″ x 18″ black construction paper (background)
12″ x 9″ colored construction paper (cat)
12″ x 9″ white construction paper (painted flowers)
12″ x 9″ green construction paper (leaves)
tubs of tempera paint (palettes are fine)
medium paint brushes
black tempera paint
scraps of black paper and other colors for whiskers and cat decoration.
Creating the Cat Silhouette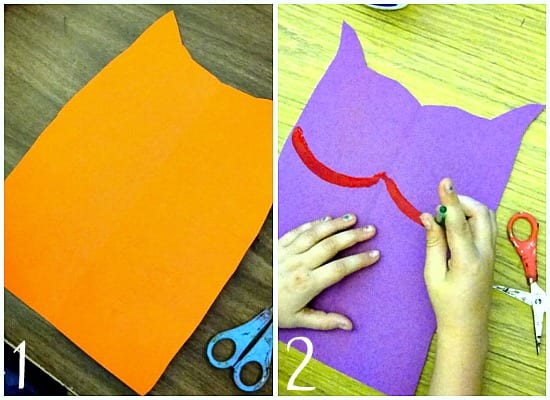 1. Take the 12″ x 9″ colored paper and fold in half. Students cut a cat shape from the paper, opened it up and pressed it flat.
2. Using tempera paint, children painted faces and lots of patterns on the cat. They also used paper to add eyes and strips of color.
3. Cut strips of whiskers and eyelashes from black paper scraps.
4. Here is a work in progress. Isn't he cute?
Making the Leaves and Flowers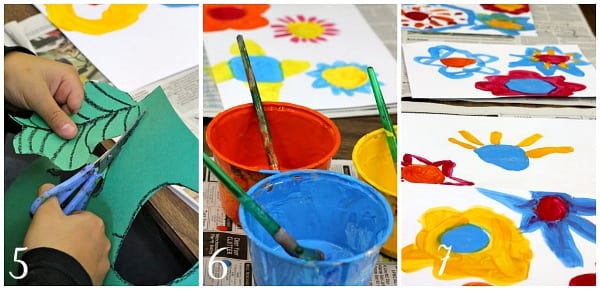 5. On the green piece of paper, draw big leaves with the oil pastel. Then you could use the black tempera paint, but by using the oil pastel, children don't have to wait for the paint to dry before cutting out leaves.
6. Using tubs of tempera paint, paint bright, big flowers on the white paper. Set aside to dry. Actually, paint the flowers first then create the leaves. i have it backwards in the picture! By the time the leaves are drawn and cut, the flowers will be barely dry enough to cut.
7. If you need to wait until the next class to assemble all the pieces, clip all the pieces together (black background, cat, leaves and painted flowers on top)
I really enjoyed watching the children create these cats. The energy in the classroom was such that children moved from one step to the next at different stages. I didn't touch on any specific art technique with this lesson, mostly composition and fun!
I hope you give this a try. A mood booster for sure!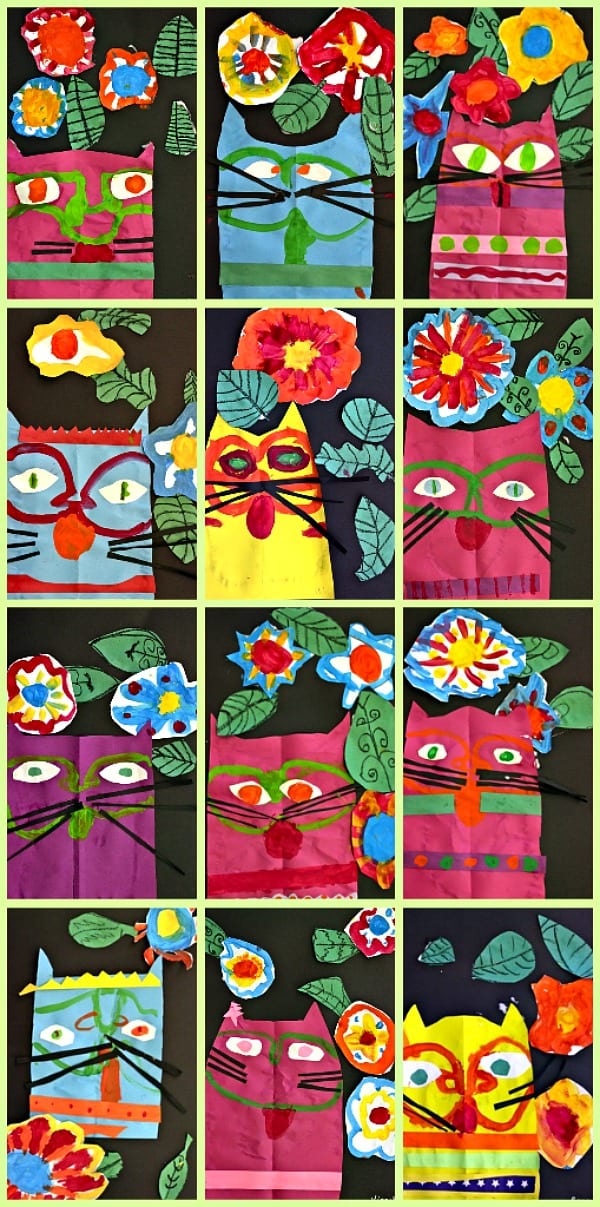 ---
Love this lesson? See more related Laurel Burch lessons in the Color Theory bundle inside the Members Club. Click below for MORE…