I remember the moment when I decided to rent a studio space.
I walked into my business coach, James Wedmore's Laguna Beach office during one of our mastermind meet-ups, looked around and knew that a studio, was exactly what I needed.
Six months later, Neil and I found a small space in Goleta, above a pizza shop (isn't that where all good things start?) and signed a lease.
I was excited.
Neil was nervous.
What I knew was this: a physical move away from my home office and into a studio space would be the catalyst from being a solo entrepreneur to a business owner.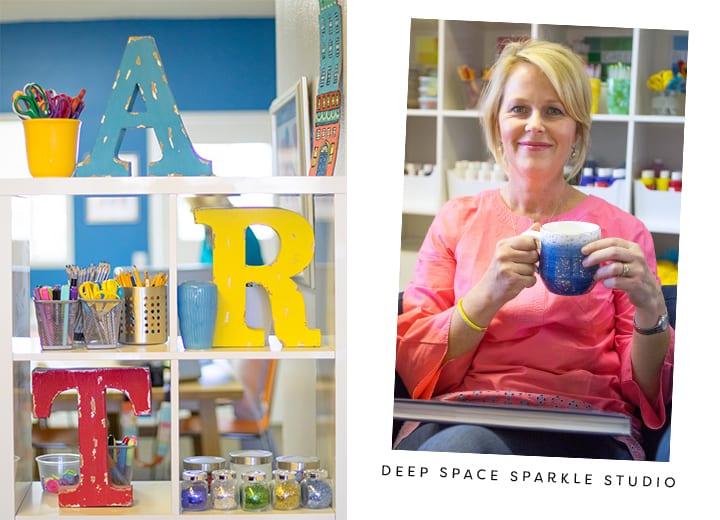 18 months later, I was right.
Deep Space Sparkle has grown from one employee (me!) to 7.
We have a thriving membership site, online workshops, a podcast and even a new book. My mission has always been to support art teachers with the highest quality of art inspiration, lessons and resources. And now, I have a team that feels the same way.
I've been wanting to show you around for a long time. I hope that whatever space YOU have in which to create, dream and make, that it is inspiring and perfectly aligned to you.
Let's take look around…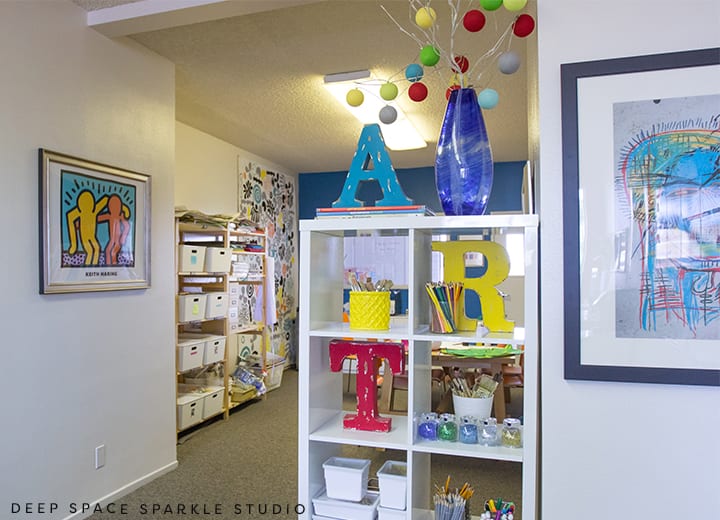 This is the entrance to the meeting and creating space. It has had many iterations: at one point, this is where the team worked. Now they are in the front section of our narrow space near the front door.
Maybe a few pictures of the very first days in the studio would be helpful to see how the space transformed into a long shoebox to a beautiful space…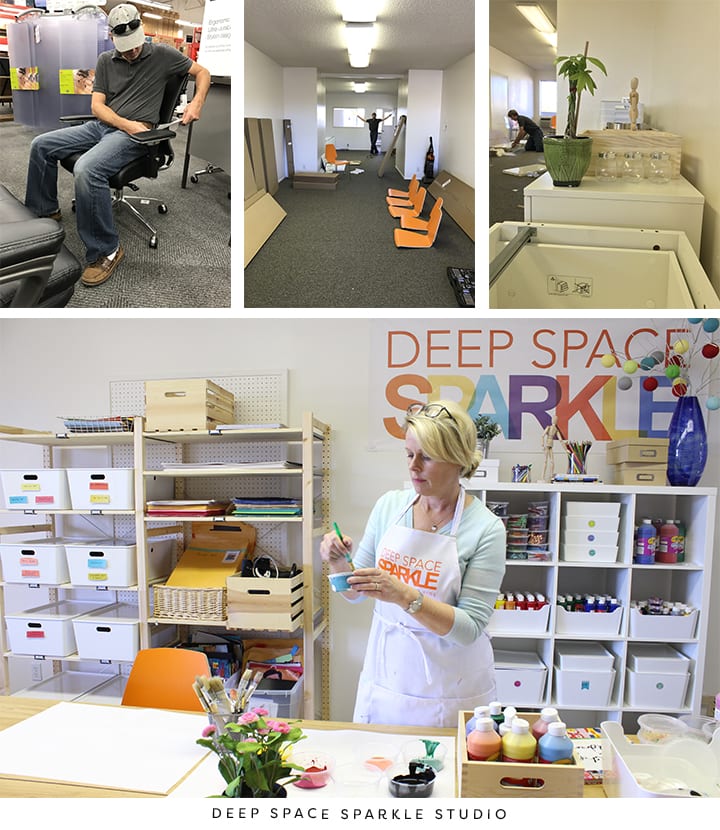 At first, I created art in the front room. This is where I hosted the kid's workshops for my book, Draw, Paint, Sparkle.
I loved it because it had a lot of natural light and was perfect for taking pictures for the book. Here's a few pictures from the book…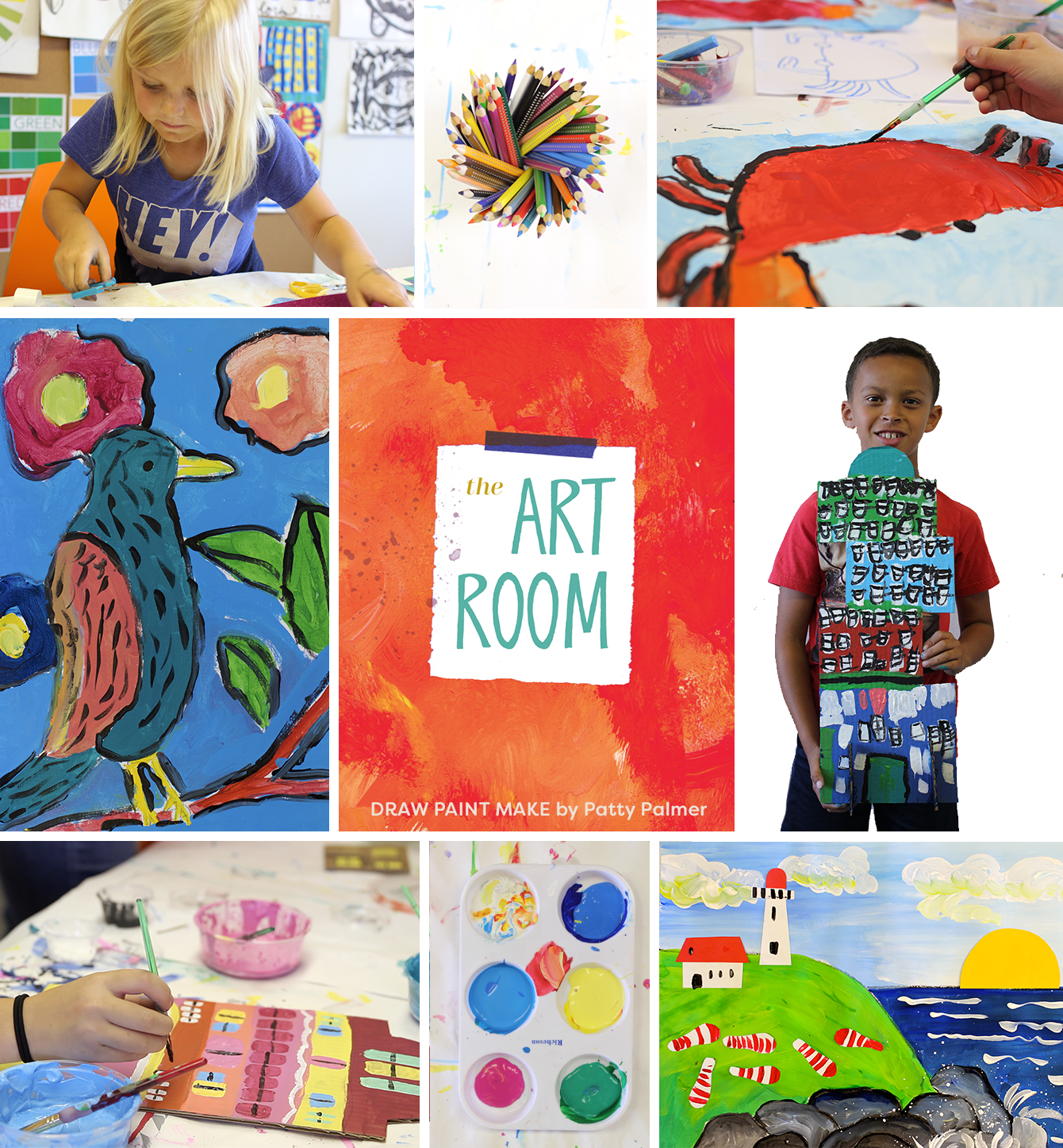 Meeting with the Team
The wooden table that we got from IKEA was hands-down the best piece of furniture we purchased. It is sturdy and accommodates art supplies and the team.
Once a week, our in-house team of 4, Skypes with our virtual team of 3. Amy, Amy and Marisa (yes, we have two Amy's!) appear on our large TV screen and we chat for an hour. We give updates on what we're working on, what we need help with and what's working really well. I love taking this weekly opportunity to share with everyone what Deep Space Sparkle is doing, what my big goals are and how we're moving towards these goals.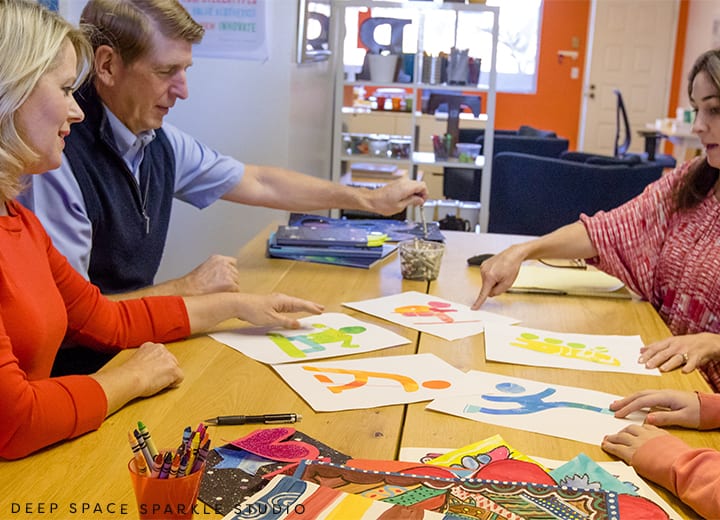 Meet Neil
Hopefully, you all know Neil. We've been married for 25 year, have 3 grown kids and he gave up his career as a computer engineer to become Mister Sparkle. It's a role he loves and anyone who has ever had the pleasure of working with Neil, knows how lucky we are to have him.
Neil has a small office near the front of our space. I think it used to be a waiting room for a dental office, but I can't be sure. He loves the peek-through window so he can spy on me…since this picture was taken, I have since barricaded the window with book shelves.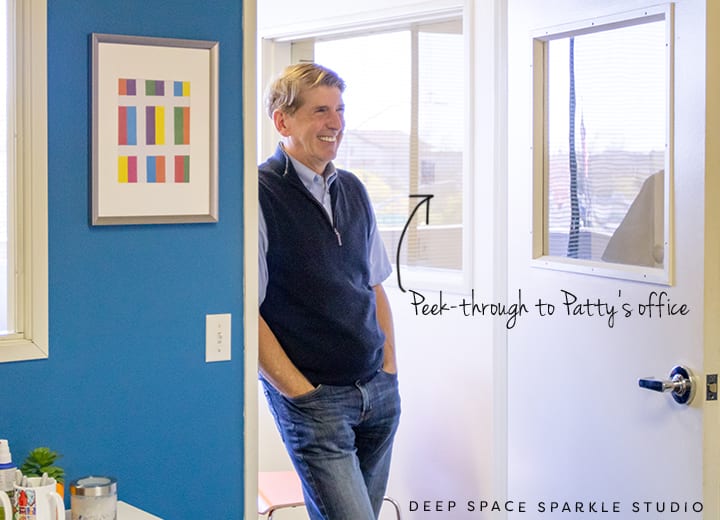 This is my office.
The place where I do my facebook Live session, record my podcasts, write blog posts and read.
I love it even though it is way too messy. I have two tables: one desk to hold my computer and one table to create art and do my demo's on. There is a door in my office that opens to a store room. All I can say is that you don't want to see that.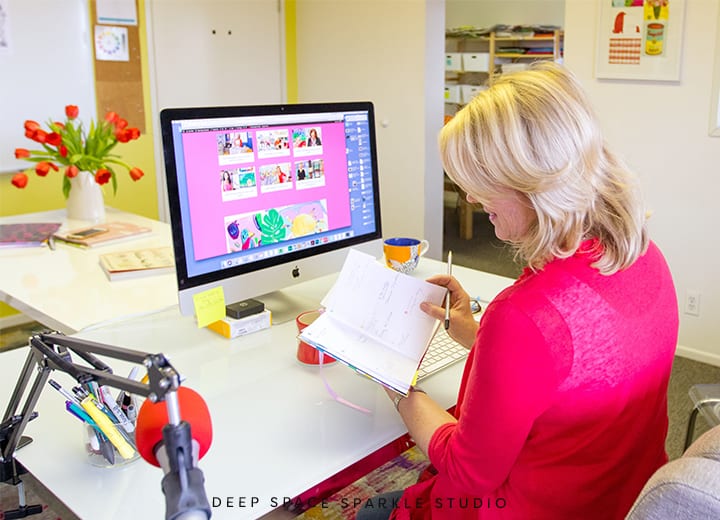 How I store and organize my art supplies
If you follow me on Instagram, you probably have seen this set-up before. I change it up frequently but the essence is always the same: I organize in groups.
I have a place for colored pencils, a place for markers, a bin for painted paper, a bin for plain paper, a bin for oil pastels, a bin for chalk pastels…you get the idea. When I'm working with kids, I make sure to have clear tubs of pastels so they can help themselves.
This shelf is an iconic grid shelf from IKEA. I pasted some color posters in the back of the shelf to add some color.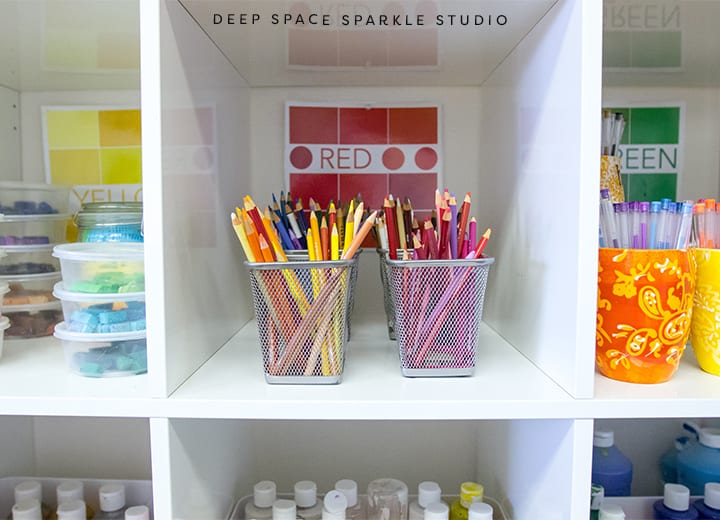 Paper storage is always a challenge for me.
I put white paper together, colored paper together and watercolor paper together. It's hard to keep the stacks straight so I don't try too hard. I'm always on the look out for better paper storage.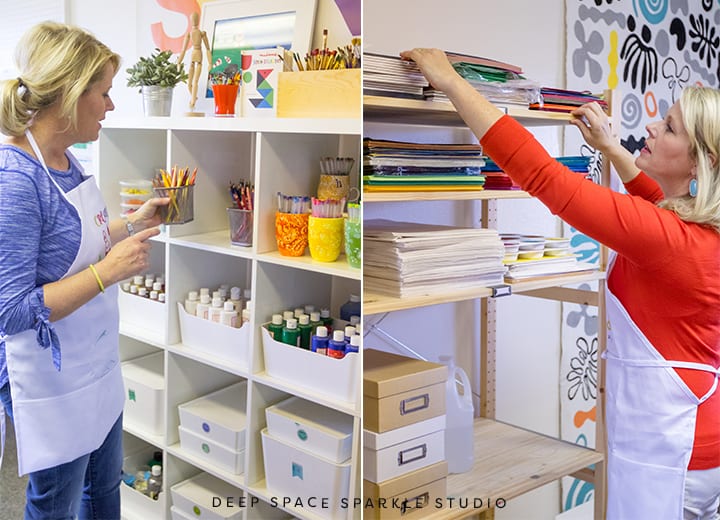 I have two large white boards in my office. One white board is in the front room and holds the team calendar. The other one is in my office and is used for art demos for my Thursday afternoon facebook Live sessions and my own planning.
Sometimes, I just draw.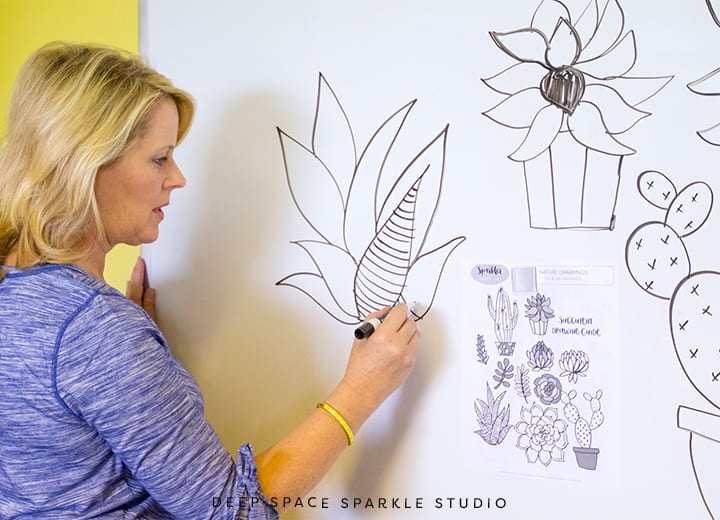 The big wooden table is perfect for creating lesson plans. I spread art supplies out over the table, gather my inspirations and start creating art.
But there is one step before that…
How Team Sparkle creates art lessons
Marisa, the content coordinator for The Sparklers Club, Amy, the lesson plan creator and I get together once a month to discuss the upcoming bundle. We put all of our ideas on the table, share inspirations from books and brainstorm the best way for an art teacher to teach the unit. We divide up the ideas and start creating the lessons based on our Deep Space Sparkle method of determining the best project for each grade level.
Our goal is to make sure each grade level builds on the skills, that the Elements of Art are incorporated and that there is a solid reason why an art teacher should create the lesson.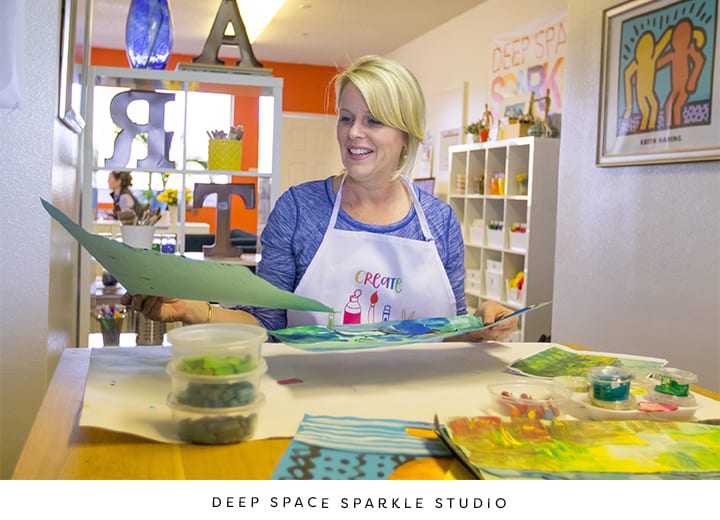 Here's a picture of our incredible team, minus Amy Clay. In Marisa's belly is little Caroline who was just born last week.
I'm so proud of our team. We're small but mighty!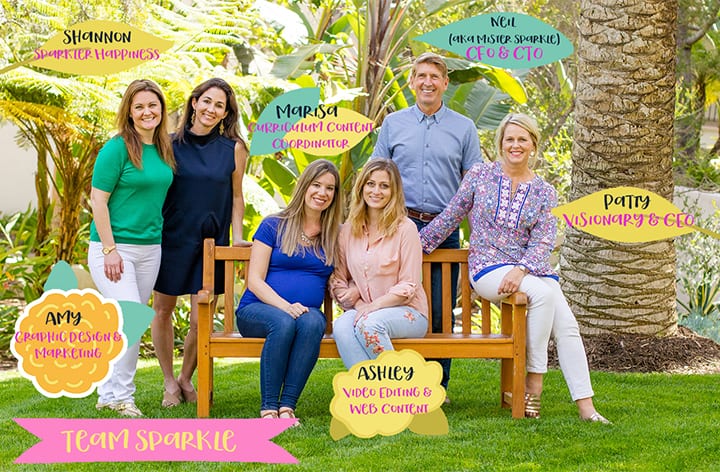 I'd love to hear from you…
Are you a studio owner or a creator with a private space? I'd love to hear what works for you and what doesn't.